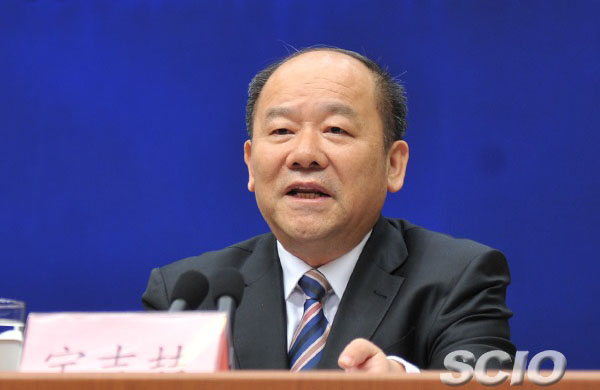 Ning Jizhe, vice chairman of National Development and Reform Commission and commissioner of the National Bureau of Statistics (COURTESY OF SCIO)
China's average annual GDP growth from 2013 to 2016 stands at 7.2 percent, higher than the average 2.6 percent growth rate of the world economy and the average 4 percent growth rate of other developing countries, according to the National Bureau of Statistics (NBS) on October 10.
"China's economic performance remained within a proper range with further enhanced comprehensive national strength and international influence," NBS Commissioner Ning Jizhe said at a news briefing at the State Council Information Office, ahead of the upcoming 19th National Congress of the Communist Party of China.
Over the past five years, China, as the world's second largest economy, has entered a "new normal" phase in its economic development. This was reflected in the country's transition to an economy with "medium-to-high" speed growth, economic structural upgrades and the accelerating shift from old economic drivers to new ones, said Ning.
A 7.2-percent average annual growth in the past five years, combined with growing employment rates and stable prices, put China at the top amongst the world's major economies. China's total GDP of 73.7 trillion yuan ($11.2 trillion) in 2016 accounted for 14.8 percent of the world economy, said Ning.
"From 2013 to 2016, China's contribution to world economic growth stood at around 30 percent on average, surpassing the total contribution of the United States, eurozone and Japan," Ning said.
He added that China's economic structural upgrades can be seen in its rising consumption and domestic demand as well as its dominant services sector.
From 2013 to 2016, consumption contributed to 55 percent of China's annual economic growth on average and the value added of the services industry moved to account for over half of the national economy.
In 2016, expenditures on research and development activities reached 1.57 trillion yuan ($237.7 billion), up 52.2 percent from 2012, which gave rise to a number of landmark achievements in science and technology such as quantum communication, high-speed railways, manned spaceflight missions, the lunar exploration program, the 500-meter Aperture Spherical Radio Telescope, large commercial aircraft, manned deep-sea submersibles and super computers.
Economic progress was made in parallel with stronger efforts in energy saving, environmental protection as well as improved livelihood for the general public.
In 2016, China's energy and water consumption per unit of GDP was cut by 17.9 percent and 25.3 percent compared with 2012. In the same year, the completed afforestation areas were 7.2 million hectares nationwide, up 28.7 percent compared with five years earlier, and an additional 5.62 million hectares were under erosion control, up by 28.6 percent from 2012.
Ning told Beijing Review that China will work with other countries on global issues such as ecological environment protection, pollution reduction and climate change.
"The green development principle will guide policy coordination in the development plans of the Belt and Road Initiative," Ning said, "It is a must for global cooperation in production capacity and China will make sure its projects abroad meet environmental standards."
Last year, the national per-capita disposable income was 23,821 yuan ($3,612), an increase of 7,311 yuan ($1110) compared to that of 2012, an annual increase of 7.4 percent on average.
As the largest contributor to world economic growth, China's economic, political, cultural, social and ecological progress was made against major headwinds in the international economic and political environment as well as domestic challenges, Ning noted.
All of the achievements were attributed to the CPC's strong leadership, the country's new development philosophy, the supply-side reform and the commitment to reform and opening up, he said.
Copyedited by Bryan Michael Galvan
Comments to maxiaowen@bjreview.com