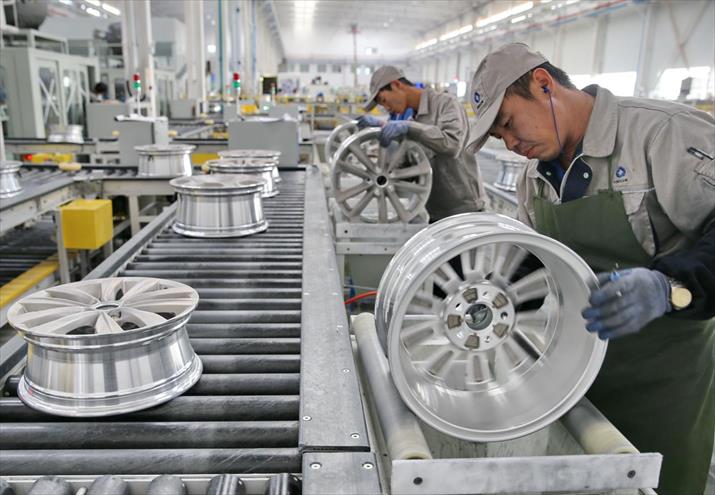 Employees work at the assembly line of high-performance, lightweight aluminum alloy wheels plant in Qinhuangdao, north China's Hebei Province on October 11, the day when the assembly line was put into production (XINHUA)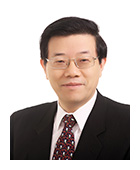 Profound changes have taken place in terms of China's economic growth, structure and drivers since the start of the new millennium. The country's supply and demand structure has also changed significantly, its industrial restructuring efforts have continued, its growth engines have been switched, and its growth priority has shifted to the improvement of quality and efficiency from quantity, particularly from the 12th Five-Year Plan (2011-15) period onward. As a result, economic growth has slowed down and it has become increasingly difficult for the economy to sustain high-speed growth, creating new challenges for China's macroeconomic management.
Since the 18th CPC National Congress, the CPC Central Committee with Xi Jinping at the core has tackled these challenges through innovation in macroeconomic management methods. The central leadership has defined the new growth phase as an economic "new normal" that features a slowing growth rate, an improving economic structure and a shift of growth engines. It has created a macroeconomic policy framework with a new development concept as the guideline, supply-side structural reform as its central theme, and seeking progress while maintaining stability as the methodology.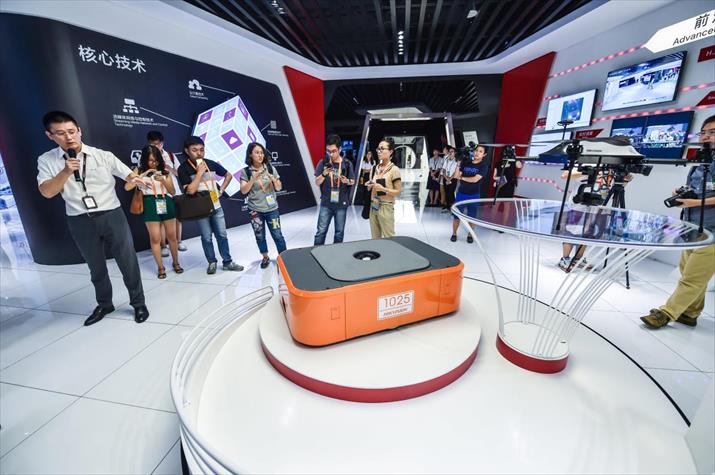 An employee of Hangzhou Hikvision Digital Technology Co. Ltd. shows off a courier robot developed by the company in Hangzhou, Zhejiang Province, on September 2, 2016 (XINHUA)
The framework
Features of the macroeconomic policy framework include:
First of all, the assertion that the economy has entered a state of "new normal" has been made.
The "new normal" demonstrates the following characteristics: The economy is shifting from high-speed growth to medium- to high-speed growth while maintaining substantial progress in terms of quality; a deeply changed economic structure is still upgrading; and economic growth engines are switched from investment to innovation.
Understanding and guiding the new normal situation will be essential for economic work in the present and future.
Second, a new development concept, centering on innovation, coordination, green development, opening up and sharing, has been proposed. This serves as the guidepost for economic and social development during the 13th Five-Year Plan (2016-20) period and beyond.
Third, supply-side structural reform, which is to satisfy demand by improving the quality of supply, has become the central theme.
Fourth, the pursuit of progress while maintaining stability has become the methodology for economic work and an important principle of governing the economy.
The economic policy framework has withstood the test of time, with macro-control taking effect.
China's GDP growth has been slowing down slightly since 2010, but has maintained stability and avoided sudden and rapid decline. Since the second half of last year, the Chinese economy has resumed steady growth, and in the first three quarters of this year a GDP growth rate of 6.9 percent was realized.
Moreover, economic structure has been optimized. The contribution of consumption to GDP growth has increased from 54.9 percent in 2012 to 64.6 percent in 2016; the services industry has replaced manufacturing to become the biggest driving force for growth, with its contribution to GDP growth rising from 44.9 percent in 2012 to 58.4 percent in 2016. New growth drivers have been created, industrial integration has deepened, new technologies, new industries and new industrial forms have developed rapidly, and hi-tech and equipment manufacturing industries have maintained high growth.
In addition, industrial profits have increased remarkably compared to 2014 and 2015. Particularly in the first five months of this year, industrial profits grew by 22.7 percent year on year. Employment has also remained stable. In the first quarter of this year, the registered unemployment rate in urban areas dropped to 3.97 percent, lower than 4 percent for the first time. Fiscal revenue rose rapidly in the first half of this year, with the national general public budget revenue growing by 9.8 percent year on year, which was much higher than the rates in 2014 and 2015.
Furthermore, the drive for innovation has been increasing. In China, the proportion of research and development input in GDP has reached 2.1 percent, higher than the average level of countries in the Organization for Economic Cooperation and Development. For most countries, it usually takes several decades or more to raise that rate from 1 to 2 percent, but in China it took only 12 years. Corporate input in research and development has accounted for 78 percent of the country's total. In the Global Innovation Index, China's ranking jumped from 35th in 2013 to 22nd in 2017, and China is also the only non-high-income economy among the top 25 on the list. China has entered a period of active innovation.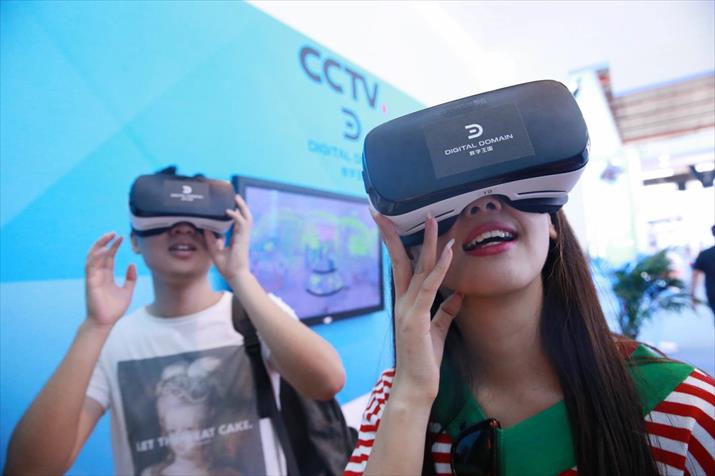 Visitors try VR headsets at an exhibition in Beijing on August 24 (XINHUA)
Key areas
In order to carry out macro-control under the framework, maintain stable economic performance and avoid major fluctuations, we should pay attention to the following aspects.
We should maintain a balance between macro-control and deepening reforms. The only way to eliminate economic risks is by deepening reforms, and the key to doing so is allowing the market to play a decisive role in resource allocation. The government should help individuals and companies become more sensitive to policy signals and allow these policies to be transmitted more smoothly.
Risk control is also an important factor. Various risks may appear during the economic transformation period, so macro-control should also focus on risk control.
Furthermore, market expectations must be adequately managed. The government should strengthen communication with market players and make policies more transparent, so that there is better understanding between those parties. That would in turn reduce misunderstandings and avoid excessive fluctuations in the market.
More attention should be given to cooperation and coordination among different government departments. Realizing multiple goals including GDP growth, employment, inflation and risk control requires a high degree of coordination among fiscal, monetary and macro-prudential policies.
A sound support system also needs to be in place to strengthen government decisions. The government should accelerate the improvement of its information sharing systems and make use of the low cost, timeliness and objectivity of big data to set up a support system for macroeconomic policymaking.
Finally, more efforts should be spent on ensuring international collaboration on macroeconomic policies. China should initiate more global discussion, create more platforms and institutions, and gradually improve multilateral and regional macroeconomic policy coordination systems, in order to create a stable economic and trade environment.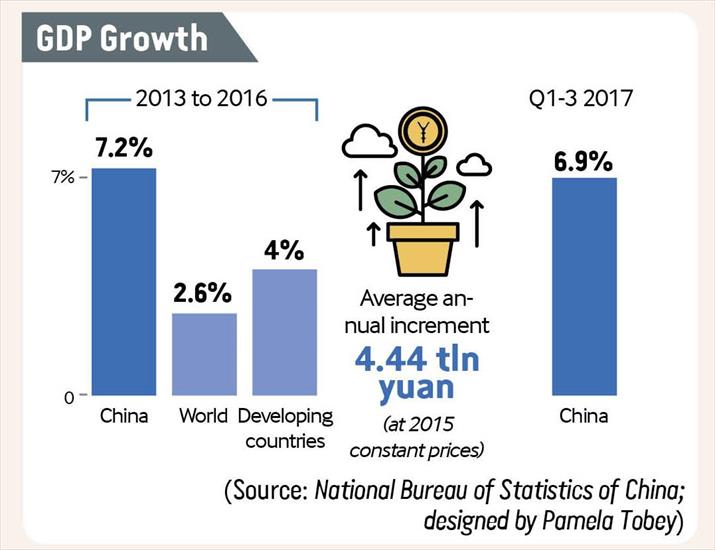 Future trend
China's growth trajectory must be judged from both historical and international points of view. By taking into account China's long-term trends and short-term fluctuations, we can have a proper understanding of the current macroeconomic conditions and avoid overreaction on short-term fluctuations.
Developing economies often exhibit a marked decline in economic growth after witnessing a period of high-speed growth. After a developing country enters an advanced stage of industrialization and its per-capita GDP reaches 10,000-12,000 international dollars, a development pattern based on huge investment will be hard to continue, and high-speed growth will come to an end. After that, the country will maintain medium- to high-speed growth for quite a long time.
Throughout world history, it is rare to see a country maintain such long-term high-speed growth as China has done. Around 20 economies have maintained an average growth rate of 5 percent or above for 20 years or more. Of those countries, only five maintained the growth rate for 30 years. Although China's GDP growth is slowing down, the country's contributions to the world economy are not declining, but increasing. Both the World Bank and the International Monetary Fund estimated that China contributed one third to world economic growth last year, which was a great success.
In the short term, economic fluctuations are inevitable regardless of the country or its stage of development. The Chinese economy is starting a new stage of steady and medium- to high-speed growth this year.
Steady growth in the medium and long term will not mean that the economy will grow at the same rate, but that it is likely to experience fluctuations.
Therefore we should not be so sensitive regarding drops in the growth rate in certain quarters or years.
China has now entered the second half of its economic transformation period, with more favorable conditions being accumulated to improve the quality and efficiency of its economic growth. It should stay committed to the new macroeconomic policy framework and improve macro-control and macro-prudential regulation. It should also intensify the supply-side structural reform, effectively control risks, open its markets further to the outside world, create new growth drivers and promote productivity, with the aim of maintaining steady and sound economic growth.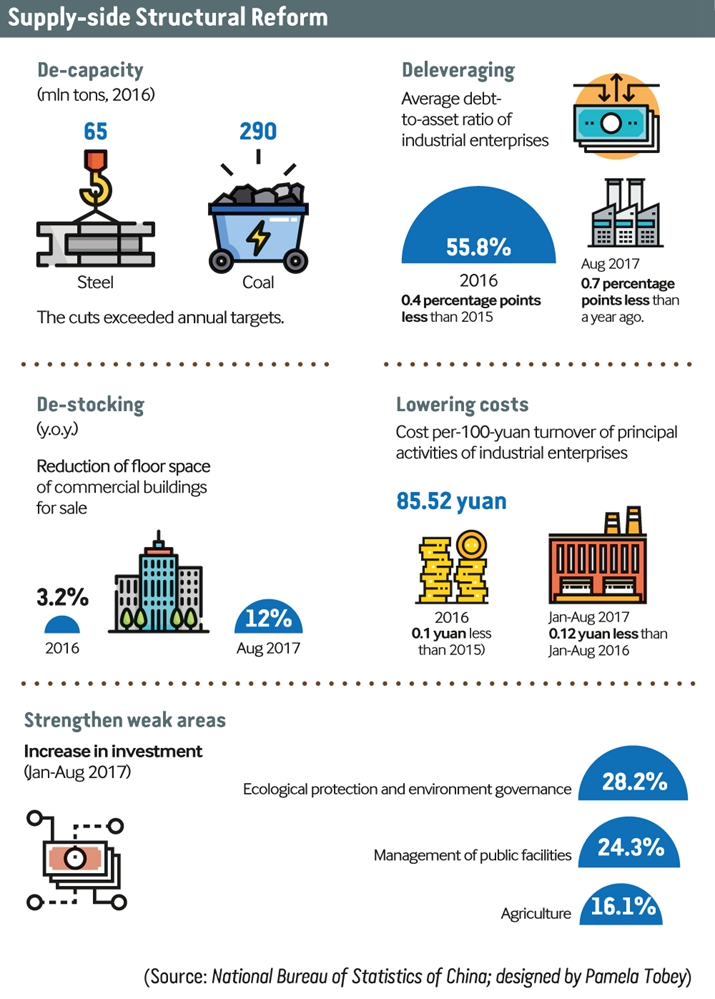 The author is President of the Development Research Center of the State Council
Copyedited by Bryan Michael Galvan
Comments to yushujun@bjreview.com