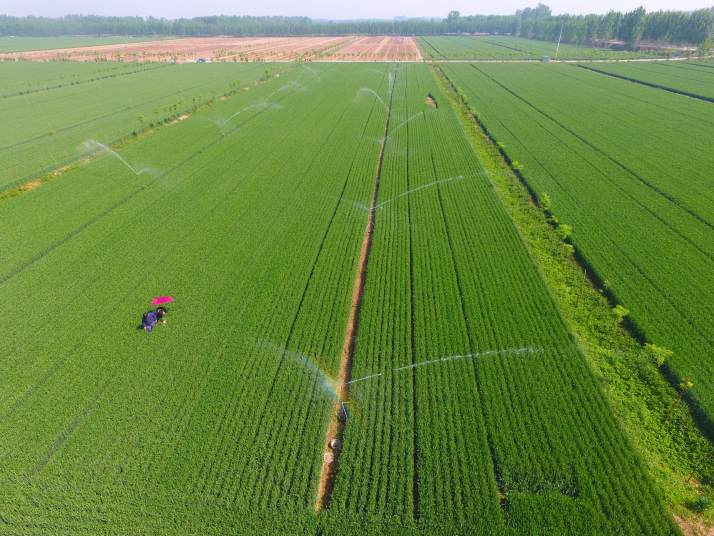 Water-saving irrigation devices irrigate fields in Liaocheng, east China's Shandong Province, on April 29 (XINHUA)
Anyou Biotechnology Group Co. Ltd. is a company focusing on developing and producing quality feed for livestock, especially pigs. Since 2012, it has been making efforts to contribute to mitigating human impact on the natural environment by making its operations environmentally friendly and promoting environmentally friendly feed.
Whereas in Europe the concept of environmentally friendly feed has been known in the industry for some time, in China it has taken quite a while for firms to consider it, since the feed they have been using is already sufficient for livestock to grow big.
Anyou is one of the pioneers making change in the Chinese mainland. The Taiwan-funded company developed a new kind of feed which helps pigs absorb more nutrition, reduces the amounts of excreta they produce and costs less than some other feeds that are widely available.
"Many companies are focusing on earnings, it's important that good corporate citizens focus on the long term, because that's creating value, and stay in sustainable business," said Vivek Pathak, Director for East Asia and the Pacific at the International Finance Corp. (IFC), at a forum with the theme Creating Markets for China's Climate Business Innovation held in Beijing on November 13.
Being a member of the World Bank Group and the largest global development institution focused on the private sector in emerging markets, IFC is centering its attention on promoting climate change-related business solutions, or "climate-smart business," by mainly cooperating with private companies such as Anyou in emerging markets like China.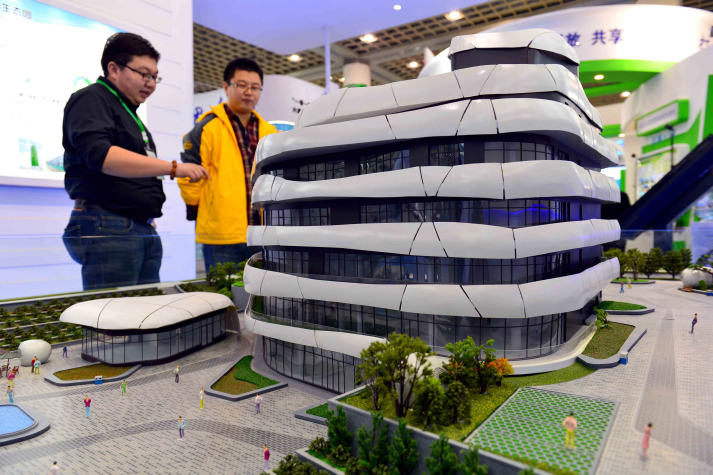 A model of an energy-conserving building on display at the Third Green Building and Energy-Saving Technologies and Products Expo in Jinan, Shandong Province, on October 27, 2016 (XINHUA)
Driving innovation
As technological development of the new feed matured, Anyou expanded its research to new fields such as the use of solar energy in pigsties, rainwater recycling and reuse, and alternative uses for livestock manure.
However, creating environmentally friendly products and production methods requires much research and experimentation as well as weighing pros and cons. For example, researchers at the company used to cultivate algae with livestock waste. But they soon found that although it is a circular process, which seemed to be sustainable and environmentally friendly, in practice it requires a lot of space and water, resulting to another form of energy waste.
Through further trials, the company found a more sustainable concept—the use of pig excrement to raise black soldier fly, an insect high in protein that can be fed to livestock.
"The entire process has zero release [of emissions], and we are promoting the method to our customers," Dr. Hong Yifen, head of Anyou's low-carbon research department, said at the forum.
Anyou is one of many private Chinese companies making a contribution to protecting the environment in their business operations. Guangxi Fenglin Wood Industry Group, one of the earliest manufacturers of wooden floorboards in China, has developed technology to also turn wood offcuts and chips, by-products of the manufacturing process, into wooden flooring. Mlog, a company focused on meteorological science and technology and IT technology research and development, helps its customers reduce production losses due to whether changes using big data analysis, cloud computing and the Internet of Things to provide customized weather services and solutions.
In 2015, China indicated that it is targeting "zero growth" in consumption of nitrogen and phosphate fertilizers by 2020. In response, Kingenta, a leading producer of fertilizer in the country, started transforming its business model from just manufacturing fertilizer to providing integrated solutions supporting farmers with high quality and locally tailored fertilizers and advice.
Many environment-conscious companies like them have joined hands with IFC in promoting climate-smart agriculture.
IFC is investing $200 million to help Kingenta implement a $1-billion program that will upgrade 10 conventional fertilizer plants to produce more efficient and specialty fertilizers and establish a platform of 300 crop-production service centers across eight Chinese provinces. These investments may reduce carbon dioxide emissions by the equivalent of 377,000 tons per year through the use of appropriate fertilizer, according to an IFC Climate Investment Opportunities report.
Business opportunities
José Graziano da Silva, Director General of the UN Food and Agriculture Organization, noted that emissions from the agriculture sector are set to increase in the future, further contributing to climate change, unless the world adopts sustainable, climate-smart ways of producing, transporting, processing and consuming food, at the United Nations Climate Change conference in Bonn on November 14.
According to the IFC report, food and agriculture are a $5-trillion global industry that represents 10 percent of consumer spending and 30 percent of greenhouse gas emissions. The report also points out that a majority of agricultural investments are not yet climate-smart. This means climate-smart agriculture presents large business opportunities.
Other climate-related technologies including renewable energy, green buildings, sustainable urban transport, climate-smart urban water infrastructure and urban waste management, also offer great business potential, with the combined market already worth $1 trillion, according to the IFC report.
Investment in the sector is accelerating, as an increasing number of companies are delivering solutions that reduce their customers' greenhouse emissions and help protect the environment for a profit. "The customers have better products, companies get better returns, and investors are proud that they've done the right thing," Pathak said.
According to the IFC report, energy service companies have emerged as a key business model for improving energy efficiency in buildings. They typically invest in energy-efficient technologies for commercial buildings and earn royalties on the energy savings without owning the buildings.
This model is particularly prominent in China, with Chinese energy service companies earning revenues amounting to $13 billion in 2015, compared to U.S. revenues of $6 billion and EU revenues of $3 billion for the sector the same year.
China provides an example of a national market that uses a combination of financing, economic instruments, PPPs and feed-in tariff to drive growth in waste-to-energy plants.
The government allows private partners to build, finance and operate waste-to-energy plants. China's 12th Five-Year Plan (2011-15) targeted more than $12 billion worth of investment for waste-to-energy—about half of the nation's total investment in municipal solid waste. Waste-to-energy plants also benefit from a 5-percent reduction in tax. These policies make China an attractive waste-to-energy market for the private sector.
Role of government
The Chinese Government is doing its bit to cope with climate change and to protect the environment.
As one of the first nations both to ratify the Paris Agreement and to submit to the UN a national program to tackle climate change, China has made great contributions to the endeavor. As early as 2015, China pledged to peak its carbon dioxide emissions in 2030, and began striving to realize the goal earlier still.
The IFC report says that China has become a green energy leader since the government designated renewable energy as a strategic industry. It now has more than one third of the world's wind power capacity and a quarter of its solar power, and is leading a revolution in battery technology.
China also leads the way in greener finance. It introduced Green Credits in 2012 and is, to date, the only nation to have introduced standardized mandatory reporting on green loans for its largest banks. It has established the world's biggest green credit market, valued at more than $1 trillion. The loans cover energy saving, green transport, pollution treatment and resource recycling.
The Chinese Government has also created guidelines to encourage private capital to invest in green sectors while restricting investment in polluting industries. It plans to use public funds to improve the returns on green projects, through interest subsidies for example, while raising taxes on polluting industries.
Protecting the environment is vital to China's sustainable development in the future. In the report delivered to the 19th National Congress of the Communist Party of China (CPC), General Secretary of the CPC Central Committee Xi Jinping said, "We must pursue a model of sustainable development featuring increased production, higher living standards, and healthy ecosystems. We must continue the Beautiful China initiative to create good working and living environments for our people and play our part in ensuring global ecological security."
According to the Planning and Finance Department of the Ministry of Environmental Protection, China has set aside 49.7 billion yuan ($7.5 billion) to fund environmental protection this year.
Pathak said that China deserves more credit for the work it has done in addressing climate change. "The government is playing a critical role in terms of regulations, creating a sound environment and encouraging the private sector to invest in these areas. It should also lead by example by giving financial support directly," he told Beijing Review.
Copyedited by Chris Surtees
Comments to luyan@bjreview.com