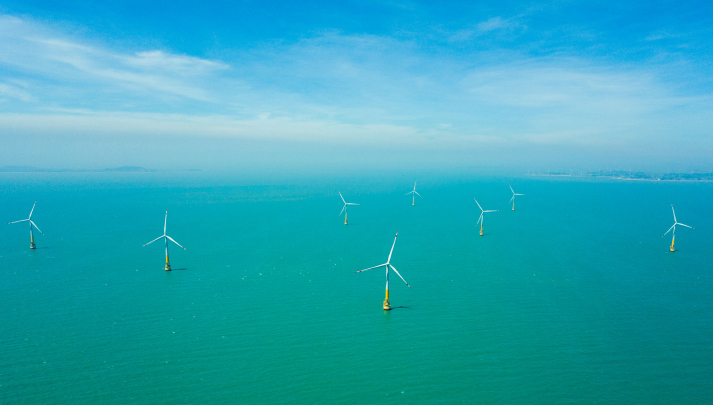 Wind turbines operate in a bay area in Putian, southeast China's Fujian Province, on August 14, 2017 (XINHUA)
New energy development has joined the ranks of high-speed railways and aerospace manufacturing as one of China's new trio of modern game changers in the field of science and technology. The rapid expansion of solar and wind power has resulted in the restructuring of the country's energy mix.
According to the National Energy Work Conference held on December 26, 2017 in Beijing, total energy production was expected to surpass 3.6 billion tons of coal equivalent last year, of which 17.6 percent was non-fossil energy, an increase of 6.4 percentage points from 2012. Installed power-generation capacity was projected to reach 1.77 billion kw, of which non-fossil power-generation capacity made up 38.1 percent, up 9.6 percentage points from 2012. The five years marked the fastest growth period in the history of new energy development.
New development
"China's installed renewable energy power-generation capacity stood at 656 million kw in 2017, with its expansion accounting for roughly 40 percent of the world's total increment," said Nur Bekri, Administrator of the National Energy Administration (NEA), noting that the scale of solar and wind power-generation capacity under construction in China leads the world.
From January to November last year, solar power generation totaled 106.9 billion kwh, up 72 percent year on year. At the end of last November, installed solar power-generation capacity reached 125.79 million kw, up 67 percent year on year, accounting for 7.5 percent of the country's total power-generation capacity, according to statistics from the NEA.
A highlight is the accelerating expansion of distributed photovoltaic power generation. From January to November last year, distributed photovoltaic power-generation capacity increased 17.23 million kw, 3.7 times as much as that registered in the same period of 2016, according to the NEA.
Observing the growth potential in the distributed solar power-generation segment, some domestic photovoltaic companies are poised to grab their share of the market. Zhuang Yinghong, Global Marketing Director of Risen Energy Co. Ltd., told Economic Daily that they had set up a special department for distributed photovoltaic power generation, encompassing platform design, engineering and construction, operation maintenance and product development.
Aside from that, the shift in installed locations is evident. From January to November last year, northwest China's contribution of year-on-year solar power capacity growth to the national total declined by 17 percentage points. The same figures for east and central China rose by 9 and 6 percentage points respectively..
In contrast, inland centralized wind power construction has seen a downward trend, while offshore and distributed wind power have come to the fore. Last September, the first phase of Qinghua Bay in Fuqing, Fujian Province, operated by China Three Gorges Corp., was connected to the grid, signifying a new era of development for China's offshore wind power.
"China boasts abundant offshore wind resources, with the length of coastline totaling 18,000 km and exploitable sea area amounting to more than 3 million square km," Sun Qiang, Executive Director of Three Gorges Fujian Energy Investment Co. Ltd., told Beijing Review. He noted that offshore wind power represents a direction for the future development of China's electricity-generation industry.
"New energy exploration is shifting from resource-concentrated areas to consumption-concentrated areas," said Li Chuangjun, Deputy Director of the New and Renewable Energy Department of the NEA.
At the same time, progress has also been made in improving the quality of new energy development. Owing to the advancement of China's semiconductor industry, the photovoltaic production equipment is now made locally, said Wang Bohua, Secretary General of China Photovoltaic Industry Association, adding that this has been helped by favorable government policies.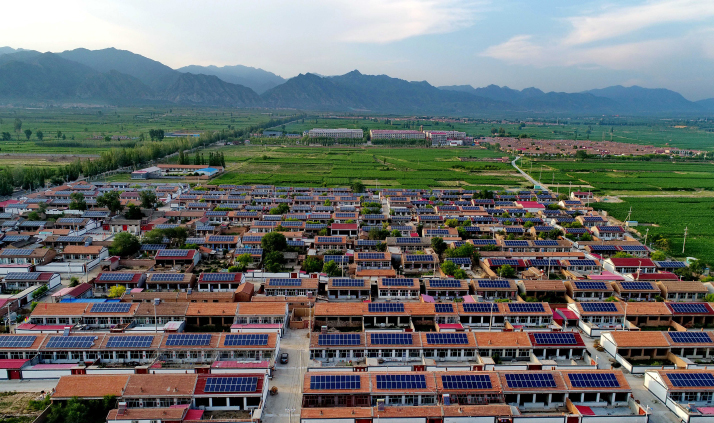 Roof-mounted solar panels generate electricity in a village in Zhangjiakou, north China's Hebei Province, on December 23, 2017 (XINHUA)
Problems tackled
Large-scale consumption has been the stumbling block of new energy development around the world. As a series of policies and measures are released to facilitate the consumption and grid connection of new energy, remarkable progress has been made on this front, said Nur Bekri, who predicted that the ratio of abandoned wind power and solar power-generation programs would drop by 6.7 percentage points and 3.8 percentage points respectively in 2017.
"Abandoning wind and photovoltaic power-generation programs is a temporary problem in the process of new energy development. Solutions lie in energy layout optimization, power system reform and marketization," said Zhu Ming, Director of the New and Renewable Energy Department of the NEA.
Zhu said the NEA had unveiled a range of targeted measures to cope with the problem, working with local energy departments and power grid enterprises. Since the beginning of 2017, the NEA has been committed to improving the national distribution of new energy facilities. For example, solar power construction has been curtailed in areas where there are photovoltaic restrictions because of excessive investment, such as Xinjiang Uygur Autonomous Region and Gansu Province, while more programs are located in central, east and south China where power consumption is huge.
Besides that, the State Grid has been trying to reduce thermal power and expand new energy consumption by replacing provincial power standby systems with an overall power dispatching system in northwest China.
In addition, high cost and lack of access to international markets have been a hindrance to the spread of new energy. "China is promoting the scale development of the related manufacturing industry and tries to lower costs through industrial expansion," said Lin Boqiang, President of China Institute for Studies in Energy Policy, in an article published in China Securities Journal. According to the NEA, the construction costs of wind and solar power projects were down 20 percent and 60 percent respectively in 2017.
"While the overseas market is shrinking and more strictly restrained, China has boldly expanded its domestic new energy capacity installment, which has prevented its new energy manufacturing industry from collapsing and contributed to the coordination and integration of its domestic industrial chain," said Lin.
Copyedited by Francisco Little
Comments to dengyaqing@bjreview.com