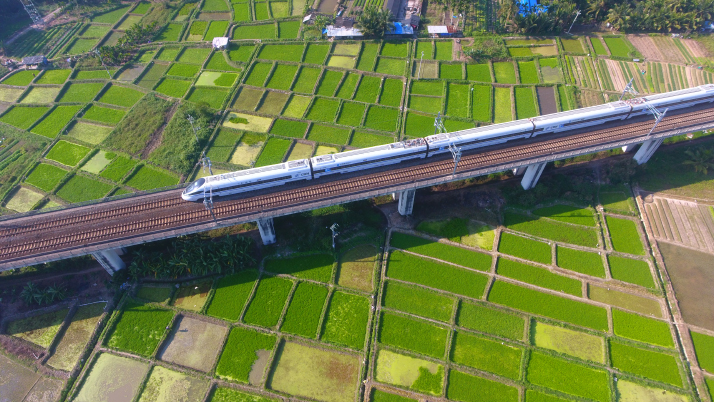 A high-speed train travels in Qionghai, south China's island province of Hainan, on January 18 (XINHUA)
In 2017, China's year-on-year economic growth rebounded to 6.9 percent following six straight years of slight deceleration, with its total GDP surpassing 80 trillion yuan ($12.5 trillion) despite a host of challenges at home and abroad. The pace of expansion is 0.4 percentage points higher than an official target of 6.5 percent.
"National economic growth is stable with good momentum, exceeding our expectations," said Ning Jizhe, head of the National Bureau of Statistics (NBS), at a press conference on January 18, explaining that in pushing forward supply-side structural reform, China's economy is pursuing structural improvement, a shift of growth engines and quality growth.
Ning also cited the 1.6-percent growth of the consumer price index, $3.14 trillion of foreign exchange reserves and 13 million new urban jobs as indications of positive economic momentum. "The unemployment rate at the end of last December was lower than 5 percent," he said.
"The stable growth of employment guaranteed the increase of residential income, and as income climbed steadily, consumption played a more prominent role in fueling the economy," Xu Hongcai, deputy chief economist of the China Center for International Economic Exchanges, told Beijing Review. He added that the country's residential income growth had frequently outpaced that of the economy by 0.2 to 0.3 percentage points in the previous few years, while it increased further to 0.4 percentage points in 2017.
Significant changes are underway in the national economy. According to the NBS, consumption, investment and foreign trade contributed 58.8 percent, 32.1 percent and 9.1 percent, respectively, to economic growth in 2017. China's economy has shifted from being driven by investment alone to a combination of investment and consumption, from just manufacturing to a mix of manufacturing and services, and from just exports to both imports and exports, said Ning.
Quality growth
Behind the better-than-expected growth registered last year were improvements in quality, efficiency and structure of the economy, said Yan Pengcheng, spokesman for the National Development and Reform Commission (NDRC), stressing that progress has been made in the major aspects of supply-side structural reform.
The targets set for coal, iron and steel de-capacity were reached, the debt-to-asset ratio of industrial enterprises above a designated size—annual principal business revenue of more than 20 million yuan ($3.13 million)—went down by 0.5 percentage points, the floor space of commercial buildings decreased by 110 million square meters from 2016, and tax and fee cuts totaled 1 trillion yuan ($156.5 billion) in 2017. From January to November 2017, industrial enterprises above a designated size reduced their costs by 0.28 yuan ($0.04) per 100 yuan ($15.65) of income from their main business operations, while investment in agriculture and water conservancy as well as in ecological protection and pollution treatment went up 16.4 percent and 23.9 percent, respectively.
According to the NBS, the national industrial capacity utilization rate reached 77 percent, its highest in the past five years.
"As the scale of coal, iron and steel production goes down, changes have taken place in supply and demand, and the prices of related industrial raw materials have soared, encouraging enterprises with advanced capacity into production," said Xu.
The optimization of the economic structure also made headway. The value-added output by the service industry contributed 58.8 percent to GDP growth last year, 26.7 percentage points higher than the gross capital formation, Ning said.
Moreover, the per-capita residential disposable income increased by 7.3 percent year on year in 2017, outstripping the growth of the per-capita GDP.
"Policies designed to boost the service industry and small enterprises facilitate job creation, and the government's efforts to alleviate polarization have proven successful through targeted measures that help improve workers' caliber, promote the reemployment of unemployed workers and eliminate poverty," Xu said.
The process of replacing traditional growth drivers with new ones has been accelerated, said Ning, suggesting that new technologies, industries, forms of business, models and products all flourished in 2017.
He appreciated China's achievements in science and technology, such as aerospace, artificial intelligence, deep sea exploration and biological medicine, saying innovation-driven development continued to gain momentum last year and new dynamic forces have grown rapidly.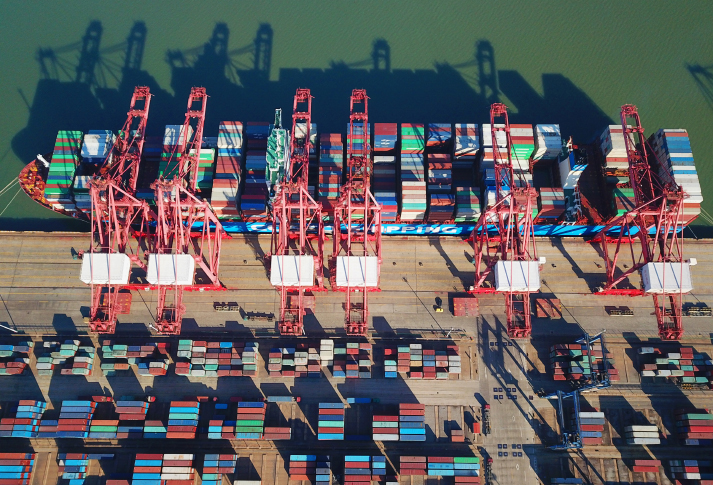 A container terminal at the Lianyungang Port in east China's Jiangsu Province on January 12 (XINHUA)
New growth engines
A number of significant scientific and technological breakthroughs were reported in 2017, including the development of the C919 large jetliner, the Fuxing bullet train and quantum communications.
The value-added output by emerging strategic industries grew 11 percent year on year in 2017, the production of industrial robots jumped 68.1 percent, and the output of new-energy vehicles rose 51.1 percent.
According to statistics from the NDRC, investment in research and development grew at an average pace of 11 percent in the past five years, with the contribution of scientific and technological progress rising from 52.2 percent to 57.5 percent.
Some of China's emerging sectors, such as the sharing economy, online shopping, mobile payment and gene detection, now rank alongside the best in the world.
"Some areas, which have made breakthroughs in economic transformation, upgrading and the formation of new growth drivers, and have endured the process of structural adjustment, can serve as a template for high-quality economic growth," said Yan.
Challenges ahead
"While some corporate bonds issued by local companies will expire in 2018 and 2019 and may face default, blind expansion and misconduct concerning some public-private partnership projects by local governments in the past few years may add to local government debts," Xu warned, suggesting that some of the risks lurking in China's financial system may yet return.
"Disorders in the asset management sector remain extant, and risks arising from Internet finance are still lingering and need to be tackled discreetly," said Xiong Yuan, a senior research fellow with the Pangoal Institution, a Beijing-based think tank.
Poverty alleviation is also an arduous task weighing heavily on the minds of China's policymakers. "Last year, more than 10 million people were lifted out of poverty. In the next three years, the country has to lift another 30 million people out of poverty, which is challenging," Xu told Beijing Review.
The historic progress so far should not be discounted. According to statistics from the NBS, the population living in poverty was reduced by 12.4 million in 2016, and the number of people escaping poverty is expected to exceed that figure in 2017.
Due to the country's pursuit of green development, energy consumption per 10,000 yuan ($1,565) worth of GDP went down 3.7 percent in 2017 over the previous year. Last year's 6.9-percent GDP growth was achieved while coordinating social and economic growth with ecological progress, said Ning.
"The battle against pollution is important for the lives of ordinary people, and its results are visible and closely concerned with people's daily life," said Xu.
In 2018, the recovering global economy will continue to prop up China, and the driving factors behind the rebound of the national economy, such as supply-side structural reform and infrastructure investment, will continue their role. Given this, China's economy will maintain a stable uptrend, said Xiong.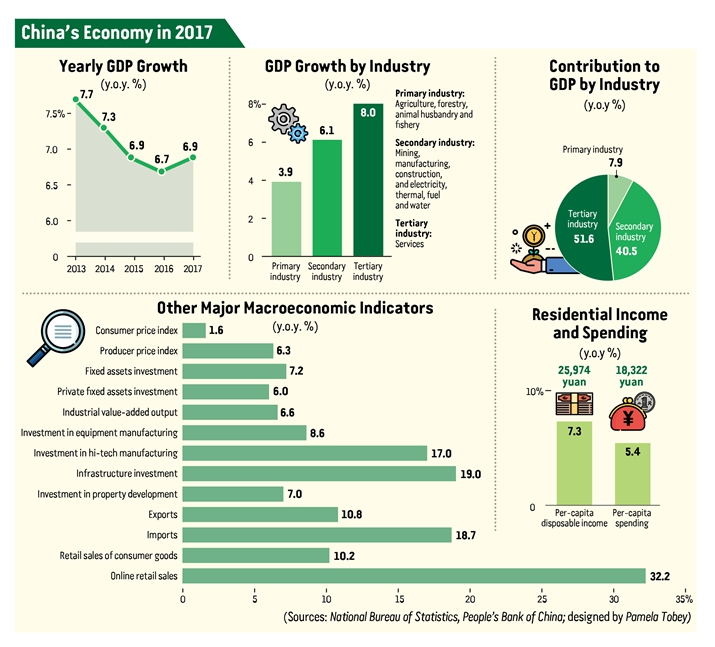 Looking forward
At present, the fundamentals of China's economy are sound. Structural adjustment, optimization and upgrading are being implemented at an accelerated pace. The changes brought by quality and efficiency improvements will also become more obvious, Ning said.
Xu holds that the reform China is pursuing can provide a solid foundation for the country's future development, and tangible achievements have already been made toward this goal.
"The steps we have made are concrete, for example in deleveraging. Last year, the debt-to-asset ratio of state-owned enterprises dropped 0.6 percentage points, which will in turn lower the economic leverage ratio. Similar results have also been achieved in lowering the leverage of financial institutions, effectively curbing potential risks," said Xu.
He predicted that this momentum will extend into the new year, although the growth may slow slightly. "As long as the current trend can be maintained, it will not be difficult to realize a society that is better off than before in China," said Xu.
Copyedited by Laurence Coulton
Comments to dengyaqing@bjreview.com