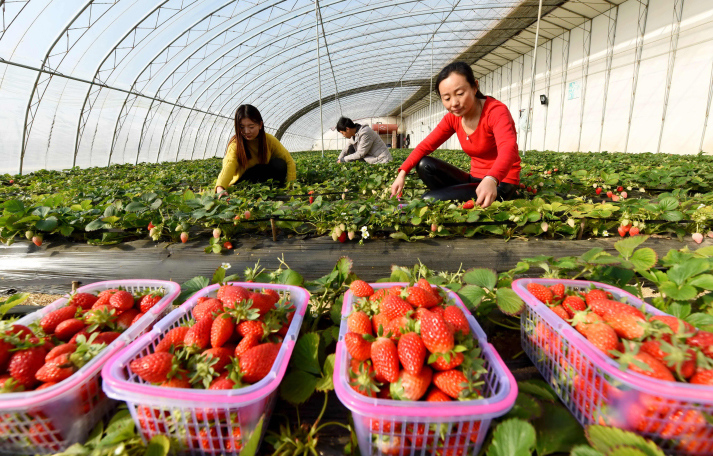 Farmers are getting rich through developing agricultural tourism
Spring Festival was always a tough time of the year for Zhang Yunhai. Like other migrant workers working in urban areas, each year he would have the arduous task of competing with thousands to buy a train ticket to his home village to celebrate the Chinese Lunar New Year, the most important festival in China, and the emotional heartache of having to leave his family on returning to city life. However, after spending six years employed in the manufacturing hub of Dongguan in south China's Guangdong Province, Zhang is now his own man and in high spirits over the holidays. Two years ago, he returned to his home in Taihe County, east China's Anhui Province, and decided to abandon the tough life of an urban migrant worker in favor of setting up his own business growing vegetables.
"Thanks to the choice I made, I have managed to get somewhere in my career and now have more time to spend with my daughter and care for my parents," the 33-year-old told ChinAfrica. He said he is very satisfied with his current life. Instead of the rollercoaster ride of reunion and separation, Spring Festival for Zhang is now a time of family contentment embraced by a sense of permanence.
In 2016, Zhang registered a firm in his hometown with 200,000 yuan ($30,800) he had saved while working in Dongguan to grow and sell organic greenhouse vegetables. Today, the business is a shining example in the area, making an annual profit of 100,000 yuan ($15,400) for the family and employing 10 local farmers.
Zhang is one of China's 7 million migrant workers or university graduates who have returned to their hometowns and started up agriculture-related businesses. Statistics issued by the Ministry of Agriculture show that this number is increasing by 10 percent every year. With improving infrastructure and favorable supporting policies, China's rural areas are attracting entrepreneurial farmers who had previously left their families behind in favor of earning money in cities. This process is improving life in rural China and giving families the chance to stay together. Having gained broad vision, skills and market awareness in cities, these returnee entrepreneurs are becoming a driving force in agricultural modernization and rural economic development, according to observers.
New dynamic generation
Anhui is one of China's major sources of labor. Since China adopted the policy of reform and opening up in 1978, rural residents from this area have been pouring into metropolises and coastal cities, contributing to the rapid urbanization in these areas. The latest figures released by the National Bureau of Statistics show that China had 282 million migrant workers by the end of 2016, 48 percent of the total rural population.
"The longer I stayed in cities, the more I felt homesick. People like me used to regard cities as the only destinations to realize dreams or make fortunes, but ignored the fact that our own hometown is the place in urgent need of talents," said Zhang.
To complete building a moderately prosperous society in all aspects by the time the Communist Party of China (CPC) celebrates its centenary in 2021, China still faces challenges of bridging the rural-urban gap. At the 19th CPC National Congress held in October 2017, rural vitalization was highlighted as a national strategy to meet the challenge. "Thriving agriculture-related industries are fundamental to add vitality to the rural economy," said Han Changfu, Minister of Agriculture. "The key is to stimulate and provide support to rural areas to tap their own potentials through innovation and entrepreneurships," he added.
According to statistics by the Ministry of Agriculture, over 80 percent of businesses set up by returnee migrant workers and university graduates center on agriculture-related projects, each of which creates eight jobs on average. "These are huge and powerful demographic dividends for rural vitalization," said Zong Jinyao, an official in charge of rural innovation and entrepreneurship at the Ministry of Agriculture.
Unlike previous farmers, this generation of returnee migrant workers like Zhang has different perspectives on how to build a prosperous countryside. Experience in cities has broadened their minds and equipped them with skills and market awareness.
They are also able to use technology to their advantage. Zhang works with local logistics companies to sell his vegetables online. "Through improving the efficiency of circulation by means of the Internet, I managed to save considerable costs," he said.
Zong believes these former migrant workers also have another edge. "Familiar with local customs and situations and emotionally bonded to hometown development, they are more likely to build sustainable businesses," he said, noting that successful farmers act as a beacon to attract more talents to rural areas.
Improved hometown
Besides entrepreneurial experience, returnee migrant workers are motivated to introduce elements of urban life and improve public facilities at home. "I want life in my village to be comparable with that in cities. We should have comfortable houses, beautiful parks, and supermarkets with a wide range of products," said Zhang. "Establishing a sustainable business to secure stable incomes is how I can contribute to this ideal scenario," he added.
The Chinese Government has introduced favorable policies to support people like Zhang to realize their dreams. Those include improving rural infrastructure, offering subsidies, streamlining registration procedures, improving financial services and setting up entrepreneurial parks. "Due to the government support, the attraction of rural areas is increasing," said Zong.
In recent years, a flourishing urban economy and the rising awareness of healthy lifestyles has increased the demand for organic agricultural products and rural tourism. "These present lucrative opportunities for returnee migrant workers," said Zong.
The Ministry of Agriculture said China's leisure agriculture and rural tourism sectors received 2.1 billion visitors, generating revenue of 570 billion yuan ($87.7 billion) and benefiting 6.72 million rural households in 2016. Being aware of this trend, Zhang expanded his business to cover agricultural sightseeing, vegetable picking and providing accommodation. "Just with the vegetable picking service alone, my income increased by 20 percent," he said.
"Boosted by a growing economy, the living conditions, healthcare, employment and public facilities are all expected to improve in leaps and bounds," said Zong.
The problem of left-behind seniors and children in rural areas will also be resolved as more migrant workers head back home to build sustainable businesses.
Challenges ahead
Despite his new found success, Zhang's undertaking hasn't all been plain sailing. He suffered initially due to lack of funds and experience. His first winter as a farmer was not memorable as he didn't take local conditions like soil, humidity and precipitation into consideration. "The vegetables didn't grow well and I lost over 5,000 yuan ($770)," he recalled, learning valuable lessons along the way. The current expansion to agriculture sightseeing services is testing his competency of management and marketing. He said his expansion plans are being undermined by the fact that he had a poor education.
Because of this, migrant workers feel that along with attracting them to return home, government should also help logistically and practically by integrating education resources in vocational institutions and providing tailored training services for the new farmers. Zhang advised those migrants who want to start business back home to do research before choosing projects and be well prepared for difficulties. "Doing things on a whim is doomed to failure," he said, adding that success comes from understanding what needs to be done and keeping one's feet firmly on the ground.