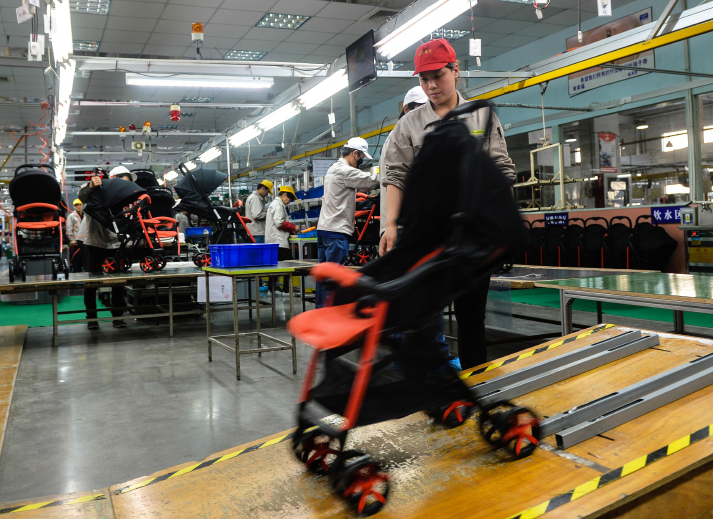 Quality control inspectors check strollers at a production line of Goodbaby Group, China's largest manufacturer and retailer of baby-care products, in Kunshan, east China's Jiangsu Province, on April 18, 2016. The company has got thousands of patents and established seven research and development centers overseas (XINHUA)
When the Qinhuai Lantern Fair, China's largest folk lantern fair, opened in Nanjing, the capital city of east China's Jiangsu Province, on February 16, the organizers' priority was ensuring fire safety at the event that will continue until March. One such measure has been to install sensors to monitor 350 sites. In the event of a fire, these sensors can sound an alarm within 60 seconds.
A sensor system used to cost more than 1 million yuan ($158,000) as it was patented by foreign companies. Then Sensoro, a 5-year-old Beijing-based company where the average age of the staff is 28, developed a pocket-size sensor priced at less than 1,000 yuan ($158) each, which functions by relaying information between sensing devices and a base station through an Internet management platform.
Patents are an indication of a country's innovation level. In the four decades since China started reform and opening up and subsequent governments issued plans to provide impetus to innovation, there has been a surge in Chinese patents.
Patent rankings
At the end of 2017, the Chinese mainland held 1.36 million patents for original inventions, according to the State Intellectual Property Office (SIPO). It meant there were 9.8 patents per 10,000 people. The same year, there were over 1.38 million applications for new patents, making China the country with the highest applications for seven consecutive years. Of these, 420,000 were approved, and the lion's share of them—327,000 patents—were for domestic inventions, indicating an 8.2-percent increase year on year.
"This shows that inventors have more confidence in the domestic intellectual property right (IPR) protection system," Liu Haibo, a research fellow with the Institute of Science and Development under the Chinese Academy of Sciences in Beijing, said. "They are also becoming increasingly aware and capable of applying for patents as well as more innovative in research and development."
"China's input on research and development reached 1.76 trillion yuan ($279 billion) in 2017, up 70.9 percent compared with that in 2012," said Wan Gang, Minister of Science and Technology at a press conference on February 26, adding that the number of full-time research and development personnel in China now ranks the highest in the world.
This progress is also reflected in international assessments. The 2018 Bloomberg Innovation Index ranks China among the global top 20, the only developing economy to make the cut. Placed 19th, China has moved up two spots since the 2017 index.
In the 2017 Global Innovation Index (GII) released by the World Intellectual Property Organization, Cornell University and the European Institute for Business Administration, China's ranking improved by three places from 2016, standing at 22. The rankings were based on analysis of a country's inputs in the innovation sector and outputs from the startup industry.
According to the GII report, in 2017, China ranked first in patent applications by origin, utility model applications by origin, and industrial design applications by origin as well as on nine other counts.
"In the five years since 2012, China has made remarkable achievements in top-level design, application of creations, … international cooperation and the IPR protection system, gaining praise at home and abroad," Shen Changyu, director of the SIPO, said at a national intellectual property meeting in January. "We need to step up IPR protection in a bid to promote innovation and improve the business environment," he said.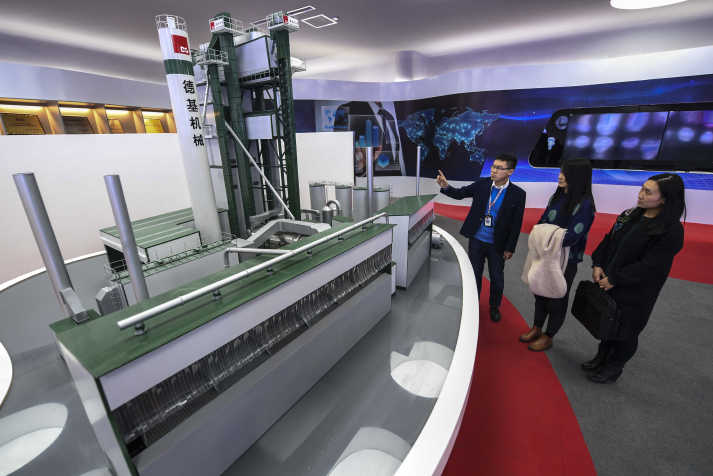 A staff member of the D&G Machinery in Langfang, north China's Hebei Province introduces their asphalt mixing equipment to customers on January 19. The company owns 58 patents including four patents for inventions, and exports its products to foreign countries including Russia and Australia (XINHUA)
Patents and profit
How much revenue are patents generating for Chinese companies? While a comprehensive assessment has yet to be undertaken, SIPO has partial statistics. In 2017, it gave 25 gold awards—20 for Chinese patented inventions and five for Chinese industrial designs. It said that altogether, the 25 recipients brought in 93.9 billion yuan ($14.81 billion) of sales revenues and increased profits worth 9.6 billion yuan ($1.51 billion), while increasing exports by 24.4 billion yuan ($3.85 billion) in the period since their implementation at the end of 2016.
Recognition of the significance of patents has created a new trend in financing—IPR mortgage financing, where companies can obtain loans by pledging their patents, trademarks or copyrighted works. For example, in September 2017, Suzhou Beiang Technology, a hi-tech firm developing innovative air filtration technology, obtained a loan of 5 million yuan ($790,000) from the People's Insurance Co. (Group) of China Ltd. by mortgaging its IPRs.
To facilitate financing for hi-tech firms, IPR mortgage financing programs are being piloted. In 2017, over 4,000 projects received patent mortgage financing totaling 72 billion yuan ($11.36 billion), up by 60 percent and 65 percent, respectively, year on year, according to People's Daily.
According to the 13th Five-Year Plan (2016-20), China's intellectual property royalties earned abroad are expected to reach $10 billion in 2020 from $4.44 billion in 2015. "This indicates that the value of Chinese intellectual property is being increasingly recognized in foreign countries," Liu said.
Nonetheless, in certain sectors China still lags behind developed countries in terms of patent portfolio, said Hu Wenhui, SIPO spokesman, adding that China must continue to foster innovation in order to bring about more high-value inventions.
Copyedited by Sudeshna Sarkar
Comments to wangjun@bjreview.com