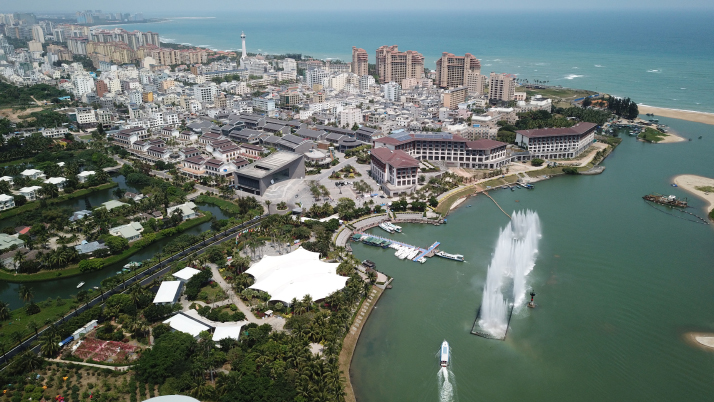 Aerial photo taken on March 25 shows the the permanent site of Boao Forum for Asia and Boao Town (XINHUA)
Every spring since 2002, high-ranking government officials, entrepreneurs with global influence, herds of journalists and photographers—like a great migration—have flocked to the very south of China's Hainan Province and crowd into a small town for several days, not for vacation, but for an economic forum.
The town, named Boao, was chosen as the permanent venue for the annual conference of the Boao Forum for Asia (BFA) in 2001 and the first BFA annual conference was held there the following year.
Why Boao?
With more than 1,000 years of history, Boao has had a written record since the Song Dynasty (960-1279) with "fishing residents" being the earliest known inhabitants. The meaning of the word Boao is "abundant fat fish," which also meant the source of ample food and clothing for the town.
With sandy beaches, copious sunshine, coconut trees, glittering blue seas, fresh air and plenty of blue skies, Boao has everything that people expect from a beach town and a paradise of harmonious coexistence between humans and nature.
It has other unique advantages as well. Located at the convergence of three rivers, the natural landscape created by the Wanquan, Jiuqu and Longgun rivers converging and rushing into the South China Sea is dominating.
Yudai Beach, recognized by Guinness World Records as "the narrowest beach peninsula separating sea from river," is 8.5-km long with the South China Sea on one side and the mirror-like Wanquan River on the other. Such a landform is quite unique in Asia.
Subject to a tropical monsoon climate, the town's change over the four seasons is barely noticeable. Moreover, as a semi-fishing and semi-farming town, it also boasts traditional Hainan food.
With all of its attractions, Boao has made itself a world-class conference center and a holiday destination.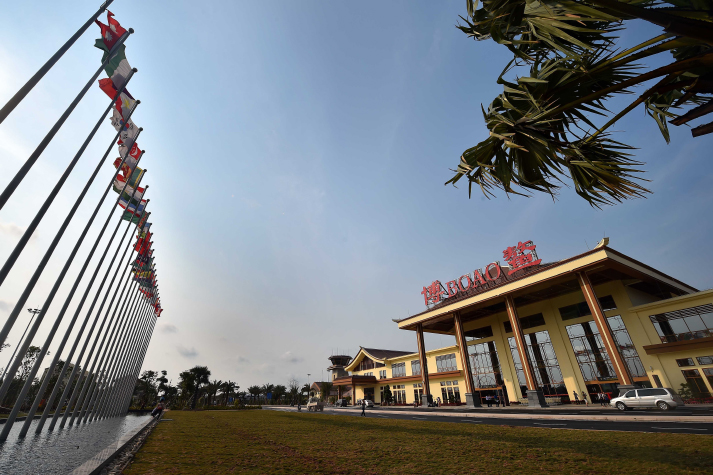 The Boao Airport that is built to better serve the Boao Forum for Asia (BFA) annual conference (XINHUA)
Major changes
Lu Yuhui, born in 1992, is a Boao local. Seeing the great changes brought by the BFA to his hometown, he decided to return to Boao after studying in Guangzhou, capital of south China's Guangdong Province.
"Without the BFA, my hometown couldn't be what it is now," Lu told China.org.cn. "When I was a kid, Boao was just a small fishing village and transportation at that time was very inconvenient."
Lu said they had to ride tricycles to get around since there was only one bus every hour traveling out of the village.
Lu left for Guangzhou in 2007 and every time he returned to Boao, he was awed by the great changes that had taken place. Everything is now new and modern and it has become a go-to destination for tourists in Hainan. All this has brought many job opportunities for residents there as well.
Lu resettled in Boao in 2012 and started working at a golf course. In 2013, he was selected to work at the venue of the BFA annual conference. "I was excited to see so many celebrities gathering in my hometown," Lu said. His parents have also worked at that place. "The BFA has changed the life of my family and many residents in the town," he added.
Several four- and five-star hotels have sprung up in Boao since 2002, while restaurants of various flavors flourish.
Mo Zehai, a 68-year-old from Nanqiang Village in Boao, together with 18 other households in the village, opened a restaurant which serves genuine local dishes made from homegrown vegetables and home-raised chickens, ducks and geese.
The villagers also run guesthouses out of their homes for individual tourists. "Business is very good, especially during the Spring Festival when people from the north come here for a warm holiday," Mo told Nanguo Dushibao in 2017. "Some villagers who used to work outside have returned and launched tourism businesses."
Currently, the whole town is busy getting ready for the BFA Annual Conference 2018, which takes place on April 8-11.
This year's meeting is highlighted as the first major diplomatic event hosted by China in 2018.
Under the theme of An Open and Innovative Asia for a World of Greater Prosperity, the BFA Annual Conference 2018 will discuss topics such as the future of transportation and production, the Asian economy, the rural economy, the Belt and Road Initiative, the technological revolution, and overseas investment, among others.
In addition to its annual conference, the BFA also sponsors other forums and activities related to Asian issues. In February, the first international fashion week in Boao was held.
"The international fashion week will help to associate 'fashion' and 'art' with Boao and further upgrade the town's image internationally," Hong Feng, Vice Mayor of Qionghai, said at the closing ceremony of the event.
Copyedited by Rebeca Toledo
Comments to yuanyuan@bjreview.com