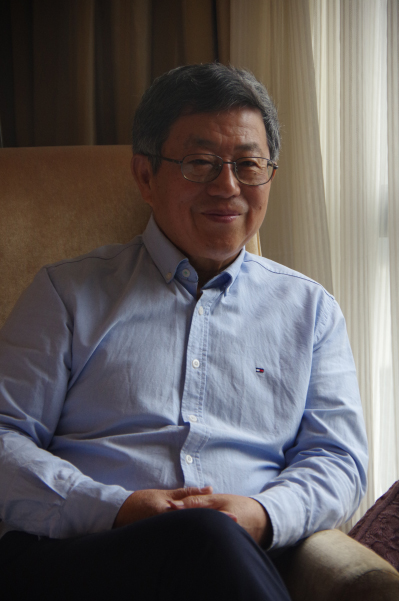 This year marks the 30th anniversary of the establishment of the Hainan Special Economic Zone and its designation as a Chinese province. Hainan's progress over the past three decades has been a microcosm of the achievements of China's reform and opening-up drive. In a recent interview with China Report, Chi Fulin, President of Hainan-based China Institute for Reform and Development, shared his insights on Hainan's development. An edited excerpt follows:
China Report: 2018 marks the 40th anniversary of the launching of China's reform and opening-up policy as well as the 30th anniversary of the establishment of Hainan Province and Special Economic Zone. Can you give us your reflections at such a special historic moment?
Chi Fulin: Hainan was born of reform and thrived because of reform.
When I visited Hainan at the end of 1987, I was a young man full of vitality. Having lived in north China until then, I imagined Hainan to be a beautiful island in southern China. However, after arriving, I found Hainan to be very backward, with hardly any traffic lights and only the hustle and bustle of motorbikes on the streets, very different from what I had envisioned.
Hainan's GDP in 1987 was only a little over 20 billion yuan ($3.18 billion). However, several major transformations have taken place in Hainan over the past three decades. First, the province has gone from an underdeveloped region into a rapidly growing area. Although its GDP has been less than 500 billion yuan ($79.6 billion), the difference still represents a more than 70-fold increase compared to 30 years ago, which is a great improvement.
Second, Hainan has developed from an isolated island and defense outpost to the largest special economic zone in China and a dynamic international tourist destination. As the saying goes, "If you want to stay healthy, come to Hainan frequently."
Third, people's living standards have improved considerably in Hainan. Local people used to be impoverished. The per-capita income of local residents was slightly more than half of the national average, but now the figure is approaching the national average. Remarkable progress has been made in education, medical care, health, ecology, resident income and urban and rural construction, as well as people's sense of happiness.
The province has also drawn professionals from other parts of China to work or start new businesses. In the past, there were no graduates from prestigious universities such as Peking University (PKU) or Tsinghua University returning to Hainan. Now I myself know several PKU graduates returning to their hometowns in Hainan to work.
The historic changes which took place here are directly attributed to the reform and opening-up drive. Without this policy, these changes would not have been possible. The Decision on Setting Up Hainan Province and the Decision on Establishing the Hainan Special Economic Zone were adopted at the First Session of the Seventh National People's Congress, China's top legislature, on April 13, 1988. Hainan was originally designed to become the largest special economic zone in China, applying policies which were even more preferential than those in other economic zones.
In retrospect, although Hainan has made historic achievements toward its development as a special economic zone, it's off the mark when it comes to its original designation due to multiple factors. For instance, the idea of adopting more preferential policies than its peers failed to be sufficiently realized owing to restrictions imposed by existing institutional systems. Moreover, the goal of enabling Hainan to enter the international market and enjoy an economic status similar to Hong Kong has not been completed. The province still needs to allow reform and opening up to reinforce each other.
Hainan is making an effort to open up its tourism industry by transforming into an international tourism island in order to drive the opening up of other industries. The province has developed rapidly since positioning itself to become an international tourism island. However, as an island economy, Hainan's economic connections with other parts of China are far from enough and policy implementation in Hainan is inadequate compared to Beijing and Shanghai. To further its growth, the province must pursue an opening-up development model.
On an inspection tour of the province in April 2013, President Xi Jinping called on Hainan to further deepen reform, expand opening up and free its mind. Reform and opening up are in Hainan's genes and the island is at a critical juncture as well as at a new starting point concerning whether it can become "the largest special economic zone in China" in the true sense of the term.
What's the most important lesson to draw from Hainan's development during the past three decades?
There are four points that I have concluded.
First, the key to the economic development of an island lies in openness. Unlike Shanghai or Beijing, Hainan can be somewhat sluggish and closed by nature. It must overcome these weaknesses by adopting an open development model, so as to release its endogenous power. A minor change in the policy cannot solve the root problem.
No island can develop purely through enjoying preferential policies. This is decided by its inherent laws. The success of island economies worldwide lies in openness. In the context of globalization, the level of an island's openness can decide its level of development. It is safe to say that Hainan's development in recent years can be attributed to openness.
Second, structural reform should be compatible with the openness model. Island cities are very different from inland ones. As important as policies are, the systems and mechanisms should fit with the openness model. This is also the goal of reform.
I think we should follow the comprehensive deepening of reform introduced by the Central Committee of the Communist Party of China and tap into the full potential of Hainan. We should also make major breakthroughs in economic, social, political and ecological systems.
Hainan needs to make breakthroughs in promoting systematic reform in economic structure, social organization, administration and ecological advancement. The island should be developed as a whole while moving fast to make innovation in city planning and management, administration, resource pricing, ecological protection, and service industry development. In this way, we can stimulate the vitality of individuals, enterprises and the entire society; make full use of the decisive role of the market in resource distribution; break through the administrative partition and regional barriers in utilizing resources to form a unified force for coordinated development in towns and counties; and create a new driving force for Hainan's sustainable development.
Third, we need to be selective when choosing industrial development. We should never pursue the path of traditional industrialization nor investment-driven development. To be an international tourism destination, Hainan can develop tourism as its pillar industry. This is the comparative advantage of an island economy.
However, there is still a lot of room for the development of Hainan's tourism industry. Our tourism products are not rich and diverse. For example, health tourism is an underdeveloped area. The level of the internationalization of tourism is not high enough. With the upgraded consumption structure of the Chinese people, they require more international tourism products. Island tourism should be combined with the service industry, including aviation, cruise trips and financial products.
The development of Hainan's tourism should adapt to the changes in the consumption structure. Promoting tourism in the traditional sense is far from enough. Although we still have a lot of difficulties, Hainan should transform into a modern industrial system with tourism as the key and the service industry as the lead.
Fourth, the core of development of an island economy is its strategic positioning. We need to open our horizons and follow the trend beyond its limits. Fixing our eyes on the island will not make us stand out throughout the country. So understanding our strategic positioning is extremely crucial.
If we look to the next 30 years, what opportunities do you see for Hainan?
I think that Hainan, standing at a new starting point, will have three fresh opportunities. The construction of the Belt and Road Initiative will bring new openings for its development. The efforts to develop an open economy and to pursue opening up on all fronts will also provide new opportunities, as will the upgrading of the consumption structure inside China.
Under these new circumstances, Hainan is endowed with four new missions. First, it must deepen opening up to better serve the Belt and Road Initiative. In order to jointly build the 21st-Century Maritime Silk Road, Hainan should promote itself as the go-to province to lead cooperation, development and opening up in the Pan-South China Sea area, and to become the corridor to connect free trade between China and other economies in the region.
Second, Hainan must also conduct comprehensive reform to stimulate the vitality of all market players and build a more dynamic system.
Third, it should share the responsibility of executing the country's development strategy in the South China Sea, since its advantages and strategic status derive from adjoining the sea. In the future, Hainan must give full play to its geographical positioning and fulfill its mission of contributing to China's efforts to be a strong maritime country.
Fourth, Hainan must strive to implement the green development plan as a sound eco-environment is its strongest advantage. At the request of the Central Government, Hainan needs to put more efforts into increasing its vegetation coverage and defending the blue sky. By adopting the new model, systems and mechanisms related to green development formed since the reform and opening-up drive, Hainan can forge a new road for harmonious development between humankind and nature.
We must strive to build Hainan into a prominent international, modern and beautiful island by 2049. At that time, the main indicators of economic and social development should reach the level of an advanced economy and the objective of high internationalization should be realized. Advanced Chinese green development should play a leading role in the world.
I believe there is currently a favorable development environment, and as long as we adopt a more open model and maintain economic growth, Hainan could usher in greater achievements.
This is my unfinished dream regarding the development of Hainan. I dedicated my youth to Hainan, poured my earnest emotions into Hainan and rooted my life here. Despite my advanced years, I still plan on making contributions to the development of Hainan. I love its beautiful green waters and mountains and I want to strive for its prosperity. I am looking forward to embracing the development of Hainan in the next 30 years.
Copyedited by Rebeca Toledo
Comments to zanjifang@bjreview.com