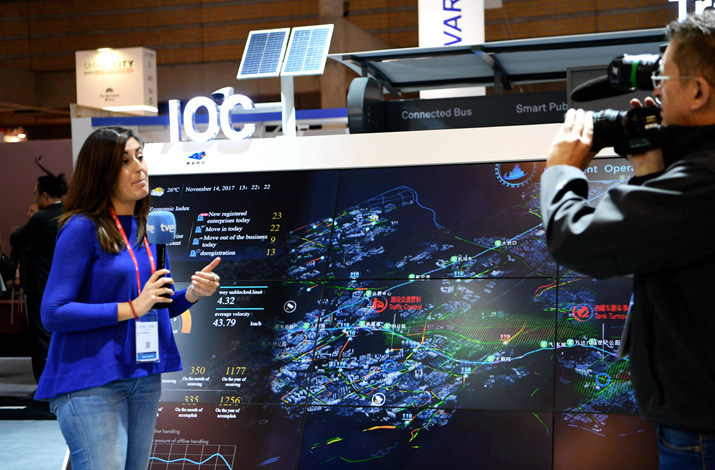 Reporters cover Chinese technology giant Huawei's smart city solution at the Smart City Expo World Congress in Barcelona, Spain, on November 14, 2017(XINHUA)
China's top-tier cities may be elevated from regional centers to future global metropolises, with advantages for sectors such as smart cities and artificial intelligence.
International investors from global giants like Boeing, Merck and Siemens shared this view at the Annual Investment Conference in south China's Guangzhou City in late March.
The conference was a major event aimed at promoting the city to potential investors and listening to their comments on its business environment. Over 1,800 enterprises from around the world attended the conference, with many investors stating that China is now more than just a large market.
Merck, a world leading company in health care, life science and performance materials, has been operating in China for over 80 years. Along with its existing research and development centers and labs in Beijing and Shanghai, the company established a new China Innovation Center in Shanghai in February.
"The opening up of China has made a great difference to our business; it allowed us to advance the liquid-crystal pigment business sector," said Allan Gabor, Managing Director of Merck China. "When Merck looks at China, we see China as much more than a large business market; we see it actually as an enabler of our global strategy," Gabor added.
Similarly, John Bruns, Vice President of Boeing International, said China is now "a source of innovation" from the company's perspective. The U.S. aviation giant will soon open its first finishing and delivery center for 737 planes outside the United States in east China near Shanghai. It also recently signed an agreement with China Southern Airlines to initiate a 737-converted freight project in Guangzhou, in addition to including a local maintenance company in its 787 global care program.
Cities like Beijing, Shanghai, Guangzhou and Shenzhen, and the Greater Bay Area of Guangdong, Hong Kong and Macao, are becoming key players in investors' global strategies. These cities have mature urban infrastructure, advanced industries and are renewing their focus on development to be in line with the information revolution and an international lifestyle.
Guangzhou, for example, is focusing on the new generation of information technology, artificial intelligence, bio-pharmaceuticals, as well as new energy and materials. The output of its new generation Internet technology and panel display industries have both exceeded 100 billion yuan ($15.9 billion). It is also aiming to become a smart city by teaming up with global giants like Cisco and Siemens.
What will global cities of the future look like?
"A future global city should be a leader in smart mobility and smart energy distribution and future technology like artificial intelligence. I think Guangzhou is on a very good path toward that," said Jens Hildebrandt, chief representative of the Delegation of German Industry and Commerce Guangzhou.
But investors also pointed out that Chinese cities still need to tackle a series of challenges before they become global cities, including intellectual property rights protection, environmental protection, further opening up and continuous innovation, as well as self-promotion. These are also the areas where huge opportunities lie.
SHV Energy, the world's largest distributor of liquefied petroleum gas (LPG) energy solutions, has signed a memorandum of understanding with Guangdong Province to build a LPG terminal in the city's Nansha District.
"With the strong focus of the Chinese Government on improving air quality and reducing emissions, you see a higher need for clean energy solutions." said Maarten Bijl, global Vice President of the company. He added that SHV is also upgrading its business model and looking for cleaner energy solutions which may include cooperation with Chinese cities.
"We're in discussions to see how we can work with the city of Guangzhou, to achieve hydrogen mobility solutions here, which is the next step," he said.
Aside from top-tier cities, China as a whole is putting every effort into further opening up. In early March, the government pledged to continue to streamline administration and delegate power to improve the business environment and further stimulate market vitality.
"When Merck looks at China, we see China as much more than a large business market; we see it actually as an enabler of our global strategy." --Allan Gabor, Managing Director of Merck China
Copyedited by Rebeca Toledo