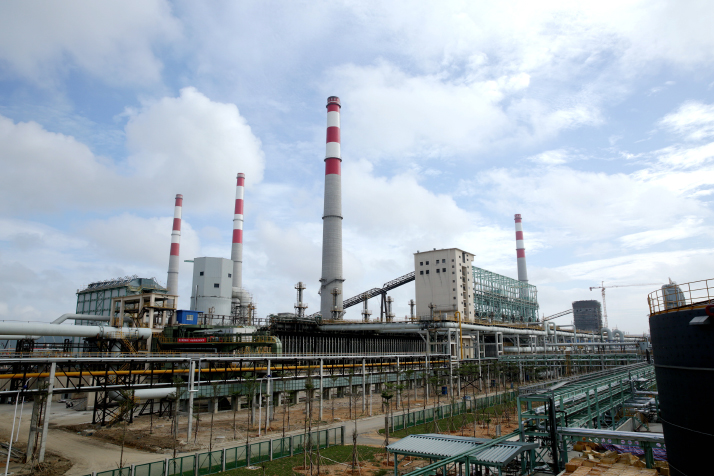 The coking and coal gas refinery of an iron and steel factory in Zhanjiang, south China's Guangdong Province
Rising sea levels, frequent acid rains, days darkened by heavy smog, all these intractable problems conspire to blight the living environment of humankind. A solution admits of no delay.
Metal smelting, an indispensable process of economic development, has long been pinpointed as a major culprit behind this degradation, while coke, a vital fuel that provides energy for metallurgy, is known for its role in consuming energy and emitting pollutants. As the largest iron and steel making country in the world, China looks poised to resolve the dilemma with a significant breakthrough in coking technology developed by state-owned enterprise ACRE Coking & Refractory Engineering Consulting Corporation in the form of a seven-meter, top-loading coke oven.
Industry pioneers
Also known as high temperature carbonization, coking is a process which heats coal to above 1,000 degrees Celsius in the absence of air. Through destructive distillation, a series of products are generated, including coke, coal gas, coal tar and other chemical substances. Of these, coke is the most essential ingredient for smelting iron in a blast furnace as a source of heat, a reducing agent and a structural supporter.
"So far, there has been no alternative to coke in large-scale metallurgy. The global coking industry is experiencing an annual sales growth of more than 1 trillion yuan, while nearly 600 Chinese coke makers produce 450 million tons every year," said Wang Mingdeng, assistant chief engineer of ACRE, the pioneer and frontrunner of China's coking sector.
Founded in 1953, the company was originally set up to assist the development of Ansteel, the originator of China's iron and steel industry. Now, its business model is structured around engineering, procurement and construction and its main line of business is engineering design, including coking chemistry, fireproof materials, lime, automatic control, municipal engineering and environmental engineering.
As a global, technology-oriented player providing comprehensive engineering construction services and operation maintenance, the company has built more than 2,000 coke ovens, over 300 fireproof material factories and 400 lime kilns, with a total annual capacity exceeding 400 million tons, 8 million tons and 60 million tons respectively.
"Whether in terms of annual revenue, construction volume or professionals, ACRE leads the world," said Wang. For instance, there are roughly 1,500 technicians and experts specializing in coking-related consultation and design worldwide, with at least half of them working for ACRE.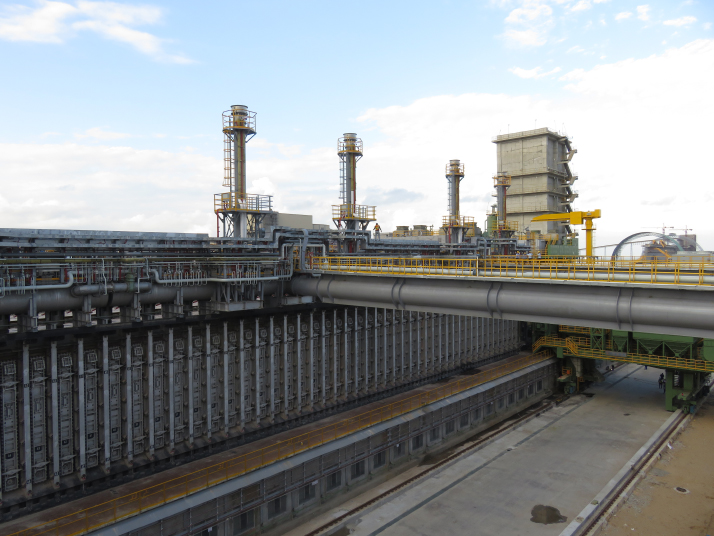 The coking project of the Formosa Ha Tinh steel factory in Viet Nam's Vung Ang Economic Zone
Insurmountable task
Stepping into the new century, China's metallurgical industry witnessed rapid expansion, and at the same time the Chinese Government began to attach great significance to energy conservation and the reduction of emissions. In 2004, the Ministry of Environmental Protection formulated a new set of emission standards for the coking industry.
However, since the equipment employed by domestic manufacturers was unable to reach the required technological level, the standards, although finished, were not immediately released. "Then, China's coking technology and equipment lagged behind those of Germany and Japan by at least 25 years," said Wang.
At that time, the average annual output per coking company in Germany and Japan was 1.8 to 2.2 million tons, while Chinese institutions produced on average merely 250,000 tons. Smaller volume and lesser technology meant more emissions and higher consumption of energy and resources.
"Technological blankness forced many domestic iron and steel companies to import super large volume coke ovens, primarily those exceeding seven meters in height," said Wang. In this way, investment per ton of production capacity increased by 2 million yuan, but the imported equipment was poorly suited to domestic conditions.
"These foreign-manufactured coke ovens require the proportion of strongly caking coal to account for no less than 60 percent. Otherwise, graphite will accumulate in the carbonization chamber and ascension pipe, blocking normal production. Yet strongly caking coal does not abound in China, and importing it from other countries would greatly increase the cost," said Wang.
In 2008, ACRE joined hands with Ansteel and the University of Science and Technology Beijing, submitting an application to the Ministry of Science and Technology for a key project under the 863 Program to conduct technological research on a super volume top-loading coke oven. Three years later, the technology was independently developed and successfully applied to the fourth phase of Ansteel's demonstration project. As a result, the government's emission standards were finally put into effect in 2012.
Enormous benefits
After breaking the technical bottleneck, it was not long before ACRE developed a 7.65-meter coke oven and won the bid for the coking project on the second phase of the Shougang Jingtang iron and steel factory. Today, the technology has been employed in the construction of 132 coke ovens with a total capacity of 98 million tons, while over 16 billion yuan of engineering investment has been saved.
Moreover, thanks to the breakthrough, the proportion of large coke ovens in China has been raised by 37 percent, and the average production capacity per coke producer has been expanded by 380 percent, saving a total of 12.9 million tons of high-quality coking coal every year and reducing emissions of nitric oxide and carbon dioxide by 45,000 tons and 1.73 million tons annually.
"The key to increasing the height of the coke oven from 6 meters to 7 meters lies in how to evenly heat it, reducing energy consumption and generating less nitric oxide," said Wang.
If the oven is heated unevenly, a large volume of nitric oxide will be produced. Yet, the larger the oven the more difficult it is to heat it uniformly. To solve this technical difficulty, experts and technicians at ACRE delved into the chemical mechanism of nitric oxide, establishing a three-dimensional mathematical model covering the carbonization chamber, firebox and heat storage system, before finally developing a controllable multi-tiered system.
The system has made possible even heating, lower energy consumption and the reduction of emissions all at once. In addition, the construction of a seven-meter, top-loading coke oven developed by ACRE costs 300 million to 400 million yuan less than one imported from Germany.
"The conversion of the technology into economic benefits has been unprecedentedly quick. It has already been applied in 47 domestic and overseas engineering projects, including those run by Baowu Steel, Ansteel and Hebei Steel," said Wang.
In December 2016, the No.2 coke oven of the Formosa Ha Tinh steel project came into production, marking the debut of the seven-meter, top-loading coke oven developed by China overseas.
"With the trend of international capacity cooperation, ACRE is leaving no stone unturned in pitching the technology to the overseas market. Now, the company is conducting technological cooperation with partners in Russia, India, Japan and Turkey," said Wang.