Guan Yaoqu (standing), General Manager of E Valley in Qinhuangdao, north China's Hebei Province, conducts a brainstorm session with entrepreneurs during a training program on September 9, 2015 (COURTESY PHOTO)
Editor's Note:
More than four years have elapsed since the synergetic development of the Beijing-Tianjin-Hebei region was first put forward as a major national strategy in February 2014, calling for the integration of the economic zones surrounding Beijing.
With their own unique advantages, such as favorable climate, convenient transportation and a talent pool, cities in Beijing's neighboring Hebei Province have been on their way to achieving an overall transformation and upgrade of industries by tapping into rich resources transferred from the nation's capital.
Beijing Review reporters visited several cities in Hebei in July and witnessed how they serve as essential elements in the building of the capital economic circle and what they have gained in the process.
After graduating with a Master of Business Administration degree in 2013 and a couple of jobs later, Guan Yaoqu decided to pursue his career at the Beijing headquarters of E Valley, a technology services provider and business incubator located at the Zhongguancun Haidian Science Park, a hub of advanced technology known as China's Silicon Valley.

Three years ago, Guan was transferred to a newly established branch of E Valley in Qinhuangdao, north China's Hebei Province, and now works as the general manager. Little did he know that the job relocation would change his life and the lives of a number of entrepreneurs in the ensuing years.

"Incubators like us and the local government reached a tacit understanding that we would learn from Beijing's entrepreneurial concept and development models in the interests of startups in Qinhuangdao," Guan told Beijing Review.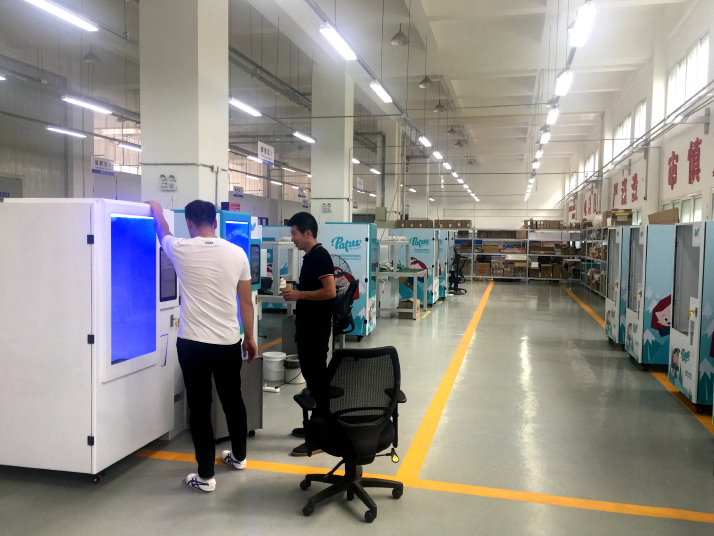 Technicians operate a fully automated ice cream-making machine at Ruiao, an intelligent technology startup at E Valley in Qinhuangdao, on August 7(COURTESY PHOTO)
Witnessing growth
E Valley's Qinhuangdao branch, which opened in August 2015, is situated at the Qinhuangdao Economic and Technological Development Zone (QETDZ), a piece of land carved out of the coastal city that focuses on developing the hi-tech industry for regional economic development.
With human and technological resources from Zhongguancun and Beijing at large, the incubator brings the capital's well-developed entrepreneurial ecosystem model to help small and micro businesses grow and reach maturity.
The branch has a 30,000-square-meter office space equipped with a complete set of facilities. According to Guan, by the end of June, about 430 entrepreneurs from over 60 companies worked there. Startup companies established within 24 months can enjoy all the conveniences of the space after applying and passing a selection process.
To encourage entrepreneurship and innovation, the local government offers a rental allowance for companies at E Valley. Eighty percent of rental fees are reimbursed. Guan said that a startup pays only about 4,000 yuan ($586) per year for an office space of 100 square meters, while the market price can be as high as 10,000 yuan ($1,465) to 20,000 yuan ($2,930) per year.
At the incubator, industrial training and consulting services are available to startups, involving information on national and regional policies, business management, patent application and industry analysis. Instead of considering E Valley a company, Guan and entrepreneurs prefer to think of it as a space for innovation and creativity, where they can turn their ideas into substantial yields.
"We want to do our best to answer requests from small and micro companies, from helping them with their company brochures to investment promotion," Guan said.
In turn, startups at E Valley are under pressure to deliver tangible results. E Valley established an agreement with the QETDZ Administration Committee that each year at least five startups should graduate from the incubator with an annual operating revenue of 5 million yuan ($732,000), which Guan said is not easy to achieve. Startups are given three years to reach the goal. If they fail, they can no longer enjoy E Valley's resources and will be asked to move out.
"Failing is pretty common for entrepreneurs. What incubators like E Valley do is to facilitate and add to the probability of success. The three-year goal is for us, too," Guan said. August marks the first three-year deal, and the incubator has already successfully cultivated five startups that have achieved the 5-million-yuan goal.
After graduating, companies are required to leave the incubator. Usually they go to business accelerators which offer preferential policies suitable for their stage of development. And the incubator fills its spots with new startups.
It took E Valley a period of time to find a suitable operation method. At first, it tried to focus on incubating startups in the e-commerce business, a thriving industry in China. But soon it realized it was impractical because Qinhuangdao is relatively underdeveloped in manufacturing, making it hard to develop e-commerce.
It was only this year that it found the information software industry was suitable for local conditions. Most of the startup companies E Valley incubates are in the information software industry. They provide products and services related to various fields such as education, cartography, medical equipment, and security and protection systems.
Qinhuangdao Best V Science and Technology is a technological startup with its office in E Valley. The company is developing an intelligent baby play mat. When babies crawl onto the mat and touch the pictures on it, the mat makes sounds related to the pictures and interacts with the baby. The company started from scratch at E Valley, and last year its products were introduced to the market.
Another successful example is Ruiao, an intelligent technology company that developed a fully automated ice cream-making machine, which combines ice cream making and selling all in one. Ruiao's founder and General Manager Liu Weili said that E Valley offered his company a lot of help in terms of expanding its market, improving product design and accelerating the development process. In June, the product attracted 2 million yuan ($293,000) from angel investors.
By February, there were 12 incubators at the QETDZ, including E Valley, home to over 300 startup enterprises with a total of over 260 patents.
A land of entrepreneurship
Guan said that the Qinhuangdao branch of E Valley is the fruit of regional cooperation between the government of Haidian District in Beijing, where Zhongguancun is headquartered, and the QETDZ Administration Committee. Such cooperation is in line with a major national strategy first put forward by President Xi Jinping in February 2014, which calls for the synergetic development of the Beijing-Tianjin-Hebei region and the coordination and integration of the economic zones surrounding Beijing.
Moreover, mass entrepreneurship and innovation, an initiative proposed by Premier Li Keqiang that encourages startups and innovation through policy incentives, also serves as a motivator for entrepreneurs.
In the spirit of the national initiatives, the QETDZ signed collaboration deals with scientific research institutes and universities in Beijing such as the Chinese Academy of Sciences, Peking University and Tsinghua University in order to invite their programs and high-caliber personnel to lead the development of local companies and tap into their potential.
Copyedited by Rebeca Toledo
Comments to luyan@bjreview.com