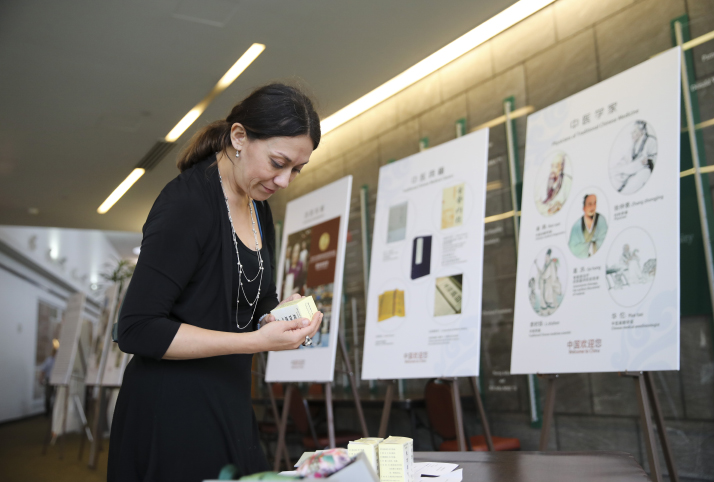 A visitor inspects a herbal medicine sample at an international forum on traditional Chinese medicine held on August 17-18 in Cleveland, Ohio, United States (XINHUA)
Traditional Chinese medicine (TCM), a 2,000-year-old Chinese national treasure, is experiencing a recent boom thanks to the Belt and Road Initiative.
Years ago, Niu Hongwei's TCM company in Weiyuan, a county in northwest China's Gansu Province, used to only sell herbs to domestic pharmaceutical enterprises.
Among the 23 impoverished counties in Gansu, Weiyuan is known for its medicinal products, in particular astragalus root and dangshen, or codonopsis pilosula.
"Our business took off in 2013 after the Belt and Road Initiative was proposed," recalled Niu. "Foreign entrepreneurs and officials began visiting my company to seek cooperative opportunities."
The initiative, also known as the Silk Road Economic Belt and the 21st-Century Maritime Silk Road, was put forward by Chinese President Xi Jinping in 2013 in a bid to boost connectivity and seek common prosperity.
In 2016, Niu signed an agreement with a merchant from South Korea. He provides herbal medicines every month to the merchant whose company processes them into cosmetics and health products.
Niu will make his first business trip to Singapore next month to explore the possibilities of a new foreign market.
"In the past, it was unimaginable for small companies like mine in China's remote west to engage in international trade. Now we have more opportunities," he said.
Another pharmaceutical company Foci, based in the city of Lanzhou in northwest China's Gansu Province, has collaborated with 28 countries and regions across the world, exporting hundreds of types of herbal medicine.
"We hope that TCM will be included in the medical insurance of local governments, so more people can benefit from it," said Sun Yu, general manager of Foci.
TCM is seen by many as a national treasure in China for its unique theories and practices, such as herbal medicine, acupuncture, massage and dietetics.
In addition to the growing overseas demand for traditional Chinese herbs, TCM services and culture have also begun to attract more global attention.
Gansu University of Chinese Medicine's affiliated hospital has been cooperating with a medical institute in Brazil to set up a TCM center in Sao Paulo.
Zhang Xiaogang, president of the hospital, said that both sides have agreed on the location and talent training. In May, 20 Brazilian doctors came to China for TCM theory and practice training.
Located in northwest China, Gansu is the birthplace of TCM masters such as Qi Bo, and the province is rich in TCM culture.
Local authorities have increased efforts to promote TCM overseas, with eight TCM medical colleges and six medical centers in countries such as Kyrgyzstan, Hungary and France.
China has established 26 overseas TCM centers in the past three years, most of which are in countries along the Belt and Road routes, according to the State Administration of Traditional Chinese Medicine.
Yao Xiaoqiang, a TCM practitioner sent from China to Kyrgyzstan, gives lectures to foreign colleagues and sometimes offers free treatments to locals at a TCM center.
Patients need to have X-rays, blood tests or other diagnostic tests done before the TCM practitioner offers treatment. "They come to strengthen and balance their overall well-being and to get relief from the pain," Yao said.
Alexander Gerovchars, associate professor of acupuncture and moxibustion at Bogomolets National Medical University in Ukraine, has visited Lanzhou four times to attend intensive TCM training courses.
Gerovchars said that TCM and Western medicine can improve overall medical services for people by complementing each other. "Traditional Chinese medicine provides a new way to solve health problems. We need it," he said.
This is an edited excerpt of an article originally published by Xinhua News Agency
Copyedited by Rebeca Toledo
Comments to zhouxiaoyan@bjreview.com