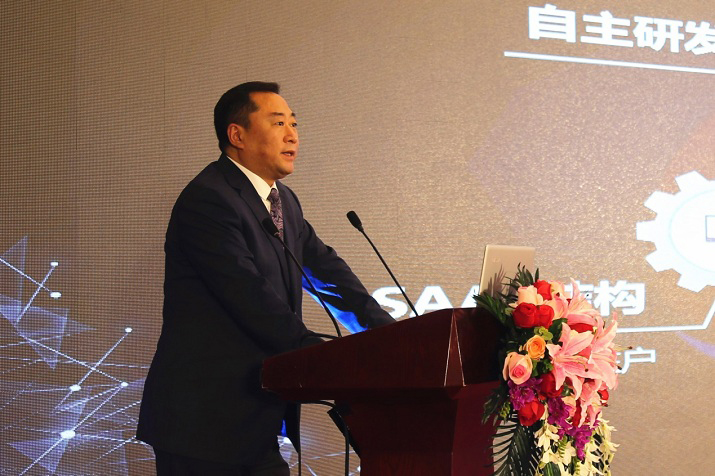 Zhao Bin, President of Zhongzhao United Information Co. Ltd, addresses a celebration marking the company's third anniversary on September 11 (COURTESY PHOTO)
As the construction and operation of electronic tendering advances, multiple stakeholders are showing interest in the online platform, indicating a huge potential for the industry, according to Zhao Bin, President of Zhongzhao United Information Co. Ltd, at a celebration marking the company's third anniversary on September 11.
"The attitude toward tendering agencies started to change with the establishment of the electronic platform when some leading companies began to take the initiative to cooperate with us," he said, adding, "More and more tenderers began using electronic tendering systems and some even conducted minor purchases through the platform."
By August 31, the number of Zhongzhao United's tendering platform users reached 113,468, and the volume of business hit 64.5 billion yuan ($9.39 billion).
According to Zhao, the total amount of entrusted tendering nationwide reached 20 trillion yuan ($2.91 trillion) in 2017, a 10-trillion-yuan ($1.46-trillion) increase from 2011, suggesting huge potential in the electronic tendering industry.
Ren Long, Chairman of the China Tendering and Bidding Association, said at the celebration, "Under the new business model featuring Internet Plus, China's electronic tendering is flourishing with the support of policies at the governmental level."
In 2013, China released its initial rules on electronic tendering-a milestone event for the industry-aiming to improve procurement transparency, reduce resources and transaction costs, transform government functions and encourage healthy development.
The essential difference between traditional tendering and electronic tendering lies in the utilization of information technology with a network as the medium, where the spatial and geographical differences are broken, accelerating the process of tendering activities.
Moreover, the new business model provides opportunities for platform operating companies to integrate Big Data and provide information analysis services for both the government and upstream and downstream enterprises in the industry, which is conducive to government decisions and supervision.
"We have set up a special company committed to data products analysis, and the development of the database will be finished this year," Zhao said. "In 2019, we plan to provide Big-Data-based services such as data query, industry analysis, investment analysis and credit evaluation analysis for the government and relevant companies."
Copyedited by Rebeca Toledo
Comments to zhangshsh@bjreview.com