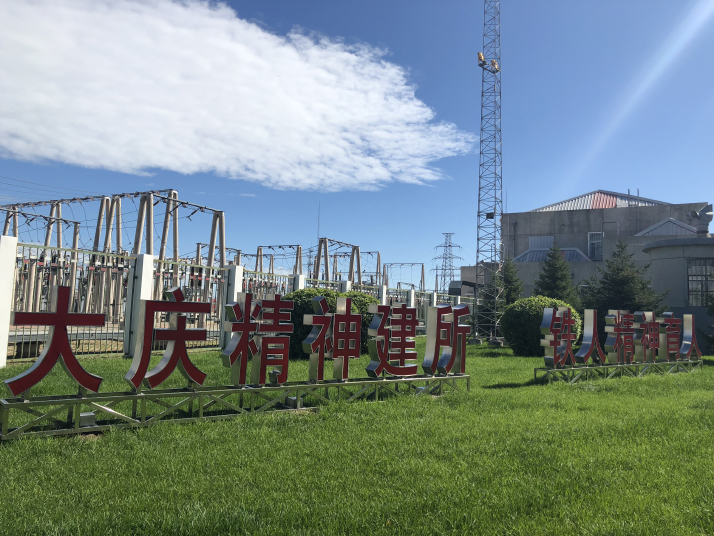 Electricity is generated for oil extraction in a Daqing-based China National Petroleum Corp. power plant (DENG YAQING)
Liu Li, a 44-year-old oil worker has never attended a parent-teacher meeting for her daughter, nor picked her up from school due to her intense workload and tightly packed training schedule.
Her busy life and popularity at the oilfield arose from her fondness for innovation and creation. In 2001, when Liu was working as an oil well cleaner, she invented a device so that she need not carry a cumbersome toolkit made up of a crowbar, pipe tongs, wrench and screwdriver, combining their various functions into a single portable tool, impressing her colleagues. Ever since, Liu's enthusiasm for innovation has been irrepressible.
Over the 25 years of her career, Liu has served in almost every field of production at the Daqing Oilfield, from oil extraction, maintenance and well cleaning, to oil gathering and transportation. At the same time, she has put her creativity and passion for innovation to good use, coming up with 135 innovative products and obtaining 20 national patents.
On the boundless oilfields of Daqing, there is no shortage of workers with the same enthusiasm as Liu. In nearly six decades of exploration, the Daqing Oilfield has produced 2.35 billion tons of crude oil and paid taxes and fees of 2.8 trillion yuan ($408.7 billion).
The birth of the largest oilfield in China dates back to September 26, 1959, when the No.3 Songji Oil Well saw its first flow of crude oil, which challenged the assumption that China had limited natural reserves.
Located in the western part of northeast China's Heilongjiang Province, on the Songnen Plain, the Daqing Oilfield is now comprised of 48 oil and gas fields, including Saertu, Xingshugang, Lamadian and Chaoyanggou, among others, with an oil-producing area of 6,000 square km.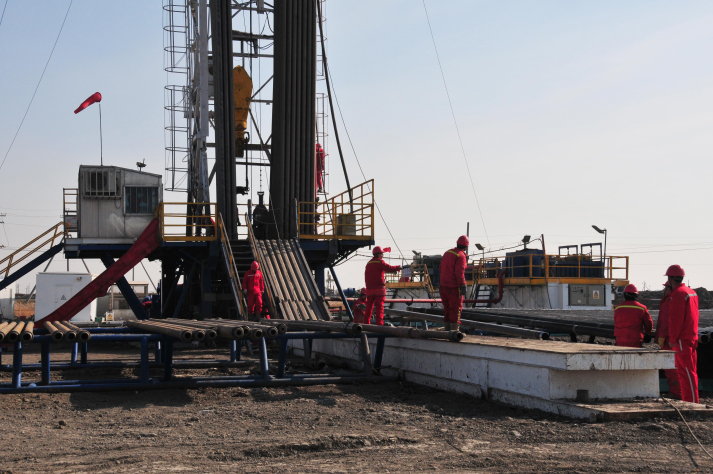 A drilling team works at the Daqing Oilfield in northeast China's Heilongjiang Province in October 2017 (XINHUA)
Tackling challenges
There was a time when the Daqing Oilfield provided more than 50 percent of the country's total petroleum output. However, after several decades of high yield, it is now struggling to maintain the steady and upward production of oil as reserves underground decline.
When oil was first discovered here, crude oil would gush forth from wells due to the high pressure of the reservoirs. But as supplies and pressure have been depleted, oil extractors are now required to inject water underground to squeeze out the remaining oil, which is thus mixed with water as it is pumped out. If a well's ratio of water in the extracted mixture exceeds 98 percent, then measures must be taken to shore up the yield.
In the third oil extraction plant of the Daqing Oilfield, a special liquid is produced from an alkaline substance, a surface active agent and a polymer, which can effectively flush crude oil from underground. This innovative technology can lift the recovery ratio to 60 percent, 27 percentage points higher than overseas competitors.
"Technological innovation helps prolong the age of old oilfields and realize a strategic relay," said Wu Xiaolin, chief engineer of the exploration and development research institute of the Daqing Oilfield, recalling that the research team experienced more than 4,000 failures when developing the surface active agent.
Efforts have also been made to lower production costs. Take the No.8 Oil Extraction Factory for example. Located on the periphery of the Daqing placanticline, the oilfield is affected by difficult conditions and has a low yield. By accurately recording and controlling the volume of water injection, output, electricity and gas consumption, the factory saw its crude oil output climb from 1.34 million tons in 2007 to 1.86 million tons in 2017.
"Oil output is on the rise and water, power and gas costs are decreasing year by year," said Wu Hua, head of the No. 204 Team at the factory, noting that careful calculations and strict budgeting have become normal practices.
By improving efficiency and promoting innovation and reform, the Daqing Oilfield performed well in the first half of 2018. Oil and gas production totaled 20.68 million tons, while operating revenue, net profit and tax payments increased by 12.63 percent, 174.37 percent and 45.71 percent, respectively.
Setting sail
Since the implementation of reform and opening up in 1978, Chinese petroleum companies have been playing an indispensable role in fueling the country's modernization and solidifying the foundations for economic development. Due to the discovery and exploration of the Daqing Oilfield, China's oil output soared to 100 million tons in 1978. Since then, efforts in tapping into overseas markets and technological innovation have further strengthened China's national oil output, reaching roughly 200 million tons in 2017.
According to a blue book on the analysis and outlook of China's oil and gas industry from 2017 to 2018 released by the China Petroleum Enterprise Association in March, a total of 34 Chinese companies had participated and invested in around 210 overseas oil and gas projects by the end of 2017.
As the blue book suggested, with the advance of the Belt and Road Initiative, China will continue pushing forward exploration and development in five major oil and gas cooperation regions in Central Asia, the Middle East, Africa, the Americas and the Asia-Pacific region, propelling the construction of oil and gas operating centers in Asia-Pacific, Europe and North America, and actively developing an overseas oil and gas operating model integrating trade, processing, storage and transportation.
While further tapping into the domestic market, the Daqing Oilfield has also been committed to seeking high added value overseas. In the first half of the year, the operating revenue of its external markets surged by 23.5 percent year on year, while its overseas markets procured revenue of 5.26 billion yuan ($767.8 million), up 43.3 percent year on year, said Dong Zhilin from the marketing department of the Daqing Oilfield.
After several years, China has laid a solid foundation for cooperation with countries along the Belt and Road routes, accumulated abundant experience and created a favorable policy environment, said Jiang Xuefeng, an expert on petroleum economy and technology.
The new international landscape and market environment have provided considerable cooperation opportunities for overseas oil and gas development, said Jiang.
Copyedited by Laurence Coulton
Comments to dengyaqing@bjreview.com