People look at models of a housing project in Foshan, south China's Guangdong Province, on March 25, 2017 (XINHUA)
Since the authorities in Beijing issued new housing provident fund rules earlier this month, the staff at Lianjia, China's largest real estate chain, say their phones rang non-stop for several days. The calls were from frantic buyers trying to speed up the deals before the new rules came into effect.
The housing provident fund requires employers and employees to contribute to a pool which is later used to make mortgage loans to participants. One key element of the new rules issued on September 13 is a cap on the amount of money aspiring buyers can borrow from the fund.
From September 17, Beijing residents can borrow 100,000 yuan ($14,537) from the fund if they have contributed to the pool for a year, up to maximum 1.2 million yuan ($174,455) for first-home buyers. The maximum amount second-home buyers can borrow from the fund has been lowered from 800,000 yuan ($116,303) to 600,000 yuan ($87,227).
Data from Zhuge.com, a real estate website, showed that 3,363 contracts to buy new houses were signed between September 13 and 16, a 453.13-percent increase on new house purchase contracts from the corresponding period last month.
The introduction of the rules indicates the necessity to rein in the real estate market, particularly after soaring housing prices in the previous years spurred concerns about asset bubbles, especially in first-tier cities.
"The new rules aiming to cool down the house market reflect the authorities' determination to push ahead with the policy that 'houses are for living, not for speculation,'" a veteran Lianjia agent surnamed Kuang told Beijing Review.
Buying rationally
The new regulations came after the Political Bureau of the Communist Party of China Central Committee held a meeting in July 2018, deciding to regulate the property market and curb the rise in housing prices. The rules signal the authorities' decision to control speculation following last year's rules to effectively cool down the sizzling property market.
According to the Beijing Municipal Housing Provident Fund Management Center, the new rules aim to make residents purchase housing more rationally and encourage renting instead.
Kuang believes the adjustment will have no real impact on the well-heeled who buy high-end houses with large gross floor areas, because the ceiling of the fund loan is 1.2 million yuan, and those buyers mainly rely on commercial loans.
"However, those intending to buy smaller second-hand houses will be impacted," he said, adding that the policy will take a toll on market sentiment.
The new rules have also increased the down payment ratios, for both new and second-hand houses. For first buyers of ordinary housing the down payment is a minimum of 35 percent of the total price. For second-home buyers, the down payment ratio is a minimum of 60 percent. After this adjustment, the down payment ratios for both provident fund loans and commercial loans are at similar levels.
Statistics by property information provider RealData show that over 50 percent of the house buyers applying for provident fund loans in Beijing are aged between 30 and 40. In 2017, mid- and low-income groups accounted for the lion's share of buyers, a whopping 98 percent.
Kuang said the new rules are meant to steer young people to renting houses instead of buying residences soon after graduation. Young aspiring house buyers with a mid or low income, who were depending on provident fund loans, may now drop their plan and adopt a wait-and-see attitude.
Apart from controlling speculation, the new rules also aim to propel the relocation of industries and the population.
"A highlight of the new rules is that people with households registered in downtown areas of Beijing can enjoy preferential treatment to borrow more if they choose to buy houses in the suburbs," Yan Yuejin, research director with the E-house China R&D Institute, a real estate service provider, told Yunzhang Finance website.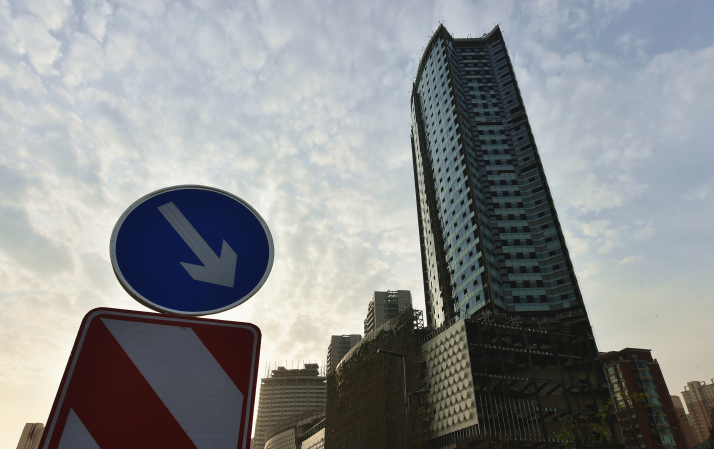 A residential housing project in Taiyuan, capital of north China's Shanxi Province (XINHUA)
Widening the net
The tighter rules in Beijing may be a prelude to more extensive property market regulations since the current real estate market in China has diverse performances in different regions. Data from the National Bureau of Statistics (NBS) showed that housing prices in first-tier cities maintained stable momentum in August due to continuous regulations, while in smaller cities they tended to rise faster.
According to the NBS, in August the prices of new houses rose by 0.3 percent month on month in the four first-tier cities—Beijing, Shanghai, Guangzhou and Shenzhen. But other cities experienced more robust increase in housing prices. They rose by 1.3 percent month on month in 31 second-tier cities and 2 percent in 35 third-tier cities.
With property markets still remaining heated, some cities are seeking to make housing more affordable and control the risk of real estate bubbles, which may destabilize the market. In cities such as Taiyuan and the Tianjin Municipality, the threshold for loans has been raised. Housing provident fund management centers in cities such as Hangzhou and Guangzhou have restricted housing purchases in other regions to prevent speculation.
The property markets in many other cities await further regulations. "The data in August indicated there will be a relatively strong drive for prices to rise in the following months in 2018," E-house China R&D Institute's Yan Yuejin told China Daily. "Such a trend will encourage local authorities to push forward with more curbs."
However, regulations may face a downside as well. Zhang Ming, chief economist of Pingan Securities, told China Real Estate Finance magazine that regulations may cut housing supply and cause prices to rise again. Therefore, an effective housing supply system should be ensured first.
Besides, the authorities should also prevent speculations through raising down payments for second houses and reduce the credit that banks provide to potential speculators, Zhang added.
Copyedited by Sudeshna Sarkar
Comments to lixiaoyang@bjreview.com