Seven years ago, Loic Leclercq, the co-founder of an interior designing company in Shanghai, made a "crazy decision": to leave the financial hub and open a French restaurant in a coastal city. He relocated to Xiamen in southeast China's Fujian Province and it changed his life.
"I had always wanted to be a chef, even when I was a kid," the 34-year-old told Beijing Review. However, his father's opposition forced the French national to become a computer graphics and 3D design major instead, and later, an interior designer. "But the passion stayed inside me," he added.
The turning point came in 2011 when Leclercq first visited Xiamen on holiday. He fell in love with the city at first sight. "I discovered such a relaxed place with great weather and an amazing environment encompassing the sea, mountains and greenery," he explained. He decided to settle down in Xiamen and make his childhood dream come true.
But why not Shanghai? "I wasn't experienced enough in this industry. The Shanghai market is highly competitive and really scary for a first shot," Leclercq said. "Xiamen is a place with less competition that allowed me to slowly learn and grow my skills."
His decision proved to be right. In four years, he opened a restaurant, a bakery and a wine bar. "The whole process of starting a business in Xiamen was pretty easy," he said. Getting construction permits and electricity connection was not complicated. Trading across the border was also pretty straightforward, he said.
In fact, Xiamen now ranks second in China's first ease-of-doing-business list, behind Beijing and surpassing Shanghai. The ranking was announced by the National Development and Reform Commission on August 28, when the country's first regulatory environment evaluation system was unveiled. The system measures local regulations affecting 23 areas in business, including an enterprise's life cycle, how attractive the regulatory environment is for investors and high-quality development. The ranking pitted Xiamen against 21 areas, including China's four megacities—Beijing, Shanghai, Guangzhou and Shenzhen.
"It's a gratifying result," said Xu Zhiduan, Executive Director of the Research Center for China's Business Environment at Xiamen University. "Xiamen has made dramatic progress in lowering costs, shortening approval time and improving services for enterprises. Also, it has initiated innovative measures to make getting construction permits, electricity and trade across borders easy for investors."
How was Xiamen, previously best known for tourism, able to stand out? Removing administrative barriers, embracing information technology to offer one-stop services, strengthening intellectual property rights (IPR) protection, and facilitating procedures to attract scientific personnel have been key to its success.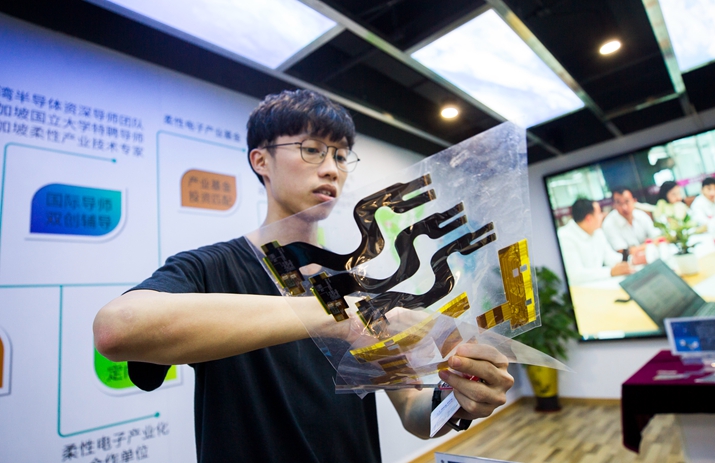 Staff shows a flexible chip at Yunchuang Zhigu, a privately-owned industrial park in the Xiamen Area of China (Fujian) Pilot Free Trade Zone (WANG XIANG)
Streamlined administration
Authorities targeted the problem areas and cut the red tape. The Xiamen Municipal Government entrusted local think tanks to study the World Bank's annual Doing Business reports and suggest targeted measures to improve the business environment.
According to the World Bank, dealing with construction permits is a time-consuming process in China. To accelerate the process, Xiamen dispensed with nearly 80 percent of the paperwork required. The number of documents needed were slashed from 373 to 76. The measures have effected a remarkable change. For instance, it took Chinese e-commerce giant JD.com only 12 days to get the construction permit for its Xiamen industrial park in 2017. Construction of the park began half a year earlier than scheduled, becoming the fastest project in JD.com's history.
Embracing information technology to offer one-stop services has been put high on the local government's agenda. To make doing business easier in Xiamen, multiple departments have been integrated into one online platform. Enterprises and individuals can upload their forms online. All information is shared, updated and approved by related government departments on the platform.
In addition, an offline one-stop service center was opened to receive the paperwork. From there, the documents are sent to different departments online. The applicants no longer need to visit different departments scattered in different locations one after another.
"Thanks to the one-stop service center, my job got easier in the last two years," said Luo Rongmei, chief of the Pre-Development Department of Xiamen Xiangyu Port Development and Construction Co. Ltd. Luo is in charge of dealing with the environmental impact assessment (EIA) reports. "The EIA report involves the approval of multiple governmental departments. I used to get it stamped by the departments one by one. But now I can get it done in 20 business days, by making just one visit to the service center. It's really easy and fast."
According to the Xiamen Municipal Development and Reform Commission, by the end of 2017, 80 percent of the incorporation procedures could be done online. And 92 percent of the entire procedure could be done after one visit to the service center. "We aim to build a streamlined and efficient environment to facilitate doing business and to attract investors with convenient and superior service," Fu Rurong, the commission's Deputy Director, told Beijing Review.
The Xiamen Central Business District (BEIJING REVIEW)
Speedy service
Strengthening IPR protection in the past three years has also contributed to Xiamen's improved business environment. China's first national-level IPR protection center for kitchenware and bathroom accessories was set up in the Xiamen Area of China (Fujian) Pilot Free Trade Zone in March 2017. Kitchenware and bathroom accessory providers can patent their new products in 10 business days, much faster than the average patent application time of half a year. Also, companies are offered free alerts on online IPR infringements and evidence preservation services. In November 2016, a circuit IPR court was opened to settle disputes at the doorstep of the enterprises.
In addition, Xiamen offers foreign employees speedy work visas. Before December 2017, overseas employees in the city had to go to either Hong Kong or return to their own country to apply for work visas. "It usually took one week and at least 10,000 yuan ($1,445) to get the work visa for one overseas staff," said Li Shuangqiong, a human resource clerk at Flightparts, a Xiamen-based aircraft parts maintenance and overhaul company. "Now our overseas staff can get their visa in Xiamen."
By September, the Exit and Entry Administration Division of the Xiamen Municipal Public Security Bureau had issued 220 work visas to foreigners and 20 five-year residence certificates to foreign scientific professionals.
Small and medium-sized enterprises also receive strong support from the local community and government. Leclercq benefits greatly from it. "The Guaren community [a community of foreigners], where we opened our three outlets, offers us great support to overcome problems and advise on how to live and run a business in Xiamen," he said.
"The Xiamen Municipal Government has been working hard to create a supportive environment for companies to grow. But it doesn't interfere with enterprises' operations," Li Qiang, President of Hongxin Entrepreneur Incubator Investment Group, told Beijing Review. "The relationship between the government and enterprises is benign, stable and simple."
As President Xi Jinping said at the opening of the Boao Forum for Asia annual conference in April, "The investment environment is like air; only fresh air attracts more investment from outside."
In 2017, the number of newly registered businesses in Xiamen increased by 21.9 percent from in 2016, paid-in foreign investment grew by 11.2 percent, private investment rose by 20.9, and import and export went up by 14.3 percent.
"Xiamen should learn from Singapore, which is renowned for its business environment, and work hard to become a free trade port and a global supply chain hub," Xu told Beijing Review.
(Reporting from Xiamen, Fujian Province)
Copyedited by Sudeshna Sarkar
Comments to linan@bjreview.com