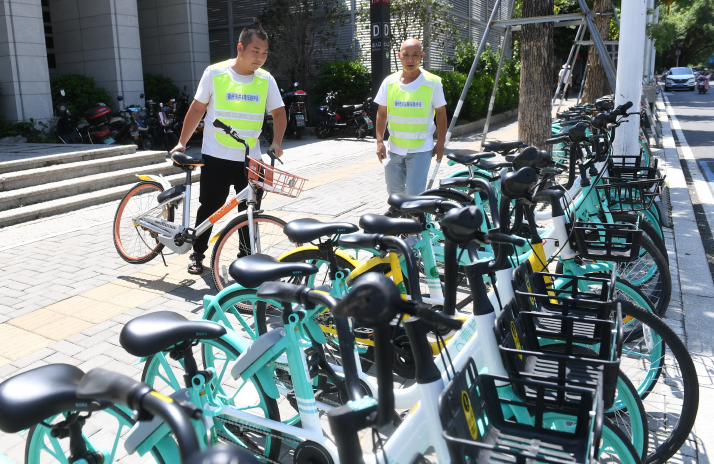 Staff members put shared bikes in order in Fuzhou, southeast China's Fujian Province, on August 23 (XINHUA)
Winter is coming. For Liu Yan, a white-collar worker in Beijing, the time spent on commuting to his office has become longer for there are fewer shared bikes these days. Liu who works in the Central Business District earlier needed only 10 minutes to reach the subway station using a shared bike, plentiful in the past. But now, the difficulty in finding one forces him to walk all the way.

Liu, a registered user of both Ofo and Mobike, two of the most popular companies marketing shared bikes, had found in them an effective means to shorten his commuting time. However, he gradually grew frustrated to find many Ofo bikes broken and the number of Mobikes declining. "While rushing to work, I needed 10 minutes just to find a bike every morning, so I bought a bike for myself," he told Beijing Review.

Fading away due to the rise of private cars in China in the 1990s, bikes came under the spotlight again recently with the sharing economy booming. At the end of 2016, shared bikes were all the rage and Mobike and Ofo, which enjoyed strong backers, began to boom, followed by more startups such as Bluegogo and Coolqi. When bike sharing was at its zenith, those colorful two-wheelers that could be picked up anywhere and left anywhere, became exceptionally convenient, especially in big cities such as Beijing, where commuters have long been suffering from traffic congestion during rush hour. During the heyday of bike-sharing companies, users benefited from the market competition as some bikes required no cash deposits and some even provided subsidies.

Ofo, founded in 2014 and supported by Alibaba, and Mobike, which was launched the following year and won favor from Tencent, expanded rapidly, even covering overseas markets. According to the Report on Global Development of Bike-Sharing released by Cheetah Data, a mobile data analysis platform, Ofo had spread to 21 countries while Mobike reached out to 11 countries by the end of 2017.

Most of these bikes were produced in Wangqingtuo, a town in Tianjin Municipality neighboring Beijing that is a traditional bike manufacturing hub. Since 2016, factories in Wangqingtuo were booming with an overwhelming volume of orders. In 2017, the town's bicycle production increased 31.6 percent year on year.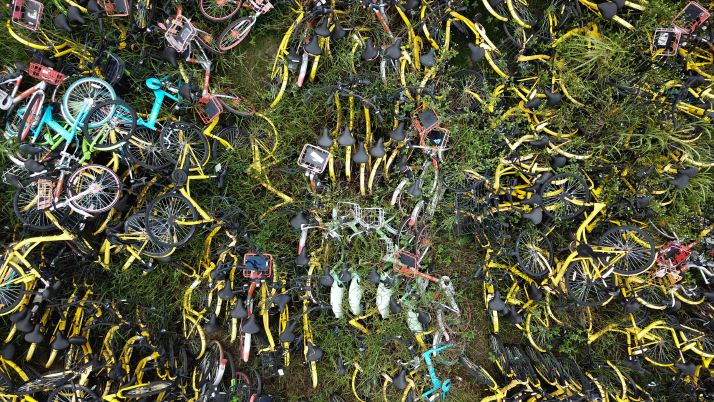 Discarded shared bikes pile up in Guangzhou, south China's Guangdong Province, on July 28 (XINHUA)
Boom to bust
However, fierce competition and loss caused by theft of bikes or damage to them have recently forced several small bike-sharing startups either to shut shop or consolidate and upgrade as the winter of the bike-sharing industry sets in. In 2017, several bike-sharing companies including Wukong Bike, Bluegogo and Coolqi went bankrupt, presaging a contracting market. A report released by Qicycling.cn, a bike website, in July showed that Ofo, Mobike and HelloChuxing were the top three bike-sharing companies, with the others accounting for only 14.43 percent of the market share in total.
Rising costs have added to the surviving companies' difficulties to make a profit. Many find it hard to generate a profit even while cutting maintenance costs since the fever to occupy the market through spending wars distracted them from improving the quality of their products. Due to rising maintenance costs caused by vandalized or broken bikes, giants like Ofo and Mobike have also shifted from expanding markets to targeted services.
While food delivery service giant Meituan acquired Mobike, giving it fresh funding, Ofo has been facing a cash crunch and retreating from global markets. Ofo's balance sheet at the beginning of 2018 revealed that it owed 6.5 billion yuan ($900 million), including 3.65 billion yuan ($500 million) in user deposits. Its patrons have been complaining of not getting their deposits refunded. Compared to one year ago, when Ofo prevailed in the Chinese bike-sharing market, its sluggish growth this year is generating concerns not only about the industry but also about the sustainable growth of the sharing economy.
While injecting new impetus into China's economy, shared bikes have also been criticized for occupying excessive space on urban pavements, forcing a reshuffle in public space management in many cities. According to the Beijing Municipal Commission of Transport, the number of shared bikes in Beijing has declined by about 20 percent from the peak period in 2017.
"Bike sharing has reached a turning point from heralding the market to cooling down as investors become more rational and the market gradually consolidates around the giants, edging out smaller startups failing to get finance," Li Xiaohua, a research follow with the Institute of Industrial Economics, Chinese Academy of Social Sciences, told China News Service.
New ways out
The past two years witnessed a boom in the sharing economy in China, from bike sharing to many other fields such as sharing umbrellas and toys, which allowed the public to utilize idle resources at low costs. Still, unruly competition led to players flooding the sharing market, leading to the closure or dysfunctional management of many startups. Since multiplication can easily emerge in markets with a relatively low threshold, without restricting policies, competitors without an effective profit model will inevitably be squeezed out, Sang Baichuan, Dean of the Institute of International Economy, University of International Business and Economics, told Beijing Review.
The bike-sharing industry experiencing mushrooming growth in the past two years is a typical case. As the spending war cools down, many startups find it hard to make profits due to the large costs of bike recycling and maintenance. For companies relying on investment, more effective profit modes are needed. So the new economic form needs to utilize resources more efficiently by utilizing Internet-of-Things technologies for further development, Zhang Ying, Vice President of Guanghua School of Management, said.
Those who have enjoyed the convenience of bike sharing still hope for a better regulated market. "Riding shared bikes is still more convenient than riding my own, not only for commuting but also for traveling," Liu said. "We now have designated parking zones in some places. What we need to do is to promote them."
In Sang's view, bike-sharing enterprises and local authorities can make joint efforts to develop effective rules to regulate users' behaviors and help maintain urban order. "A binding social credit system needs to be developed to blacklist people who violate rules such as vandalizing bikes or indiscriminately parking them," the dean said.
According to data from the Report on Sharing Economy Development Mode and Case Analyses issued by Qianzhan Industry Research Institute, an information and service provider, funding for Chinese sharing-economy enterprises in 2017 exceeded 8 billion yuan ($1.15 billion). In the first half of 2017 alone, the total investment in shared chargers in China reached over 1 billion yuan ($144 million).
"The sharing economy still has a bright future for it marks significant social progress as enterprises seek to provide resource sharing through innovative modes, which can greatly improve the efficiency of idle resource utilization," Sang said.
Copyedited by Sudeshna Sarkar
Comments to lixiaoyang@bjreview.com