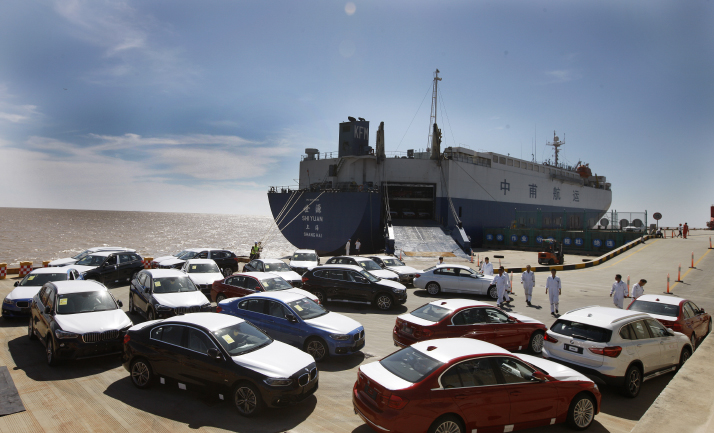 Car shipments arrive at the China (Shanghai) Pilot Free Trade Zone on September 13, 2017 (XINHUA)
On December 25, 2018, when many parts of the world were celebrating Christmas, foreign investors eyeing China and Chinese enterprises also received a long-term gift.
China's National Development and Reform Commission (NDRC) and Ministry of Commerce (MOFCOM) released a nationwide negative list, detailing the industries prohibited or restricted for investment from both foreign and domestic investors. Industries not on the list are open for investment to all market players, creating a level playing field for all in terms of entry rules.
There are 151 sectors on the list. Four of these are prohibited for investment, including illegal financing and unlawful Internet activities. The rest, such as agriculture, manufacturing, mining and ride-hailing business, needs government approval. The list also includes 581 specific rules.
This is a shorter list following a trial run that started in 2016. The new list has removed restrictions on more sectors, slashing 177 sectors and 288 rules.
"The implementation of the nationwide negative list shows that China has developed a unified, fair and rule-based system for market access," Xu Shanchang, Director General of the Economic System Reform Department of the NDRC, said at a press conference held on December 25, 2018. "As it takes effect, local governmental agencies will be barred from making rules about market entry."
Xu stressed that inappropriate or discriminatory rules for market access will not be imposed on private enterprises. The new list will boost the private sector in China and contribute to a more dynamic and open market.
"The 2018 negative list for market access can greatly promote innovation and allows the market more room to allocate resources by removing institutional barriers," Nie Pingxiang, a researcher with the Chinese Academy of International Trade and Economic Cooperation, told Beijing Review.
National treatment
The negative-list approach started in 2016 in four provincial regions with pilot free trade zones (FTZs)—Shanghai, Tianjin, Fujian and Guangdong. In 2017, it was extended to 11 more regions.
The shortened negative list for market access shows China's willingness to lower the market threshold from an institutional perspective. With the restrictions on entities to enter the Chinese market and local government agencies' regulations reduced, a better business environment will be created, Nie said.
The annual Central Economic Work Conference held in December 2018 to lay down the national economic agenda for this year highlighted that pre-establishment national treatment and negative list management would be initiated across the board to ease market access for foreign-invested enterprises and ensure their legitimate interests when conducting business in China.
Pre-establishment national treatment means foreign investors will be treated equally as their domestic counterparts at the entry stage. The negative list clarifies the sectors where national treatment does not apply.
According to Nie, the nationwide negative list for market access is different from the one focusing on foreign investment launched in July 2018 by MOFCOM. The latter targets foreign investors, while the former clarifies the off-limit fields to investors applicable to both domestic and foreign companies.
According to the new list, market access in the first, second and tertiary industries will be eased in an all-round manner except the sectors and fields excluded by relevant laws and regulations as well as the NDRC's guideline catalog on industrial restructuring, which has been incorporated into the list.
The list will lower the access for foreign-invested enterprises into the Chinese market and boost the growth of domestic private firms, encouraging investors at home and abroad. Between January and November 2018, China's actual utilization of foreign investment reached $121.26 billion, a 1.1-percent growth compared with the corresponding period in the previous year. The steady growth of foreign investment in the domestic market has made the benefits of the policy of easing market access increasingly prominent, Tang Wenhong, an official with MOFCOM, said at a conference on December 22, 2018.
In view of the uncertainties in international trade, the nationwide negative list will help boost investors' confidence and widen China's opening up, Wang Yong, Director of the Center for Studies of International Political Economy of Peking University, said.
Still, measures such as streamlining the approval process, developing an investment monitoring mechanism and creating a credit rating system for businesses should be taken to optimize the effect of the negative list, Xu said.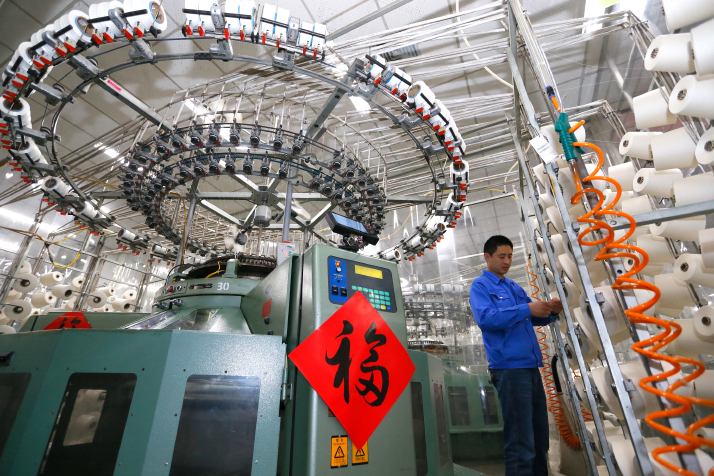 A staff member works at a workshop of Jifa Group, a private textile enterprise in Qingdao, Shandong Province, on February 22, 2018 (XINHUA)
Forging ahead
Despite the downward pressure on the domestic economy and external uncertainties, China has made steady progress in opening up and vitalizing its market. Besides the FTZs, the negative list marks another significant move for a higher level of openness. The reform in China has entered a key phase when the remaining tough problems will be tackled and the market will be opened up further for continued development. The nationwide negative list is one of the key measures for China to open up wider, Nie said.
The list will need more adjustments to adapt to changing market conditions. According to Nie, improving the negative list in a dynamic manner can be a long-term goal. The items on the list should be cut further and the market threshold further lowered across China. Local governments need to streamline administrative items and improve regulatory systems.
The nation is working on more measures to create a better business environment. The draft of a new foreign investment law has recently been published online to solicit public opinion. Aimed at promoting foreign investment by providing legal guarantees, the law will play a key role in protecting the legitimate rights of foreign-invested enterprises in the country, especially intellectual property rights, according to MOFCOM.
In 2019, China will continue to ease market access, remove restrictions on foreign investment and make uniform standards for investors both at home and abroad, Tang said.
Copyedited by Sudeshna Sarkar
Comments to lixiaoyang@bjreview.com