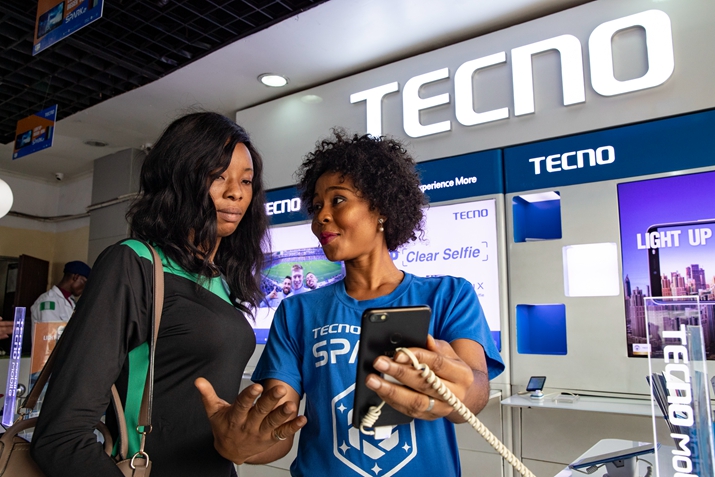 A TECNO shows a Tecno phone to a customer in Lagos, Nigeria, in October 2018 (CHEN JIAN)
If you find yourself in Lagos, the economic capital of Nigeria, and you're a gadget freak, make your way to the Ikeja electronic market, which is possibly the largest of its kind in West Africa.
Also known as Computer Village, it is one of the busiest and most popular places in Lagos. There, among the myriad different electronic devices sold in its countless alleys, a marketing phenomenon with a bright blue shopfront rules the roost. Welcome to TECNO, the Chinese brand that in just 10 years of its existence has emerged as the frontrunner in Africa's booming mobile phone market.
In China, few people have heard of TECNO or its owner, TRANSSION Holdings. It doesn't have a single store in China and operates from a low-key headquarters in Shenzhen in south China's Guangdong Province. But it was one of the first Chinese mobile phone manufacturers to explore the African market and has become one of the largest mobile phone vendors on the continent, outperforming more illustrious brands like Apple, Samsung and Huawei.
People's favorite
"TECNO! TECNO! TECNO!"
At 3C HUB, one of the many mobile phone stores in the market, vendors tirelessly call out the brand's name to draw customers. TECNO's super high popularity can be seen from its display stand swamped by customers.
"This is not the first time I bought a TECNO smartphone. It is the most cost-effective phone I've used," Virginia Madubuko, a customer, said.
Established in 2006, TRANSSION is a conglomerate specializing in mobile communication. It is best known for its sub-brands, including TECNO, iTel and Infinix.
In June 2008, the company set up its first Africa office in Nigeria, targeting the continent's most populous nation and developing its Africa-focused brand marketing.
Zhu Zhaojiang, founder of TRANSSION, made the decision to enter Africa after traveling to many African countries and finding that African users wanted mobile phones made especially for their needs.
According to the company's research, while the mobile phone penetration rate had reached 60-70 percent in China around 2008, it was only 10-20 percent in Africa. The continent therefore had a promising market.
"Our original goal was to produce mobile phones at affordable prices with uncompromised quality, offer our African customers phones designed specifically for them, as well as give the best after-sales service on the continent," Duan Shengxiao, General Manager of TRANSSION's Nigeria office, said.
Over the past decade, the company has developed a global sales network in more than 50 countries. In Africa, it covers Nigeria, Kenya, Tanzania, Ethiopia and Egypt, and in 2011, set up a factory in Ethiopia.
In 2017, of the nearly 130 million mobile phones TRANSSION sold globally, 70 percent were in Africa. According to global market intelligence firm International Data Corp., the company's mobile phone brands held the largest market share in Africa that year.
Since 2016, TECNO, iTel and Infinix have consistently ranked among African Business magazine's 100 most admired brands. In 2018, TECNO ranked seventh on the list while iTel and Infinix were 16th and 28th respectively.
Regional focus
At the Computer Village stand, Inaku Felicia, a local resident, posed for a picture with a TECNO Camon X Pro phone and was amazed with her selfie. "As a selfie enthusiast, I am satisfied with this phone's camera," she said.
The Camon X Pro is not the only TECNO phone with a strong selfie feature. TECNO cameras have been optimized for African customers. "Our cameras adjust [and provide] more light for darker skin tones," Duan said. "That's one of the reasons we've become successful."
It also analyzes African users' face shapes, skin colors and photo effect preferences to determine how much extra light exposure is needed to take better-looking photos.
A unique selfie feature is not the only innovation TRANSSION has made to satisfy the needs of African customers. The company tries to understand the different needs of consumers, including the culture, lifestyles and economic situation.
It is common for Africans to change SIM cards frequently to avoid the steep charges operators levy for calling different networks. Though it is inconvenient, most cannot afford two phones. TRANSSION solved the problem by coming up with four-SIM phones.
In countries like Nigeria and Ethiopia, frequent power outages leave people unable to charge their phones for hours. In the Democratic Republic of the Congo, people may have to walk up to 30 km to charge their phones at a local market. To solve this problem, TRANSSION's phones boast a longer battery life.
"My TECNO phone can take me through 24 days of usage. Not having to charge frequently means a more convenient life," a TECNO phone user, Halima Elelu, said.
Local languages such as Amharic, spoken in Ethiopia, Hausa, a major language in Nigeria, and Swahili, spoken in Kenya, were also added to the keypads. Most importantly, TRANSSION's phones are very affordable. Compared to the iPhone and Samsung smartphones, which can set consumers back hundreds of dollars, TRANSSION phones are priced for the pockets of ordinary Africans at around $10-$300, according to Fang Ruicheng, Retailor Director of TRANSSION's Nigeria office.
Made in Africa
TRANSSION's phones are not only made for Africa, but made in Africa. In September 2011, TRANSSION set up its factory on the outskirts of Addis Ababa, Ethiopia's capital, and since then, every TRANSSION mobile phone sold in Ethiopia has been assembled there. Local employees assemble the screens, boards and batteries manufactured in Shenzhen, producing thousands of smartphones and feature phones. Over 90 percent of the employees in Africa are locals.
Mercy Olayode joined the company in Nigeria as a data analyst in 2011. Today, she is a manager. She said she has been receiving a steady increase in salary and promotions.
"Before TRANSSION, I worked in a bank for five years. Now many of my previous colleagues envy my job and ask me whether they can join TRANSSION," Olayode said.
She has learnt new skills and also studied the Chinese language at the Confucius Institute of the University of Lagos. "I have learned how to work diligently and efficiently from my Chinese colleagues," she added.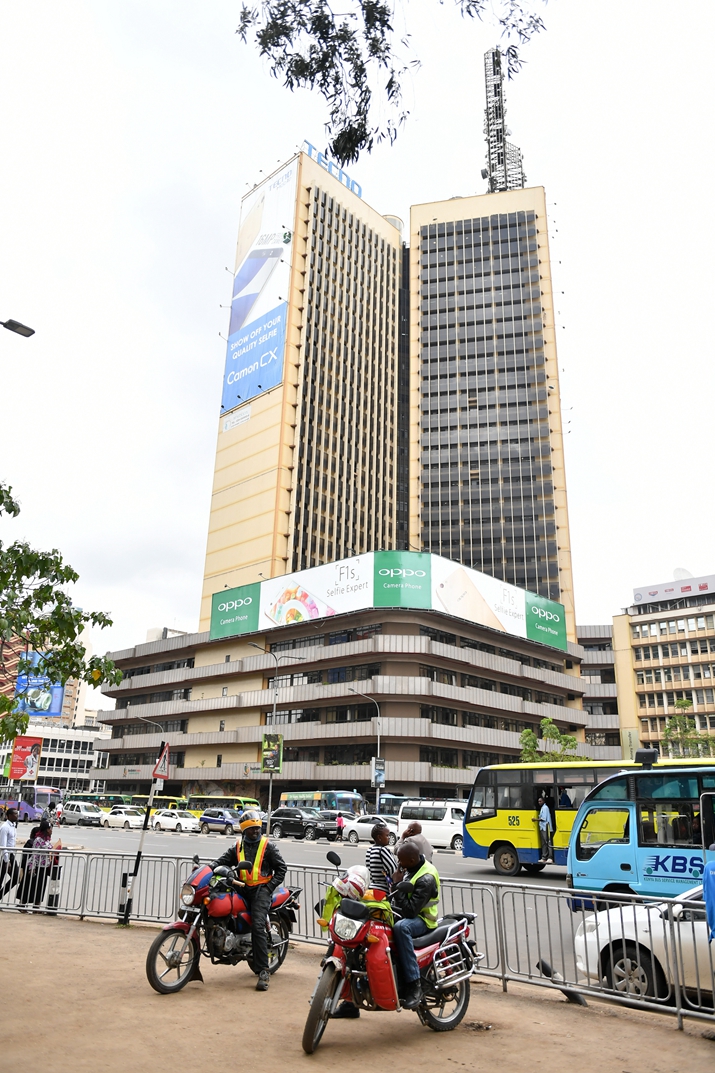 Outdoor advertisements of Chinese smartphone brands TECNO and Oppo on a building in Nairobi, Kenya, in May 2017 (XINHUA)
Lighting up Ikeja
The Ikeja street in Lagos has dense crowds during the day, but once the sun sets, the area is cloaked in darkness, with not a single street light in sight. In 2016, as a corporate social responsibility project, TECNO installed 88 solar LED lights for the community. The lights mean businesses can now operate after sunset and the security of the area has improved.
The Makoko community is a settlement in Lagos where about 100,000 people live in shanties. In 2017, the iTel team conducted a medical outreach program to cover 1,000 children and women there. It also sent the community groceries and other daily essentials as well as clothing, and books and toys for children.
Oke Umurhohwo, Marketing Communications Manager of iTel, said the company's vision is to help individuals and communities overcome challenges created by their environments. The Makoko community project, Umurhohwo said, "shows our resolve to enrich and benefit our society."
(Reporting from Nigeria)
Copyedited by Sudeshna Sarkar
Comments to dengyaqing@bjreview.com