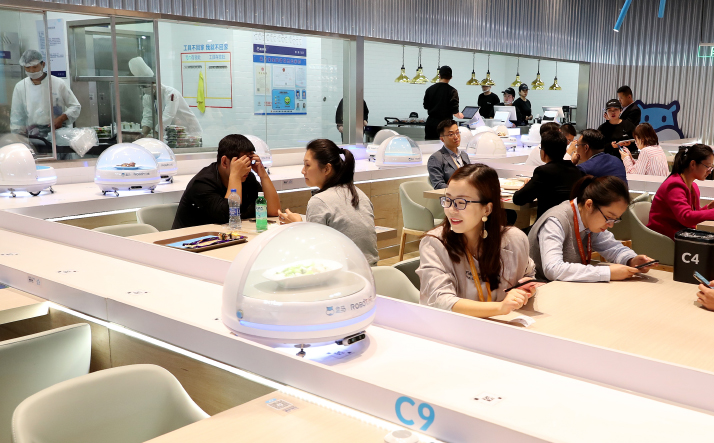 A restaurant where food is delivered by robots in Shanghai on October 15, 2018 (XINHUA)
China's catering industry posted a record high 4.27 trillion yuan ($633 billion) in revenue in 2018, coupled with encouraging trends.
The figure marked an increase of 9.5 percent from the previous year, accounting for 11.2 percent of the country's total retail sales of consumer goods, according to the National Bureau of Statistics.
Driven by the consumption upgrade, the industry is heading into "a new era of innovation and high-quality development with supply-side reform as its mainstay," said Han Ming, Director of the China Hospitality Association (CHA).
Eco-friendly catering, or green catering, was a highlight of China's catering industry in 2018.
In June 2018, the Chinese Government issued a guideline on advancing green catering, seeking to open 5,000 green restaurants and cut kitchen waste and energy consumption per 10,000 yuan ($1,480) of revenue by at least 20 percent by 2022.
The guideline called for a higher threshold for industry access, an evaluation system for eco-friendliness along the industry chain and a reduction of plastic packaging.
Provinces and cities in China have taken actions in line with the guideline.
The Catering Industry Association of Jiangsu Province in east China published a set of detailed green catering standards on January 15, including requirements on safety, waste reduction and environmental protection. Nanchang, the capital city of east China's Jiangxi Province, is encouraging restaurants to use more recyclable appliances.
Stimulated by the rapid development of e-commerce and cold chain logistics, Chinese restaurants have been quick to stake out e-commerce territories and make business innovation that combines online and brick-and-mortar business, according to reports released by the CHA.
In recent years, China's largest seafood hot pot chain, Haidilao, has launched a series of instant self-heating hot pots, with each pack containing the brand's trademark items. The product, sold at around 30 yuan ($4.45) per pack, has a 99-percent approval rating on the e-commerce platform JD.com.
Enriching customers' dining experiences is another industry trend. Restaurants are exploring social media-friendly interior decor, cuisine design and interactive programs to cater to young generations, said Han.
Restaurants in China are becoming smarter, capable of launching targeted marketing based on consumer profiles obtained through big data. They also use big data to select sites for new stores, seasonally update dishes, optimize supply chain and operational management and enhance business efficiency.
Assisted by big data analysis, self-service restaurants are transforming from a business concept into reality.
The latest installment of China's smart restaurants opened on January 21 at Qingdao North Railway Station in Shandong Province to better serve the Spring Festival travel rush, which began 15 days ahead of the Spring Festival, which fell on February 5 this year.
The restaurant, believed to be the first of its kind in China's railway system, can provide customers with a full meal within 26 seconds.
Passengers can order by tapping the screen on one of the eight machines in the restaurant and pay by scanning a QR code. Microwaved meals will be served in under a minute.
Over 2,000 vacuum-packed meals can be stored in the machines, which are replenished by staff when they run out of stock.
The restaurant is also equipped with a smart management system, which will note passengers' preferences using big data analysis to better suit their tastes.
This is an edited excerpt of an article by Xinhua News Agency
Copyedited by Rebeca Toledo
Comments to dengyaqing@bjreview.com