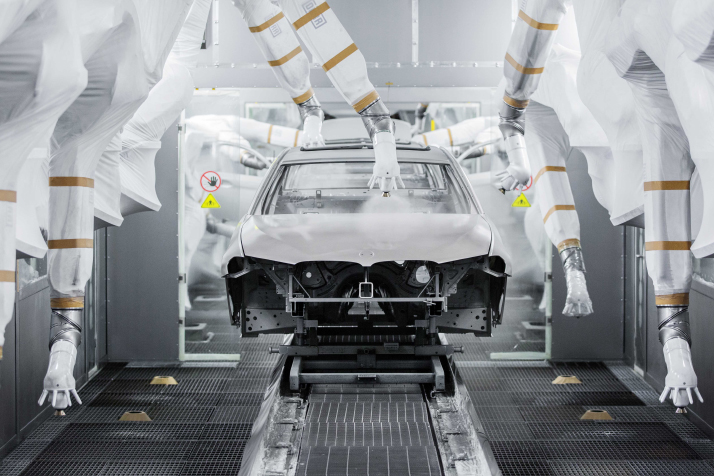 A robot spray paints a car in a BMW Brilliance workshop in Shenyang, northeast China's Liaoning Province, on March 1 (XINHUA)
With clouds hanging over its global sales in 2018, Audi, the luxury arm of the Volkswagen Group, saw a silver lining in its push into the Chinese market. Despite lower sales in both Europe and the U.S. last year, Audi's performance in China stood out as an exception.
Data released by the company showed that its sales in the European and U.S. markets declined by 13.6 percent and 1.4 percent, respectively, year on year in 2018, while its deliveries in the Chinese market exceeded 660,000 units, gaining a year-on-year growth of 11 percent. China continues to be Audi's largest single market in the world, covering one third of its sales.
Like Audi, many foreign car brands are increasingly focusing on the Chinese market. Infiniti, Nissan's premium brand, announced in early March its retreat from Western Europe, where it faced stronger competition, and will instead turn to exploring opportunities in the U.S. and Chinese markets.
China has remained the world's largest manufacturer and buyer of automobiles for the past 10 years.
However, whether foreign brands' push into China's car market can lead to concrete returns depends on various factors such as product quality, after-sales services and new model performance, since Chinese consumers are more practical and rational in their car purchases. A recent incident, where a customer complained about not getting compensation from a local Mercedes-Benz dealer in Xi'an, northwest China's Shaanxi Province, went viral online. The buyer had found the car's engine defective on the same day after purchase. It triggered concerns about the after-sales services of foreign brands in China.
Domestically, China has seen a weak car market since the second half of last year and experienced its first fall last year since 1990, with domestic vehicle deliveries dropping 2.8 percent from 2017 to about 28 million units, according to the China Association of Automobile Manufacturers (CAAM). Alternative choices, like highly accessible car-hailing and car-sharing services as well as the booming used car industry, have made new vehicles less necessary for consumers in top-tier cities.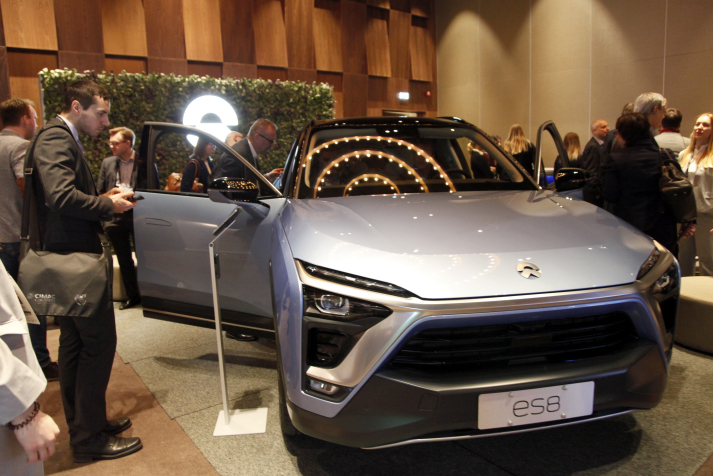 An electric vehicle produced by China's NIO is showcased at a car fair held in Oslo, Norway, on March 23 (XINHUA)
New openings
According to China Passenger Car Association (CPCA) data, passenger car deliveries in the Chinese market stood at about 22 million units in 2018, down 4.6 percent year on year. Although signs of full recovery have yet to emerge, China saw rising premium car sales and strong new-energy vehicle (NEV) growth momentum in March.
The rise of premium car sales can be partially attributed to the plan China recently unveiled to launch large-scale tax cuts, including lowering the value-added tax rate in manufacturing and other industries from 16 to 13 percent. Given this, car manufacturers such as Mercedes-Benz, BMW, Audi, Lincoln and Volvo have cut the suggested retail prices of cars by as much as 80,000 yuan ($11,952), which is undoubtedly good news for domestic consumers. As Cui Dongshu, Secretary General of the CPCA, stressed, these price cuts can promote domestic vehicle consumption and keep the rising momentum in premium car sales.
After experiencing long-term high-speed growth, China's auto industry has entered a critical phase calling for transformation. To cope with the new trend, many foreign automakers in China have sped up upgrading their conventional products and developed new vehicles.
Ford was one of those feeling the pain of sluggish car sale growth in China last year. Sources showed that its deliveries in the Chinese market were 752,243 in 2018, dropping 36.9 percent from the previous year. As a response, the car brand recently issued a plan to promote over 30 new models in the country in the next three years, with over 10 NEV models.
According to a report released by CAAM, China's production and sales of clean-energy vehicles in 2018 showed strong growth momentum at 1.27 million and 1.26 million units, respectively, rising by 59.9 percent and 61.7 percent, respectively.
As new players in the market, NEVs are gaining an increasingly large consumer base in China, with sales reaching 137,000 units in the first quarter of 2019, according to official data.
NEVs have been eagerly embraced as it is believed to be a blue sea market with huge potential. For foreign car brands, partnerships with Chinese car makers remain a convenient option, especially in terms of developing NEVs. Cooperation between top brands is becoming a new trend, said Cui. Daimler AG, a fast mover, has already teamed up with China-based Geely Holding Group to jointly develop electric cars.
Preferential policies have been put in place to support the purchase of NEVs in hopes of gradually helping to squeeze polluting and fuel-guzzling conventional cars out of the market. The country began to provide subsidies for NEVs in 2009, in which time, more and more vehicle enterprises have turned their focus on electric vehicles.
Market-oriented operation has also been promoted to improve the capacity of domestic car brands on self-reliant development. A notice issued on March 26 said some subsidies will be cut in the sector to stimulate upgrading.
"The new policy has shifted the driving force of NEV development from subsidies to market demands, producing a change in recent expectations across the board," Cui said.
According to an analysis by Morgan Stanley in March, the cut in subsidies will accelerate the entrance of foreign car brands into the Chinese market because local companies will be obligated to improve production to compete with global electric vehicle makers.
Embracing challenges
The Chinese market is opening up further to foreign car brands, resulting in an enormous pressure for domestic car manufacturers. According to the new Foreign Investment Law that will take effect on January 1, 2020, foreign automakers, regardless of the nature of their products, will be able to establish wholly foreign-owned enterprises in China, adding more pressure for domestic manufacturers. Previously, foreign automakers were required to set up joint ventures with Chinese manufacturers if they were going to produce and sell cars to Chinese consumers. When the new law is put in place, domestic manufacturers will be on their own.
Earlier this year, Tesla's Shanghai plant, the first wholly foreign-owned NEV manufacturing plant in China, officially began construction. As a frontrunner in electric vehicles, Tesla has upped the ante for domestic brands.
Under the pressure generated by foreign car brands, Chinese brands need to turn to technological innovation and better services to build up competitiveness.
Native competitors are on the rise in the NEV market, as a string of brands, such as Weltmeister, NIO and Xpeng, saw a prominent boom in the past decade. NIO, headquartered in Shanghai and a pioneer in premium electric vehicles, recently announced that it would offer mobile charging services to ease the difficulty of finding a charging station. Conventional car brands such as Great Wall Motors, Beiqi Foton Motor and Geely have also entered the NEV market.
Xin Haihong, President of CDK Global China operations, a U.S.-based automotive service provider, said that in the future, the auto sector's new retail for meeting customized demands will become a prevailing trend and create more opportunities.
Copyedited by Rebeca Toledo
Comments to lixiaoyang@bjreview.com