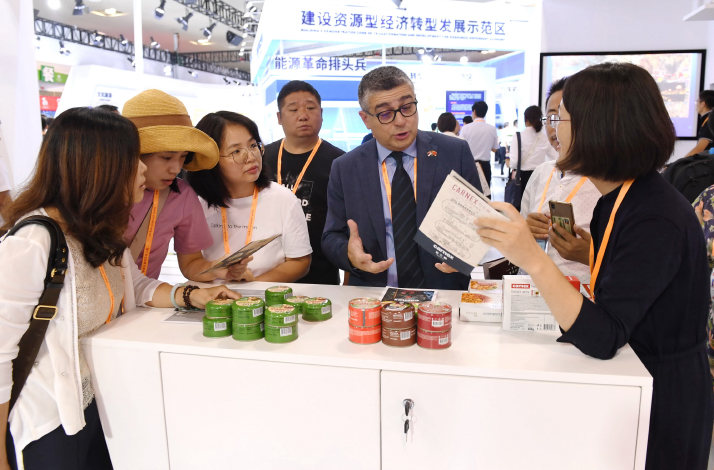 A Serbian exhibitor introduces food products at the China International Fair for Investment and Trade (CIFIT) in Xiamen, southeast China's Fujian Province, on September 8 (XINHUA)
In the four corners of a packed booth at the exhibition hall of the 2019 China International Fair for Investment and Trade (CIFIT) sit the representatives from four African countries—Ethiopia, Kenya, Mozambique and Zambia.
Organized by the International Trade Center (ITC), a joint agency of the World Trade Organization (WTO) and the UN, the booth is a platform for these countries to promote their investment policies and a window for investors seeking investment opportunities in Africa.
"Africa is full of investment opportunities with its fast growth pace, but investors face inconveniences and risks in making investment decisions due to a lack of information," Mao Tianyu, a project advisor with the ITC office for Asia and the Pacific, told Beijing Review. "The CIFIT is a starting point for them to build connections and get to know each other."
This year marks the second year of the ITC's participation in the CIFIT. Along with the ITC, over 100,000 participants from 130 countries and regions gathered in the coastal city of Xiamen in southeast China's Fujian Province on September 8-11 to attend the investment extravaganza.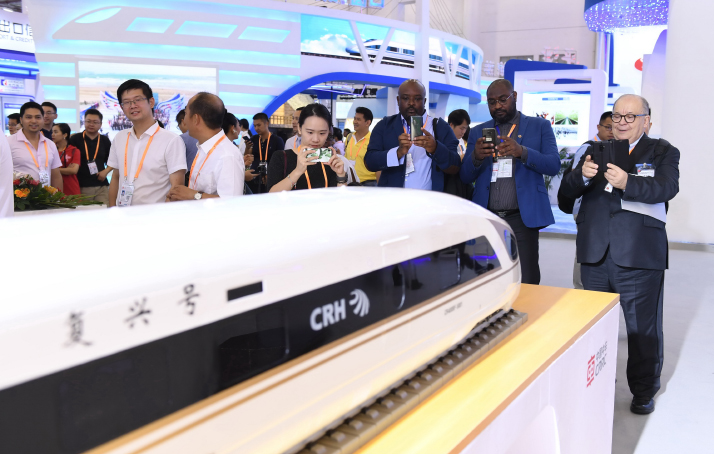 Participants view a high-speed train model on display at the CIFIT on September 8 (XINHUA)
An encouraging trend
Mao said in only half a day since the opening of the CIFIT, he had received a stack of name cards from companies and investment promotion institutions that have shown interest in investing in Africa.
According to the World Investment Report 2019 released by the UN at the CIFIT, global flows of foreign direct investment (FDI) fell by 13 percent last year for the third consecutive year to $1.3 trillion.
However, while FDI flows to developed economies declined by 27 percent to the lowest point since 2004, flows to developing countries remained stable, rising by 2 percent, with their share in global FDI increasing to a record 54 percent.
"This increase in FDI to developing countries is an important and encouraging trend," Carlos M. Gutierrez, former U.S. Secretary of Commerce, said at the International Investment Forum 2019 in Xiamen on September 8.
China has been a beneficiary of this trend, Gutierrez said. According to the report, China became the largest FDI recipient among developing economies in 2018, attracting $139 billion, a growth of 4 percent.
In addition, China has been increasing its own contribution to global investment flows, including to other developing countries, with the Belt and Road Initiative reinforcing this effort.
Tim Smith, Vice President of A.P. Moller-Maersk, a leading shipping and logistics company, said experts estimated that there will be over $2.5 trillion worth of increased trade in the next 10 years due to the initiative. "That's a really staggering contribution to the world economy," he said.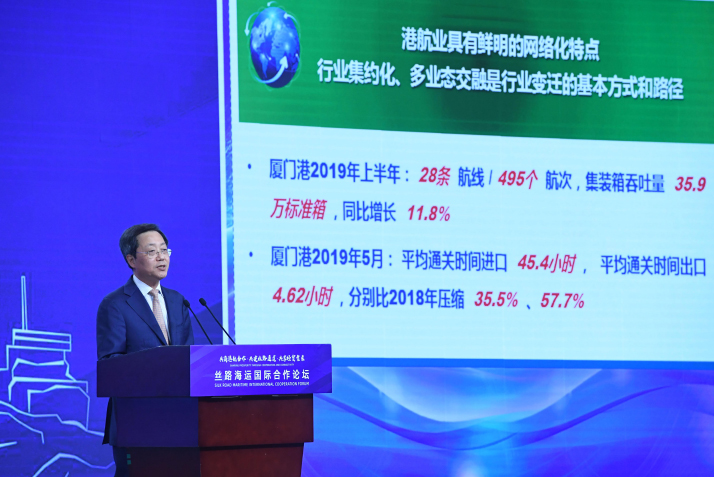 Xu Lirong, Chairman of the Board of China COSCO Shipping Corp. Ltd., speaks at the Silk Road Maritime International Cooperation Forum in Xiamen on September 7 (COURTESY PHOTO)
Boon and headwinds
Zenalem Abebe, an investment promotion expert with the Ethiopian Investment Commission (EIC), was sitting with his colleague Mckonnen Solomon, Director of the Agricultural and Service Sector, EIC, in one of the corners of the ITC booth.
Abebe described Ethiopia as a safe place for investment, adding that the government has lifted restrictions imposed on sectors of the Ethiopian logistics industry such as packaging, forwarding and shipping agency services in 2018.
Solomon said it has also opened up the provision of bonded warehouses and allows joint-venture participation of international logistics service providers with maximum 49-percent stake.
"The once state-owned logistics sector is now opened to foreign investors," Solomon said, adding that it is conducive to acquiring advanced knowledge, expertise and management experience from leading logistics service providers.
Yang Ben, an ITC coordinator in Zambia, returned with a local official to the CIFIT for investment promotion. She told Beijing Review that during her year in Zambia, what impressed her most was its people's inclusiveness and openness toward foreign investors.
While the opening up of countries like Ethiopia and Zambia is a boon for global investors, there are also obstacles.
"Investors face economic headwinds that underscore another growing trend in our global trade and investment ecosystem," Gutierrez said. "Uncertainty is the enemy of investments."
"We must continue to promote rather than restrict investments, and strengthen rather than weaken our companies' competitiveness in global markets, in line with WTO rules," he said.
Addressing the fallout of the trade friction between China and the United States, Gutierrez said the two countries should find a way to deal with trade issues to prevent negative repercussions for cross-border investments and the global economy.
Zhou Yuxian, Vice Chairman of China Reform Holdings Corp. Ltd., a leading investment firm in China, said the company's investment in the U.S. may decline, but its investment in Belt and Road participating countries is on the rise.
Regardless of the pressure on the global economy and trade, factors of production such as capital, technology and human resources will continue to be allocated on a global scale to achieve optimal results, he said.
Eyes on the sea
Last December, Fujian initiated the Silk Road Maritime transportation initiative, the first ocean shipping-based comprehensive logistics service program among Belt and Road participants, which was supported by over 100 port, shipping, logistics, and trade and commerce companies worldwide, including Moller-Maersk. Currently, the program includes 50 ship routes with the container throughput reaching 900,000 TEUs.
Xu Lirong, Chairman of the Board of China COSCO Shipping Corp. Ltd., said at the First Silk Road Maritime International Cooperation Forum at the CIFIT that "as protectionism escalates, uncertainties increase and downward pressure intensifies, international port and shipping industries should cooperate and join hands more in response to the challenge in order to minimize losses."
Xu also said the international port and shipping system is like a network, so streamlining it and integrating various business types are the way toward industrial transformation. By integrating shipping, ports, storage, logistics and inland transportation, cooperation can be expanded and become more efficient. This is conducive to improving the service capacity of the supply chain, promoting industrial chain cooperation, generating new ways of trading, and stimulating global economic and trade growth.
In addition, international ocean shipping carries about 90 percent of the world's goods in trade and transportation, and is an important part of international trade, while ports are the intersection of multiple modes of transportation. The synergy between ports and the shipping industry will help boost development in the ports' hinterlands, attract capital flows and drive regional economic transformation.
Smith also said transport connections among Belt and Road participating countries can help drive economic development in two critical ways. The first is by lowering transport time and the second is by increasing trade and economic integration."
Moreover, infrastructure developments will have an impact on reducing the transport time for countries currently not participating in the Belt and Road Initiative. The World Bank said this will contribute another 3 percent to trade increase, with all countries expected to see a reduction in trading costs.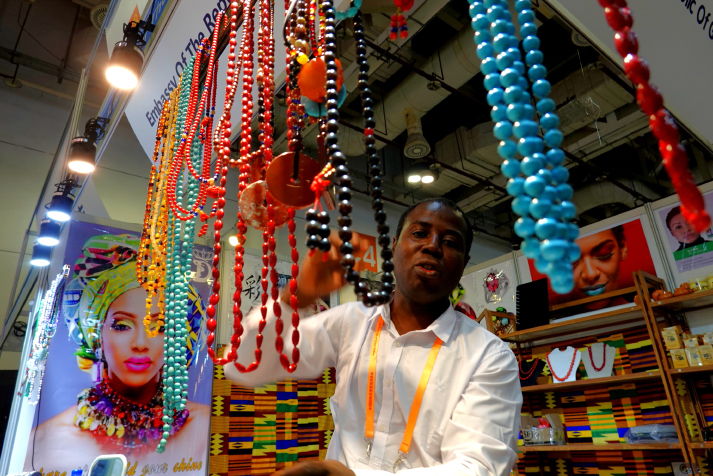 The Ghanian booth at the CIFIT (WANG XIANG)
"As the seventh largest port in China, the Port of Xiamen competes with other ports in efficiency," Alan Lee, Deputy General Manager of Fujian Silk Road Maritime Management Co. Ltd., told Beijing Review.
According to him, large bulk cargo from Viet Nam to the U.S. or to European countries that transited through the Port of Hong Kong or the Port of Singapore would take two to three days. But now, under Silk Road Maritime, they can be transported through the Port of Xiamen in just 30 hours.
Data released by the China Association of Port-of-Entry in May show that the average import clearance time through the Port of Xiamen is 45.4 hours, while that of exports is 4.62, a decrease of 35.5 percent and 57.7 percent, respectively.
Lee said the 21st-Century Maritime Silk Road, as a widely acknowledged initiative for development, is progressing and will provide new opportunities for the port and shipping industries. Joint efforts from the international community are needed to promote its development and explore best practices that can be applied more broadly, he added.
(Reporting from Xiamen,Fujian Province)
CIFIT Shows China's Appeal to Foreign Investment
Jay Robertson, owner of a Shenzhen-based spirits importing company, signed an agreement with Longyan, a city in Fujian Province, to set up a distillery during the 2019 China International Fair for Investment and Trade (CIFIT).
A U.S.-led multinational company that involves 150 million yuan ($21 million) of investment, 9 Rivers Distillery will be the first wholly foreign-owned distillery in China to craft spirits across all categories, including vodka, gin, rum, and whiskeys.
"Chinese consumers have become well versed in alcoholic beverages, and the fastest-growing category at the moment in China is whiskey," said Robertson. "So it is the perfect time to get on board."
Robertson is one of the more than 100 businesspeople in the delegation led by the American Chamber of Commerce (AmCham) in South China, which attended the CIFIT for the 17th consecutive year.
"The future of U.S. investment in China is bright," said Harley Seyedin, President of the chamber.
The CIFIT, which takes place every September in Xiamen, aims at promoting bilateral and multilateral investment and trade cooperation.
A total of 2,100 cooperation agreements involving an aggregate investment of 559.1 billion yuan ($78.6 billion) were signed at this year's fair.
Despite a slide in global foreign direct investment flows in 2018 from the year before, foreign firms did not shy away from investing in China with a vast consumer market and an ever-improving business environment.
"Our member enterprises have a very strong consumer base here," Seyedin said. "We certainly don't want to slack our steps."
Although imported spirits are a mere fraction of all alcohol consumed in China, Robertson and his business partners smell tremendous business opportunity as the Chinese consumer market evolves.
"Only 1.3 percent of the total consumption are imported ones, but the tiny slice represents 15 million bottles a year, and it's growing rapidly," Robertson said.
According to a survey released earlier this year by AmCham South China, 46 percent of the 240 respondents consider China as the first choice in their global investment plans.
Johnson and Johnson, one of the first global pharmaceutical companies to enter China, did not slow down to expand, with its JLABS@Shanghai, the world's largest and Asia Pacific's first JLABS, going operational in June. JLABS is a network of life science incubators established by Johnson and Johnson.
"We are glad to see that China is the engine that drives our global growth," said Will Song, Chairman of Johnson and Johnson China.
Vladica Mladenovic, Commercial Director at Carnex, a leading meat production company in Serbia, posted a sign in Chinese characters reading "looking for business partners" at his exhibition booth.
"We are seeking to expand the global market, and China is an emerging market with strong appeal. We really want to provide products that suit the taste of Chinese consumers," he said.
Mladenovic was with a business delegation led by Rasim Ljajic, Deputy Prime Minister and Minister of Trade, Tourism, and Telecommunications of Serbia.
Serbia, which has participated in the Belt and Road Initiative, is the guest country of honor of this year's fair.
China's trade with countries and regions participating in the initiative totaled 5.83 trillion yuan ($819 billion) from January to August, up 9.9 percent year on year, 6.3 percentage points higher than the overall growth of the country's foreign trade, according to the General Administration of Customs of China.
Nu Skin, a U.S.-based developer of skincare products, currently sees half of its dozens of overseas markets along the Belt and Road.
Steve Hatchett, Senior Vice President of Manufacturing and Supply Chain at Nu Skin International, said benefiting from the positive impact of the Belt and Road Initiative, Nu Skin has achieved robust growth in participating countries.
"China is the hub in Nu Skin's strategic business layout along the Belt and Road," Hatchett said.
Huang Maoxing, an economist with Fujian Normal University, said that the increasing interconnectivity along the Belt and Road will not only boost China's exports but also support foreign companies' growth globally.
(Source: Xinhua News Agency)
Copyedited by Rebeca Toledo
Comments to zhangshsh@bjreview.com