The First Qingdao Multinationals Summit opens in Qingdao, east China's Shandong Province, on October 19 (XINHUA)
German multinational engineering and technology company Bosch is celebrating its 110th year in China. It currently employs about 60,000 people in the country, its largest workforce outside Germany.
"Thanks to reform and opening up, China has become the second largest economy in the world and the second largest investor in scientific research," Volkmar Denner, CEO of Robert Bosch GmbH, said at the First Qingdao Multinationals Summit in Shandong Province in east China on October 19.
Denner reflected multinationals' optimism about opportunities in China. "China's urbanization rate is close to 60 percent. Therefore multinationals have broad market prospects here," he said, adding that there is still a huge space in China for Bosch over the medium and long term.
President Xi Jinping has always acknowledged the positive role played by multinationals in the Chinese economy. In his congratulatory letter, he called them important participants, witnesses and beneficiaries of China's reform and opening up. He also assured them that the opening up will get wider and wider, and the business environment better and better, with more and more opportunities for global multinationals.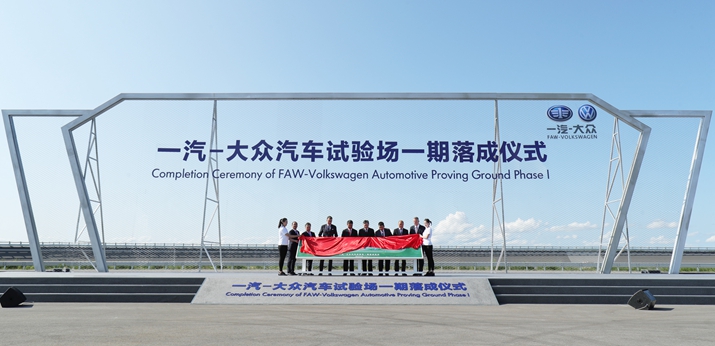 Chinese and German representatives inaugurate the FAW-Volkswagen Automotive Proving Ground Phase I in Changchun, northeast China's Jilin Province, on August 19 (XINHUA)
A major player
After over 40 years' development, the number of multinationals investing in China has increased exponentially, according to a report released by the Chinese Academy of International Trade and Economic Cooperation under the Ministry of Commerce (MOFCOM) at the summit.
There were 961,000 foreign-invested enterprises in China at the end of 2018 and paid-in foreign capital totaled $2.1 trillion, according to the report, Multinationals in China: 40 Years of Investment. China has attracted more foreign investment than any other developing country since 1992. In 2018, the amount reached $134.97 billion.
Although accounting for less than 3 percent of all companies in China, foreign-invested enterprises have become an important part of the Chinese economy, contributing nearly half of the foreign trade, a quarter of the output value and profits of industrial enterprises, and a fifth of tax revenue.
Over 480 Fortune 500 companies are investing in China in microchips used in mobile phones, cars, planes, iron ore, household appliances, and so on. China has become a powerhouse for the development of multinationals, the report said.
Xi said global entrepreneurs are welcome to invest in China, strive for mutual benefit and win-win outcomes, and jointly create a better future.
According to the World Bank's 2019 Doing Business report, China's business environment ranks 46th out of 190 economies, compared to 78th last year.
China first introduced the business-friendly negative list measure in the Shanghai pilot free trade zone in 2013, a transparent and effective way of letting foreign investors know which sectors are open to them. Only those found on the negative list remain out of bounds.
Since then, the measure has been rolled out nationwide, while authorities have revised the list regularly, reducing the number of items on the list as more sectors are thrown open to foreign investors in the course of the new round of opening up.
The latest easing of restrictions on market access for both domestic and foreign investors was announced by the National Development and Reform Commission on September 18. In addition, intellectual property (IP) protection has been improved and the Foreign Investment Law, which will come into effect on January 1, 2020, shows the government's determination to provide effective legal safeguards for foreign investment in China.
Vice Premier Han Zheng underscored the efforts to improve the business environment and deepen mutually beneficial cooperation with multinationals in his opening speech.
Han said multinationals have brought advanced technical equipment, rich management experiences, high-quality products and services and leading innovation resources over the previous 40-plus years.
He also said China is ready to join hands with other countries, international organizations and various market players to deepen mutually beneficial cooperation, develop an open economy and share a bright future.
Tariffs will be lowered and non-tariff barriers scrapped to foster a better business environment for multinationals. Han said China is willing to strengthen exchanges and cooperation in areas like innovative and intelligent manufacturing, green development and global governance.
China welcomes multinationals to work together to safeguard the multilateral trading system and promote economic globalization, he added.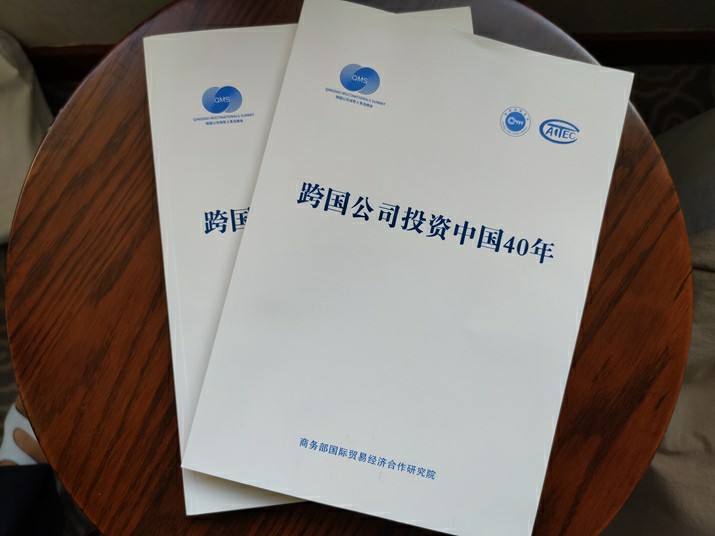 A report, titled Multinationals in China: 40 Years of Investment, is released by the Chinese Academy of International Trade and Economic Cooperation under the Ministry of Commerce, on October 19 (MA XIAOWEN)
The multinational perspective
The participants of the two-day summit, lauding their mutually beneficial cooperation with China, said they will promote the digital economy, innovation and green development. They will also take part in the Belt and Road Initiative.
Microsoft set up its first liaison office in Beijing in 1992. Today, its largest research and development center outside the United States is in China.
"We will keep on investing in China to help the country achieve digital transformation successfully," Alain Crozier, Senior Vice President of Microsoft and Chairman of Microsoft's Greater China area, said. "China has already become the source of global innovation."
Chinese and Japanese companies have conducted third-party market cooperation in some countries participating in the Belt and Road Initiative. During Japanese Prime Minister Shinzo Abe's visit to China in October 2018, the First Forum on China-Japan Third-Party Market Cooperation in Beijing saw over 50 agreements signed to strengthen the mechanism.
Nakamura Masami, President of the Japan Management Association, said at the summit that companies from China and Japan have broad prospects for cooperation in developing third-party markets.
Sumitomo Nakamura, President of Sumitomo Corp., a Fortune 500 global trading and investment company, said China's commitment to improving the business environment can be seen from the guidelines for IP protection issued while announcing the policies for further opening up the market.
Woo-sug Baik, President of OCI, a green energy and chemical company in the Republic of Korea (ROK), also lauded the IP protection measures. "The strengthening of IP protection will encourage multinationals to invest in China," he said.
He added that top ROK companies might enter China in the near future as the new opening-up policies have created opportunities for them to invest and extend their industrial chain.
Nicolas Poirot, CEO of Air Liquide China, a French company that is one of the biggest suppliers of industrial gas and services, said he believes China will create a more stable, fair and transparent investment environment for multinationals, which has boosted his confidence in investing. "China's inclusive development model and step-by-step reform toward a market economy has provided multinationals with a good environment to do business," he said.
Support for multilateralism
Themed Multinationals and China, the summit was jointly hosted by MOFCOM and the Shandong Provincial Government. It was attended by 115 Fortune 500 companies and 197 industry leaders.
At the summit, the attendees committed to an open world economy. Former ROK Prime Minister Han Seung-soo called for the maintenance of the multilateral economic system and the pursuit of common development and prosperity.
"Only through global cooperation can we solve the problems and risks brought about by global challenges," Musissa Kituyi, Secretary General of the UN Conference on Trade and Development, said in his congratulatory letter.
(Reporting from Qingdao, Shandong Province)
Copyedited by Sudeshna Sarkar
Comments to maxiaowen@bjreview.com