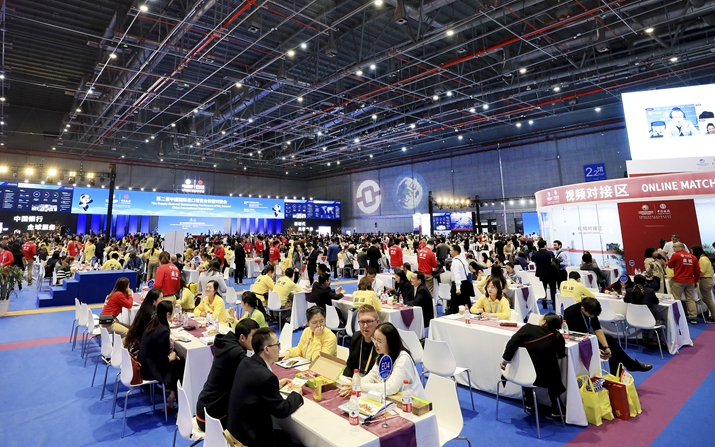 The Supply-Demand Matchmaking Conference, one of the events under the Second China International Import Expo in Shanghai, is underway on November 7. Thousands of exhibitors and buyers from some 90 countries and regions took part in the conference that ran from November 6 to 8 (XINHUA)
Although no senior government officials from the U.S. are attending the Second China International Import Expo (CIIE) that opened in Shanghai on November 5, the participating U.S. companies have high expectations about the Chinese market and are eager to grasp this opportunity.
There are 192 U.S. companies among 3,893 enterprises coming from 155 countries and regions. The U.S. companies' number is 18 percent more than it was last year. And the U.S. exhibition area is 47,500 sq m, the biggest of all participating countries and regions.
American company Honeywell that makes consumer and commercial products took part in the First CIIE last year and is present this time as well, regarding the expo as an opportunity to meet the needs of Chinese customers.
With China's new Foreign Investment Law to come into effect in January, Honeywell China President Scott Zhang sees it as a measure that will improve China's legal system vis-à-vis foreign investment. "The timely introduction and implementation of this law will greatly boost the confidence of foreign investors and have a profound impact on China's economy and law," he said.
Following the Belt and Road Initiative, Honeywell has launched its Follow the Growth strategy to tap the initiative. The strategy is to partner with leading Chinese companies to explore opportunities along the Belt and Road routes, especially in infrastructure and technology.
"The Chinese economy is an ocean and Honeywell has been swimming in this blue ocean for a long time. We will make more contributions through continuous innovations in the China market," Zhang added.
U.S. food manufacturer Mars Food entered the Chinese market in 1989, a decade after the launch of China's reform and opening-up policy.
"We have always benefited from the opening-up policy. We also embrace the new Foreign Investment Law because it aims to create a better business environment that is more equal and transparent and provide legal protection," Mars Food's China Market Development Director Xu Xida said.
Mars Food is one of the U.S. companies present at the Second CIIE. "The China market and Chinese consumer move very quickly," Sales Director Matthew Shortal said. "It's been quite a noticeable change in the years."
Copyedited by Sudeshna Sarkar
Comments to ffli@bjreview.com