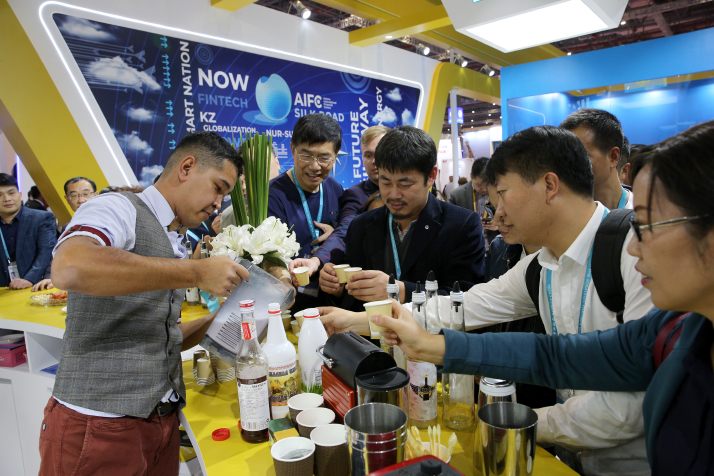 Visitors try cocktails at the Kazakhstan Pavilion during the Second CIIE on November 6 (XINHUA)
Nicola Avanzi is the owner of the Avanzi winery in Italy, a family business established by his grandfather in 1931. Since he started selling his wine in China in 2015, he has participated in wine fairs in Shanghai, Hong Kong, and Qingdao, east China's Shandong Province. However, displaying products at the Second China International Import Expo (CIIE) brought a brand-new experience to him as he had never taken part in such a large-scale exhibition. The expo opened on November 5 in Shanghai.
His winery produces 500,000 bottles of wine each year while only 1,200 are sold in the Chinese market. He viewed the CIIE as an excellent opportunity to expand the visibility of his brand in China, which could lead to a remarkable increase in sales.
Patrizio Campana was also a new face at this year's expo. He operates the Campana winery in another region of Italy. Some 10 percent of its output, over 100,000 bottles, is sold annually in China. "The CIIE can boost wine sales," Campana told Beijing Review, showing a positive attitude toward the wine market in China.
"As many people here are not familiar with Italian wine, China is a young market with huge potential," he said.
Campana applauded Italy's participation in the Belt and Road Initiative. He thinks the initiative can facilitate the logistics between the two countries, resulting in lower transportation cost. At the same time, it will help enhance China-Italy ties. "Exporting wine is part of cultural exchanges," he said.
Italy, one of the guest countries of honor at the Second CIIE, is the first Group of Seven member to join the Belt and Road Initiative. Industrial enterprises in Italy had also shown great interest in the expo. Light vehicles from automaker IVECO were the first overseas exhibits passing customs clearance to reach Shanghai. Compared to the first expo, IVECO's exhibition area expanded nearly three times, showcasing various products, including trucks and motorhomes.
The booth of the Charoen Pokphand Group, a Thai conglomerate, at the Second China International Import Expo (CIIE) on November 6 (WEI YAO)
Over 1,000 corporations from 58 countries participating in the Belt and Road Initiative met the public at the last expo in 2018, accounting for 30 percent of enterprise exhibitors. Their products displayed at the First CIIE are today sold across China. For instance, milk imported from New Zealand can be easily found in cities in west China, and is no longer considered a product meant exclusively for metropolises such as Beijing and Shanghai.
Inspired by the business opportunities created by the First CIIE, countries participating in the Belt and Road Initiative eagerly attended this year's expo, using this platform to enter and expand in the Chinese market. By the end of October, products from these countries accounted for one third of the total overseas products that were confirmed to be exhibited.
A 7,000-square-meter Belt and Road-themed commercial area for foreign products opened to the public on November 2 in a Shanghai mall, displaying thousands of commodities from nearly 20 countries and regions, such as Australia, Chile and Spain. Also, a Belt and Road week was launched there on November 9 as a supporting activity of the CIIE, allowing customers and visitors to gain a better understanding of the initiative.
The CIIE can help accelerate the development of the Belt and Road Initiative, said Zhang Chun, a researcher with the Shanghai Institutes for International Studies, in his report on the interaction between the expo and the initiative. He thinks the open market of China can further benefit countries and regions participating in the Belt and Road Initiative through the CIIE. In particular, the CIIE is helpful for other developing countries to become part of and benefit from globalization.
China's stance of building an open global economy with joint efforts, as evidenced by the CIIE, has won wider recognition and response. President Xi Jinping said at the opening ceremony of the Second CIIE on November 5, "To date, China has signed 197 documents on Belt and Road cooperation with 137 countries and 30 international organizations. China will follow the principle of extensive consultation, joint contribution, and shared benefits, the philosophy of open, green, and clean cooperation, and a high-standard, people-centered, and sustainable approach to promote high-quality Belt and Road cooperation."
Michael Jiang, head of advisory with consulting firm KPMG in China, told Beijing Review that the CIIE cannot be simply viewed as a fair for foreign companies seeking to export goods to China. "In a globalized world economy, imports and exports are closely linked," he said.
For instance, nine Italian wineries, including Avanzi and Campana, created a joint exhibition at the Second CIIE with the help of Shanghai Dragon Corp., a Chinese company specializing in textile production and international trade. The company also imports Italian ham and ice cream into the Chinese market.
Jiang released a book on Chinese corporate investment in other countries and regions participating in the Belt and Road Initiative at the Second CIIE. "China holds the CIIE to show the openness of the Chinese market, and correspondingly, we hope Chinese companies are treated equally and inclusively by other countries and regions when they make overseas investment," he said while explaining the timing of his publication.
In his opinion, the CIIE plays a positive role in the development of Chinese enterprises as efforts to boost imports are conducive to their drive to establish a global presence.
(Reporting from Shanghai)
Copyedited by Madhusudan Chaubey
Comments to yanwei@bjreview.com