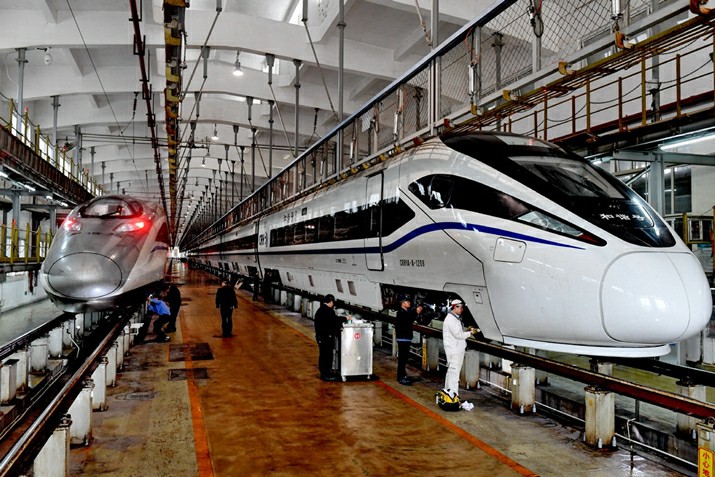 Every Chinese New Year, cities such as Beijing and Guangzhou — which sustain millions of jobs — empty out, as people working or studying return to their smaller hometowns for family reunions.
Trains, planes and buses are typically jammed with people going home from the big cities before the holiday, while those heading in the opposite direction — from home to the cities — have far fewer passengers.
To ease the burden on crowded trains and fill empty seats heading the opposite way, railway companies this year are offering more discounts travel during the rush, which began in earnest on January 10 and will end on February 18. Spring Festival, the Chinese Lunar New Year, falls on January 25.
In recent years, China has seen more "reverse travel", with many elderly people going to the cities where their adult children live, and it wants to encourage the trend.
In the Yangtze River Delta region, for example, the local railway operator in Shanghai said eight bullet trains and 15 slow trains will see ticket discounts as deep as 45 percent off to encourage people to take a reverse route against the travel rush.
Previously only slow train services were sold at discounted prices during the peak travel period.
China State Railway Group, the national railway operator, said the number of trains offering discount tickets has risen from 64 last year to 102 this year. The deepest discount has been increased from last year's 35 percent off.
The price cut is a response to a call by the National Development and Reform Commission, which issued a document on the Spring Festival travel rush in December urging railway departments to take actions promoting reverse routes.
Industry observers said it's the first time the central government has made such a call in its guidelines on the holiday, although the practice is not new.
Liu Zhi, a 40-year-old engineer in Beijing is one of those who got a discount this year. He prefers to have his parents come to his city of work from their hometown, Changde, Hunan Province, to celebrate Chinese New Year instead of traveling himself. Since the birth of his daughter in 2012, he has invited parents to Beijing every year.
"For us, it was not easy to travel 1,400 kilometers with our little daughter. During the Spring Festival travel rush, trains and planes to Changde are crowded, with people packed shoulder to shoulder."
He said his parents also like to come to Beijing.
According to online travel agency Ctrip, the number of airline tickets booked to some big cities — Hangzhou, Zhejiang Province; Nanjing, Jiangsu Province; and Shanghai — in the week before Spring Festival this year has doubled that of last year.
But the price of airplane tickets from small cities to large ones can be discounted as much as 80 percent. A flight from Changde to Beijing was listed at 790 yuan ($113) for the day before Lunar New Year's Eve, 600 yuan cheaper than going the other direction.
Still, for some, the traditional way is preferable. Many younger people who don't have children or haven't settled in workplaces would still rather suffer the travel rush and return home to reunite with their families.
Lu Yuhang, a 27-year-old writer in Beijing, whose original home is the Honghe Hani and Yi autonomous region in Yunnan province, said he doesn't have a relative in the capital and there is no atmosphere for a New Year's celebration.
"It's also easier for me to travel such a long way rather than my parents. And in Beijing, it's cold in January, but it's warm in Yunnan," he said.