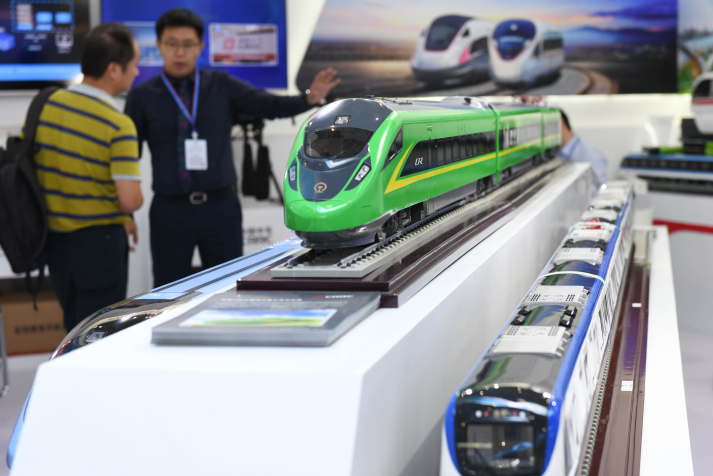 China Railway Rolling Stock Corp. showcases a product model at the First World Manufacturing Convention in Hefei, Anhui Province in east China, in September 2019 (XINHUA)
Sixty-seven of centrally administered state-owned enterprises (SOEs) have transferred shares with a value of 1.1 trillion yuan ($157 billion) to the national social insurance fund since the free transfer program was initiated in 2018, said Peng Huagang, spokesperson of the State-Owned Assets Supervision and Administration Commission (SASAC) of the State Council at a press conference on January 15.
The total operating revenue of centrally administered SOEs reached 30.8 trillion yuan ($4.5 trillion) with a profit of 1.3 trillion yuan ($190 billion), up 5.6 percent and 10.8 percent respectively from a year earlier.
The free transfer of shares highlights the significance of SOEs in China's development and the advantages of the country's economic system in which public ownership has a dominant position with other forms of ownership existing side by side.
SOEs have played a key role in the construction of infrastructure facilities, improvement of the public service system and upgrade of the economic system during the country's reform and opening up.
With the first step of transferring shares completed, the question now is whether the move will generate strong profits, a SASAC spokesperson said, amid reforms to raise enterprises' efficiency.
(This is an edited excerpt of an article originally published in People.com.cn on January 18)