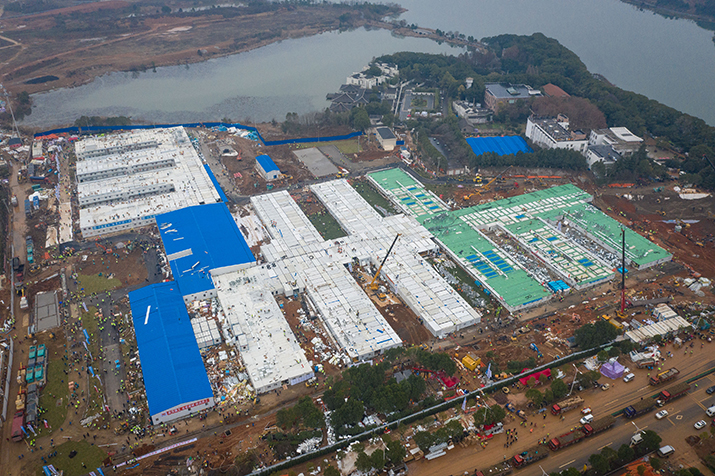 Aerial photo shows the construction site of Huoshenshan Hospital in Wuhan, Hubei Province in central China, on February 4 (XINHUA)
In response to the outbreak of the novel coronavirus pnuemonia, Chinese state-owned enterprises (SOEs) have committed to supplying goods and materials in short supply to the hardest hit areas as well as to the entire country.
Huoshenshan Hospital, which began admitting patients on February 3, was a miracle construction built by many sectors of society in just 10 days. Among them was China Construction Third Engineering Bureau Co. Ltd., a state-owned real estate enterprise based in Wuhan, Hebei Province in central China, which took the lead during construction.
The makeshift hospital, at 34,000 square meters, can provide 1,000 beds to infected patients who will be treated in isolation.
"With the experience of building dozens of skyscrapers over 300-meters tall, the project headquarters quickly completed the deployment of resources to increase manpower and supplement machinery," Chen Weiguo, group head of the emergency engineering construction leading group of the company, told People's Daily.
As the shortage of beds continues to be addressed, there are also shortages of medical supplies such as facemasks, protective suits, disinfectants and diagnostic kits that need attention.
A subsidiary of ChemChina, a state-owned chemical enterprise based in Shenyang, Liaoning Province in northeast China, expanded its output ofsodium hypochlorite, a material used for disinfection, from under 120 tons to 240 tons per day, with its monthly production reaching 7,000 tons, hitting the limit of production equipment and setting the highest record in 82 years.
"Sodium hypochlorite was only a byproduct for us. Our output was 30 tons per month and we did not sell it externally. To meet the current needs for epidemic prevention and control, we have overcome difficulties and adjusted our production plan," a head of an electrolysis workshop at China National Petroleum Corporation, an integrated energy company, said. "The monthly production has increased to 100 tons."
At China North Industries Group Corp. Ltd., a main platform responsible for developing mechanized, digitized and intellectualized equipment for the Chinese People's Liberation Army, staff are working more than 10 hours a day to produce facemasks, and its production capacity has increased 2.5 times. The company also put together a youth team, which is researching three models of protective suits.
In terms of daily necessities, SOEs represented by China Oil and Foodstuffs Corporation (COFCO) and China Resources Group are taking responsibility for maintaining sufficient supplies.
"During this period, it is guaranteed that the prices of epidemic prevention supplies and important livelihood commodities will not rise, the quality will not drop and supply will be continuous," COFCO promised to consumers.
Currently, the company is sending more than 200 tons of rice, 50 tons of flour and about 300 tons of cooking oil to Wuhan every day.
Public service SOEs, such as China's three telecommunications monopolies and power grids, are also taking measures to provide continuous services despite overdue bills and online services to allow citizens to do business online.
To date, central SOE donations to the frontlines of the battle against the novel coronavirus have totaled about 1.76 billion yuan ($250.9 million). Meanwhile, relevant pharmaceutical SOEs have set up a special protection fund for epidemic prevention and control totaling 2 billion yuan ($285.6 million), according to China Securities Journal.
Copyedited by Rebeca Toledo
Comments to zhangshsh@bjreview.com