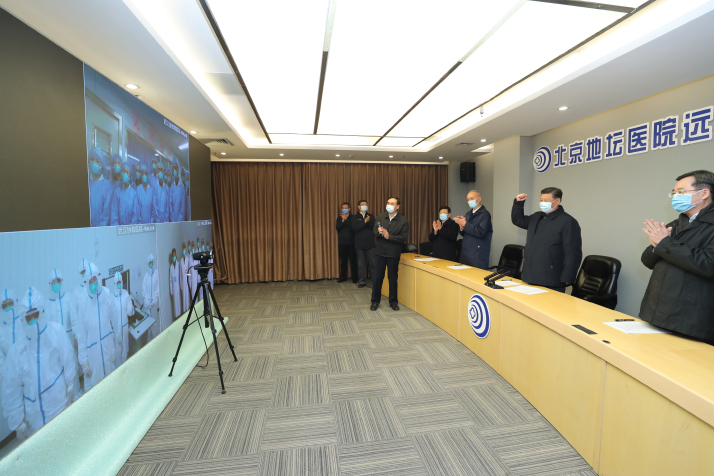 President Xi Jinping talks to medical staff on duty in Wuhan, Hubei Province in central China, via a video call from Beijing Ditan Hospital on February 10 (XINHUA)
When many Beijing residents bid farewell to the city before the Spring Festival, which fell on January 25 this year, to rush home in other regions for a family reunion holiday, it marked the start of
chunyun
, the traditional travel rush known as the greatest human migration on Earth. However, unlike the tradition, this year, the city did not see all the revelers return.
The novel coronavirus epidemic pressed the pause button, not only for the capital but for the whole country. The State Council, China's cabinet, extended the new year holiday from a week to 10 days to prevent large-scale transmission of the epidemic but now, it is time to resume work to stabilize society and the economy. While work from home is encouraged wherever feasible, cautious onsite production started on February 10 in a new round of campaign to test epidemic control measures.
In a circular on February 8, the State Council stressed the importance of ensuring the safety of workers and public health while addressing companies' difficulties.
The epidemic situation has shown positive changes due to concerted hard work, President Xi Jinping, also General Secretary of the Communist Party of China Central Committee, said at a meeting in Beijing on February 12, adding that the prevention and control work has achieved notable outcomes.
"The results are hard-won progress made by all sides," Xi said.
Noting that epidemic prevention and control have entered a critical stage that requires stringent efforts, Xi stressed focusing on priorities without any letup and strengthening prevention and control in areas where the epidemic situation is particularly serious or at greater risk.
"Currently, apart from Hubei Province, the hardest-hit place in central China, other provincial-level regions are heading back to work. Enterprises in key areas including medical materials manufacturing, energy, grain, transportation and logistics have reopened," Cong Liang, Secretary General of the National Development and Reform Commission (NDRC), said at a press conference on February 11.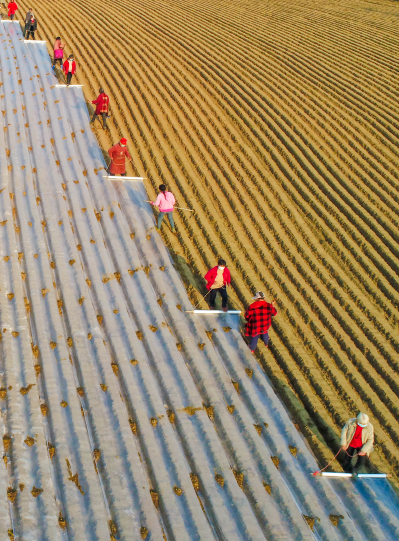 Farmers in masks plant seeds and cover the land with plastic film in Hongshe in Sichuan Province, northwest China, on February 11 (XINHUA)
Picking up the pieces
Companies providing epidemic control supplies and services such as medical materials and daily necessities were among the first to resume work. They are racing toward full production.
On February 8, four production lines for acrylonitrile, an organic compound used in surgical masks, gloves and protective suits, were in full swing at a Sierbang Petrochemical Co. factory in Lianyungang, Jiangsu Province in east China.
"We made a rational production plan during the holiday and have enough people and materials for production," Bai Wei, General Manager of Sierbang, said, adding that 1,500 employees had resumed work.
In the first 10 days of February, the company produced more than 25,000 tons of acrylonitrile and other products, alleviating the shortage of raw materials for medical supplies.
Domestic medical mask production capacity had rebounded to nearly 87 percent by February 7, Chen Da, an NDRC official, said. Masks could become a national strategic material reserve instead of emergency material in the future.
Nearly 95 percent of major grain production and processing companies had resumed production and there was sufficient supply of natural gas, electricity and refined oil, Chen added.
Logistics companies were expected to reach over 40 percent of their normal handling capacity by mid-February, according to the State Post Bureau.
In other sectors, enterprises have altered their methods of work and recommenced production in a phased manner. Daily and large-scale disinfection and health checks have become normal in public areas and enterprises. Telecommuting and working in shifts are popular ways to reduce face-to-face contact. People who returned from outside their cities stayed at home for 14 days, the incubation period for the virus, working remotely. Those who had stayed in their cities reported for onsite shift duty. Public service organs and companies are working online, with approval and assignment allocation done by e-mail or phone.
Where commuting and onsite work are necessary, employees are encouraged to take private cars. Big cities like Beijing lifted the one-day-a-week restriction on car use for the time being, permitting all cars to ply the roads on all days. Under the previous regulation, each car was banned from the streets one day a week, based on the last digit of the license plate.
Bai knows the difficulties will not vanish overnight despite resumption of production. "Manufacturers have delayed their return to work, which has led to a slump in the demand for our products. Moreover, logistics constraints have also affected the transportation of our materials and products," he said.
To cope with the logistics problem, he rented storage tanks to ease the burden on the warehouse, and adjusted the product structure. More solid chemical products are being manufactured since they are easier to store than liquid ones.
A worker hangs disposable gloves at a production plant in Shijiazhuang, Hebei Province in north China, on February 10 (XINHUA)
Overcoming obstacles
Most companies face similar challenges. "Soaring logistics costs are one of the difficulties," Sang Baichuan, Dean of the Institute of International Economy at the University of International Business and Economics in Beijing, told Beijing Review. He said the mobility constraint has raised the cost of labor. Together with limited transportation, costs are rising.
Investment, supporting service facilities and supply chains have also been affected. Companies do not exist in isolation, they are all links in a chain, Sang said. If different companies resume work on different dates, it can cause the chain to unravel. Also, some foreign countries are likely to reconsider their imports from China and may restrict Chinese visitors, which will impact trade and lead to reduced orders, while some orders may not be finished in time due to the restricted supply chain.
"Shrinking orders and unfinished transactions can have a significant impact on the liquidity of companies, especially small and medium-sized enterprises (SMEs)," Sang said.
A recent survey of 995 SMEs by Tsinghua University and Peking University found 70 percent of the respondents can survive two months at most with their current cash flow. Less than 10 percent said they could continue for half a year.
Apart from SMEs, catering, retail and tourism have also suffered. Jia Guolong, founder of Xibei, a top restaurant chain, said in an interview with Chinaventure.com.cn on February 1 that the company had been forced to close more than 400 of its restaurants nationwide. Only 100 were open for delivery services. With 20,000 employees, the salaries alone cost the company 156 million yuan ($22.4 million) per month.
On February 6, Xibei signed a 530-million-yuan ($76-million) credit agreement with the Beijing branch of Shanghai Pudong Development Bank. The first loan worth 130 million yuan ($18.7 million) has already been issued. However, Jia said the business can't survive more than three months even after pooling in all cash and loans.
SMEs, on the other hand, have greater limitations in getting bank loans, compared to large chains like Xibei. The central authorities and local governments have already swung into action to cushion the epidemic's impact on companies, especially SMEs. As of February 7, 13 provincial-level regions and a number of lower-level governments had issued policies to support SMEs with measures such as the waiving of rent on a temporary basis, tax cuts and deferrals, credit support and subsidies, according to an Economic Daily report. Meanwhile, more policies are afoot.
The NDRC has allowed SMEs to maintain liquidity by issuing bonds. The capital raised via corporate bonds can be used to pay back project loans.
Giant real estate players such as Wanda, the R&F Group and the China Resources Group have stepped in to help, announcing that they will waive the rent for their commercial tenants by half to one month despite facing liquidity pressure themselves.
Hema Fresh, Alibaba's New Retail grocery chain with online and offline retail services, has offered to share employees to help workers who have been let go by distressed companies. With online orders for groceries mounting as people prefer to stay at home, Hema Fresh has a labor shortage. So the retailer is borrowing idle employees from catering companies to fill the gap temporarily.
As of February 10, more than 1,800 employees from 32 catering companies, including Xibei, had joined Hema Fresh's temporary sharing plan. And many more companies have offered to temporarily employ disengaged workers to tide them over during this difficult period.
Planning for the future
While battling the current situation, enterprises need to make plans for the future to make up the losses. Sang said some difficulties are temporary as consumption will see a fast rebound after the effect of the epidemic wears off.
Xu Hongcai, Deputy Director of the Economic Policy Commission, China Association of Policy Science, told Beijing Review that changes will take place in people's lifestyle after the epidemic as they pay more attention to their health, which will also bring about new opportunities in business.
"From a long-term perspective, the outbreak will see a comprehensive reconstruction of the business ecosystem of the country, companies, industries and the people as a whole, the impact of which will last a long time," Li Jiangtao, a postdoctoral research fellow with the Institute of Economics, Tsinghua University, told Beijing Review.
In 2003, the severe acute respiratory syndrome outbreak became a catalyst for Internet industries. In the age of 5G, the epidemic may alter business models, consumption and purchasing habits in a revolutionary manner, Li added. He suggested SMEs pay more attention to social change since this marks an opportunity to reshape their companies and industries. "I'm confident new business models will emerge," he said.
According to Li, one change could come in management ideas as health maintenance may turn into company behavior from personal behavior. Telecommuting may also change corporate management. Freed from space constraints, employees can take several jobs while companies can adopt a project responsibility system. There is a great deal of opportunities, he said.
Sang also advised companies and public service systems to introduce and strengthen the use of artificial intelligence and automation in their production and services.
At the national level, Xu said he thinks it is an opportunity to launch new reforms. For some public service sectors such as medical care and education, the government should increase investment instead of depending fully on the market, he said.
The outbreak exposed the weakness in infrastructure as the capacity for epidemic prevention and control was insufficient. Makeshift hospitals had to be built to tackle the emergency. It is crucial to increase public investment to improve medical services, Sang said.
Copyedited by Sudeshna Sarkar
Comments to zhangshsh@bjreview.com