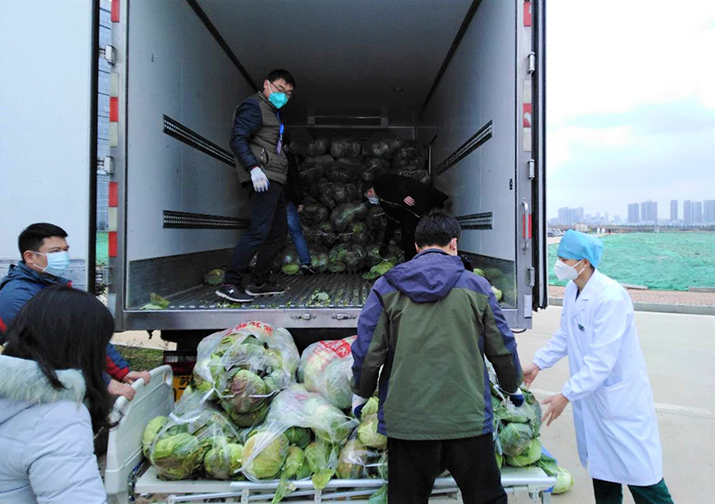 Employees from China Railway 20th Bureau Group Co. Ltd. unload vegetables at the Dabieshan Hospital in Huanggang, Hubei Province in central China, on February 8 (COURTESY PHOTO)
At the entrance of a village in Pingjiang County, Hunan Province in central China, loudspeakers mounted on a pole continuously remind villagers not to visit their relatives and friends or gather together during this special period of epidemic.
However, in the afternoon of February 3, dozens of mask-wearing villagers carrying their farming tools gathered together on a farmland to perform a special "task"- collecting vegetables for Wuhan, Hubei Province in central China.
The task was initiated by Li Zengliang, a staff member with China Railway 20th Bureau Group Co. Ltd. who learnt from the news on January 27 that Wuhan was in short supply of daily necessities as many supermarkets and markets had closed down, and citizens had nowhere to buy vegetables. China Railway 20th Bureau Group Co. Ltd. is a subsidiary of China Railway Construction Corporation, a central state-owned integrated construction group.
"It's my responsibility and obligation to make efforts for our country during this key period of epidemic control, even if it is too modest," Li said. He contacted a village cadre from his hometown, saying that he would like to pay on his own to purchase some vegetables for Wuhan. With the help of the cadre, Li, together with his four high school classmates, visited several families and purchased 50 tons of vegetables at the lowest price.
Other villagers also took initiative to lend a hand. They put on masks, avoided talking, and formed groups to collect, package and load the vegetables, working overnight so that people in Wuhan could get fresh vegetables as soon as possible. On the morning of February 4, the first batch of 10 tons was transported to the destination, which could reach the dining tables of Wuhan people the same night.
Subsequently, four trucks of vegetables were sent to the headquarters of Huoshenshan Hospital, a makeshift hospital in Wuhan. Later on February 8, Li, together with four of his colleagues, sent another 12 tons of food supplies including eggs, cabbages and carrots to Huanggang, one of the hardest-hit cities in Hubei, in the name of their company.
Copyedited by Madhusudan Chaubey
Comments to zhangshsh@bjreview.com