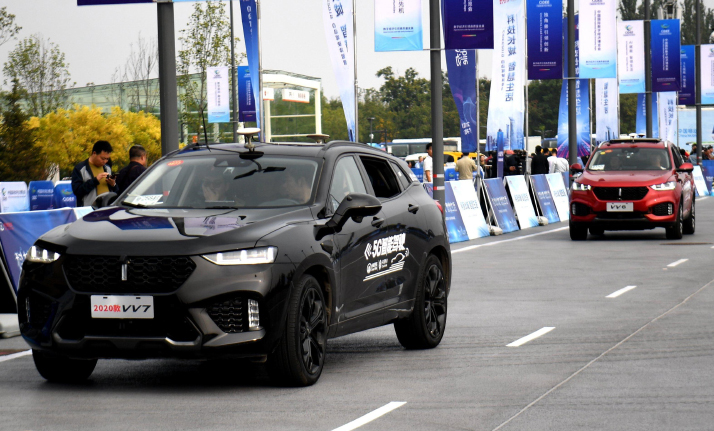 A 5G-based intelligent connected car from Great Wall Motors, a China-based car manufacturer, on display at a digital economy expo in Shijiazhuang in Hebei Province, north China, on October 11, 2019 (XINHUA)
When most companies are struggling to deal with the difficulties in business operation caused by the ongoing novel coronavirus epidemic, NIO, an emerging Chinese carmaker specializing in intelligent electric automobiles, has just welcomed a monumental moment—the establishment of its headquarters in Hefei, Anhui Province in east China.
There, the local government as well as market investors are expected to inject over $10 billion into the ambitious smart car producer, which plans to soon put its coupe SUV EC6 into large-scale production. The move coincided with the issuing of a document on intelligent automobile innovation and development strategy by Chinese policymakers on February 24.
In the document, the government has set 2025 as the target year for achieving market application of self-driving cars with high automation in specific conditions and launching scale production of conditionally automated cars. It highlights the completion of an intelligent and connected vehicle (ICV) system based on Chinese standards by 2050.
According to Bohai Securities, the release of the targets will promote the development of the auto industry and boost cooperation and upgrading of sectors such as automobiles, telecommunications, electronics and the Internet, which can unleash the potential of the domestic car market.
The ICV market in China is experiencing great room for growth as the country pushes for smart and green transportation. Along with car startups like NIO, domestic tech and Internet giants including Baidu, Alibaba, Tencent and Huawei have all entered the ICV market.
Steady efforts
Since the slowdown in the growth of car sales starting in 2018, the government has stepped up efforts to boost the automobile sector, including enhancing support for developing electric cars and ICVs. Last December, the Ministry of Industry and Information Technology issued a draft plan focusing on the sector, stressing China's plan to lift the share of ICV sales in total automobile sales to about 30 percent by 2025.
The recent document highlights that China will advance research and development (R&D) of cutting-edge technologies such as human-computer interaction, build databases for evaluations and tests of automated vehicles, carry out research on legal and ethical issues and develop domestic standards. It will also encourage foreign companies to partner with Chinese firms in R&D, provide tax incentives to support enterprises and explore the expansion of smart transportation systems in domestic cities based on new-generation technologies like 5G and artificial intelligence (AI).
According to the document, evaluations and tests need to be improved to ensure safety and promote the commercialization of ICVs. The test areas can be expanded from enclosed ones such as airports, ports and industrial parks to larger demonstration zones like Xiongan New Area southwest of Beijing.
China has allowed test runs of conditional or high automation self-driving vehicles in many regions since 2018. Several cities including Beijing, Shanghai and Chongqing have issued license plates for ICV road test vehicles.
As a pioneering city, Beijing started automated road tests in 2018 and in December 2019, it gave the green light to tests for self-driving vehicles carrying passengers. According to a report by the Beijing Innovation Center for Mobility Intelligence on local road tests released on March 2, a total of 73 cars from 12 enterprises participated in tests in Beijing in 2019, covering over 880,000 km, a growth of 577 percent from the previous year. Among the enterprises, the driverless technology platform Apollo, launched by Baidu in 2017, conducted 52 self-driving car tests, representing the largest share.
To accelerate the promotion of ICVs, building smart roads that are friendly to automated cars has been put on the agenda. In 2019, Shenzhen in Guangdong Province in south China, opened its first smart road, equipped with new technologies such as 5G and big data for monitoring pedestrians and vehicle traffic that facilitate automated driving.
Challenges and chances
Despite the favorable support, China's automakers, particularly emerging startups, are still facing challenges due to growing market competition and the upcoming withdrawal of government subsidies for electric car purchases at the end of 2020. "The sales growth of car startups may slow down this year as an increasing number of traditional car manufacturers such as Volkswagen and Toyota enter the ICV market, making the competition fiercer," Li Bin, CEO and founder of NIO, told International Finance News.
Problems such as fire incidents are also troubling domestic car startups. For example, an ES8 model car, a seven-seater high-performance premium electric SUV that NIO began delivering in June 2018, was engulfed in smoke at an underground parking garage in Shanghai last year.
Although NIO ranked first in sales among China's car startups in 2019 by delivering 20,565 vehicles, it posted a net loss of 8.43 billion yuan ($1.2 billion) in the first three quarters of 2019. Xpeng Motors, another electric car startup with a delivery target of 40,000 units for 2019, managed less than 17,000 last year.
The competition between tech giants and traditional car manufacturers is also intensifying. After Baidu introduced Apollo, Tencent launched its in-car voice-operated WeChat in 2019. Traditional carmakers such as Guangzhou-based GAC Group have started cooperation with tech companies to become smarter.
In this atmosphere, tech enterprises in supporting industries such as automotive electronics are embracing new opportunities. According to a report by Caitong Securities in January 2020, consumers' rising demand for entertainment and safety functions will boost the growth of automotive electronics. The share of costs of automotive electronics systems in total car manufacturing costs is expected to increase to about 34 percent this year and approach 50 percent by 2030, compared to less than 20 percent prior to 2000.
Data from the Shenzhen-based Qianzhan Industry Research Institute showed that the size of China's automotive electronics market is expected to reach 660 billion yuan ($94.7 billion) this year, and by 2025, the size of the market will exceed 880 billion yuan ($126.3 billion).
According to Caitong Securities, the market for related products including sensors, onboard cameras, audio systems and advanced driver assistance system (ADAS) products in China will see rapid development. Aimed at ensuring safe driving through collecting data from car sensors, ADAS' application has expanded from premium cars to mid-level ones. Since many ADAS functions are supported by automotive printed circuit boards (PCBs), a major criterion for electronic information industrial development in a country, domestic PCB enterprises such as WUS Printed Circuit in Jiangsu Province, east China, have been greatly boosted.
A self-driving car carrying passengers runs on a test road in an economic and technological development area in Beijing on December 30, 2019 (XINHUA)
Making breakthroughs
According to a report by the China Center for Information Industry Development in 2019, the number of global ICVs will increase to about 300 million this year and exceed 1 billion by 2025. As countries across the globe vie to tap into the market, China is also moving fast to grab its share.
However, technological obstacles and safety issues are still weighing on the application of ICVs. Although China has made major progress in car manufacturing, its self-dependent innovation capability still needs to be improved, which calls for breakthroughs in key technologies such as big data, AI and perception systems, Zu Sijie, vice president and chief engineer of Chinese carmaker SAIC Motor, said in an article published by the China Intelligent and Connected Vehicles (Beijing) Research Institute.
Li Keqiang, professor at the School of Vehicle and Mobility of Tsinghua University, told Beijing Review that the integration of technologies in ICV development has posed challenges to domestic car companies. Li added that the government should promote industrial alliances for car manufacturers to cooperate with tech and Internet enterprises on R&D technology and improve regulations to ensure safety and data security.
While many problems remain to be addressed, booming 5G technology is drawing the application of ICV closer. "5G technology can improve network connection. It is key to self-driving, which will see explosive growth in China between 2025 and 2030 when the technology is further commercialized," Pang Chunlin, Secretary General of the Telematics Industry Application Alliance, told Shanghai Securities Journal.
According to Southwest Securities, the development of 5G and ICVs can drive China's digital economy and industrial restructuring, and boost its high-quality growth.
Copyedited by Rebeca Toledo
Comments to lixiaoyang@bjreview.com