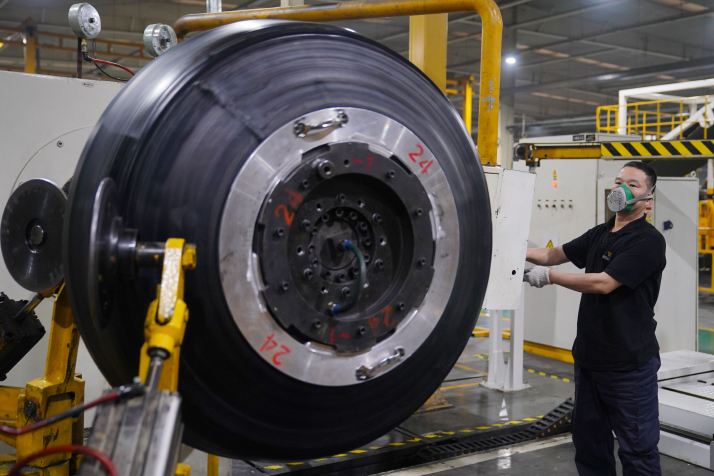 Work in progress at Trelleborg Wheel System (Hebei) Co., a Sweden-headquartered tire and complete wheel system maker in Xingtai, Hebei Province in north China, on February 24 (XINHUA)
When German chemical giant BASF started its $10-billion petrochemical project in south China in November 2019, it made news as the smart Verbund project was the first large petrochemical project in China solely owned by foreign investors. The company came into the spotlight again recently, being one of the early birds among the foreign-funded enterprises in the country to resume work after a hiatus due to the novel coronavirus.
According to Stephan Kothrade, President and Chairman of BASF Greater China, production resumed in early February after the extended Chinese New Year holiday ended. Strict health protection measures have been adopted in its offices and factories, and wherever possible, employees are being asked to work from home.
Kothrade said the Chinese market remains appealing despite the difficulties. "China is now the BASF's third largest market after Germany and the United States and it will be a major contributor of the profitable growth of the BASF Group. We have faith in the long-term development of China's market," he told Beijing Review.
As foreign-funded enterprises, which have become key players in the Chinese market, resume work, the government is issuing supporting policies to help them as well as domestic companies. The National Development and Reform Commission issued a circular on March 11, assuring the economic authorities will further support foreign-funded firms and projects to resume work and ensure stable growth of foreign investment.
The measures include further streamlining approval procedures for foreign-funded projects, reducing the items on the negative list that details the sectors out of bounds for foreign investment, and expanding the catalog of industries where foreign investors are encouraged. The legitimate rights of foreign-funded firms will be protected.
A global supply issue
With China being a major market and a key base of production as well as research and development for many foreign-funded enterprises, they are keen to resume work to ensure their global supply chains remain stable.
Except for Hubei Province in central China where the preventive measures are the most stringent, around 60 percent of major foreign-funded enterprises in the manufacturing industry and 40 percent in the service industry had resumed over 70 percent of their production capacity nationwide by March 12, Zong Changqing, Director of the Department of Foreign Investment Administration of the Ministry of Commerce (MOFCOM), told a press conference on March 13.
The supporting policies include tax and fee cuts and reduction of bank interest on loans. According to Zong, over 90 percent of foreign-funded enterprises in China are small and medium-sized ones and most of them can benefit from the preferential policies meant for Chinese enterprises. There are more than 400,000 foreign-funded enterprises in China.
Production resumption by these companies has contributed to the battle against the novel coronavirus. To meet the surging demand for medical supplies, German pharmaceutical giant Bayer's China division restarted operation in February. Xie Yatao, an official at Bayer's supply center in south China, told Nanfang Daily that the resumed production capacity was around 60 percent.
Foreign-funded enterprises providing daily necessities have also taken up the reins once again. U.S. retailer Walmart said it has been working to ensure the supply of daily commodities at a stable price since the Chinese New Year holiday and collaborating with Chinese catering enterprises to introduce new products.
Besides medical supplies and daily necessities, other manufacturers have also resumed their business to ensure global supplies. The two auto factories of BMW Brilliance Automobile, a joint venture of Germany's BMW and Chinese automaker Brilliance Auto Group, went back to work in mid-February.
Chen Weili, U.S. sports brand Skechers' CEO in China, the Republic of Korea and Southeast Asia, told Economic Daily that although sales of brick-and-mortar stores has been affected, new online demands have been generated, which can bring great opportunities. The company plans to provide more diverse products and boost its online store presence.
Fabrice Megarbane, President and CEO of L'Oréal China, expressed upbeat expectations about the Chinese market at the online annual conference of the company on March 5, projecting the market will bounce back as the fundamentals for beauty product consumption are still there. "China will become the largest global market for the company and the laboratory of global beauty in the future," he said.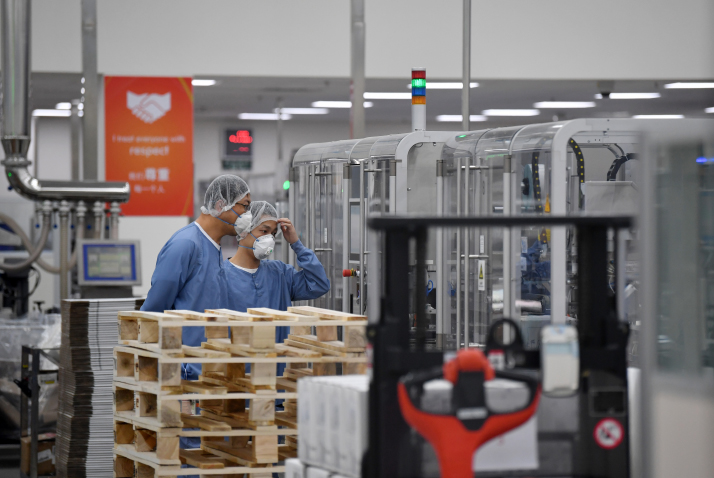 Staff check equipment in the workshop of Novo Nordisk, a Denmark-headquartered medicine producer in Tianjin in north China, on February 25 (XINHUA)
Still a honeypot
Affected by the suspension of work and production and weak market expectations, China's foreign direct investment (FDI) has seen some decline. According to MOFCOM, the first two months of the year saw non-financial FDI drop by 8.6 percent year on year to 134.4 billion yuan ($19.2 billion).
However, not all performances are gloomy. In the same period, paid-in FDI in China's hi-tech industries rose 2.2 percent year on year to 41.5 billion yuan ($5.9 billion). Investment from other Belt and Road participating countries increased by 9.7 percent, and FDI from the members of the Association of Southeast Asian Nations rose by 15.1 percent, MOFCOM said.
"China remains a magnet for foreign investors as it has a complete industrial chain, full-fledged infrastructure and a large market," Nie Pingxiang, a researcher with the Chinese Academy of International Trade and Economic Cooperation under MOFCOM, told Beijing Review.
As Zong highlighted, the impacts of the novel coronavirus have not undermined the confidence of most multinationals in investing in China or altered their investment strategies. According to a report on the impacts by the American Chamber of Commerce in China (AmCham China) in February, over one third of its 169 surveyed member enterprises remained optimistic about China's regulatory environment and 34 percent said the pandemic has not affected their businesses. Nearly one fourth said they would maintain previously planned investment levels this year.
Another report on China's 2019 business climate from AmCham China said most surveyed U.S. enterprises in China would continue to focus on the Chinese market. Around 50 percent of the 372 surveyed member enterprises said China's business environment has improved. In 2018, around 38 percent had thought so.
U.S. retail giant Costco announced in February that it would open its second warehouse store in Shanghai this year. In March, Toyota unveiled the plan to build a new electric vehicle plant with its Chinese partner FAW Group. U.S. coffee giant Starbucks also announced a roasting plant in east China, which is the chain's largest manufacturing investment outside the U.S.
While foreign investors continue to stay enthusiastic, Zong however warned that the continued decline of global FDI and economic slowdown could pose greater challenges for FDI in China this year. He said the government will ensure widespread implementation of the new Foreign Investment Law which came into effect on January 1, shorten the negative lists and promote trials in free trade zones to widen market access and improve the business environment.
Addressing challenges
There are some concerns about foreign-funded enterprises relocating their industrial chains. A report released by the European Union Chamber of Commerce in China (EUCCC) in February said the epidemic has driven some European enterprises to explore more diversified markets to reduce the reliance on the Chinese market.
"Although many foreign-funded enterprises will not seek supply chain transfers in the short term as China still plays a key role in the global industrial chain, some multinationals may shift part of their manufacturing chains to other countries to diversify their suppliers in the midst of China's industrial restructuring," Nie said.
To boost the confidence of foreign businesses and attract more foreign investors, the government needs to widen the opening up and accelerate the economic recovery, the EUCCC report said.
Nie suggests more targeted measures to attract foreign investors, besides providing legal and policy support. Foreign investment has mainly flown into the service sector, notably traditional service industries such as retail and real estate, which have been severely affected. So the government is expected to further open up emerging service industries such as education and healthcare and boost the digital economy.
"To cope with the future restructuring of the global industrial chain, the government also needs to enhance the appeal of China's manufacturing industry for foreign investors through industrial upgrading and improving the infrastructure," she said.
Copyedited by Sudeshna Sarkar
Comments to lixiaoyang@bjreview.com