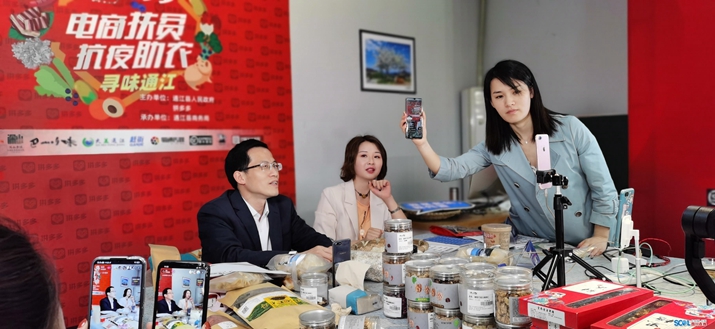 Zhang Chungen (left), Deputy Mayor of Tongjiang County, promotes agricultural products of the County in Sichuan Province, southwest China, on a livestreaming platform on April 12 (SCOL.COM)
Talking freely in front of cameras, Zhang Chungen looks like an eloquent host. However, it was his first appearance on a livestreaming platform. Zhang is Deputy Mayor of Tongjiang County, Sichuan Province, southwest China.
Tongjiang abounds with tremella. However, the outbreak of novel coronavirus disease (COVID-19) has made it difficult to sell tremella. So the local government teamed up with Pinduoduo, an e-commerce platform, and officials became livestreaming celebrities to help farmers sell products, including tremella, sausage and free-range chicken.
On April 12, Zhang appeared on Pinduoduo, at 9 pm with Wang Jun, Mayor of the county, for livestreaming. Besides usual promotion methods, such as describing the features of the product, they also used quotes from classics to tell people how precious the item was in history. That distinguishes them from ordinary hosts.
During the live broadcast, mayors try tremella and chicken soup and sausage cooked in the stadium to showcase products in an all-round way. Some products were sold in limited quantities at very low prices. Coupons were offered to viewers to encourage them to buy more goods. One hour later, the number of viewers reached nearly 200,000, generating over 300,000 yuan ($42,543) of turnover.
Since 2018, Zhang has endorsed many local goods. He set a sales record of 200,000 yuan ($28,361) in 100 minutes when he sold potatoes grown in the county on WeChat, China's popular messaging app. To explore a new way to broaden the market and enhance the visibility of local products, Zhanghe moved into livestreaming.
Zhang is not alone. Shen Zhongchun, Deputy Mayor of Poyang County in Jiangxi Province, east China, has participated in livestreaming since March 15.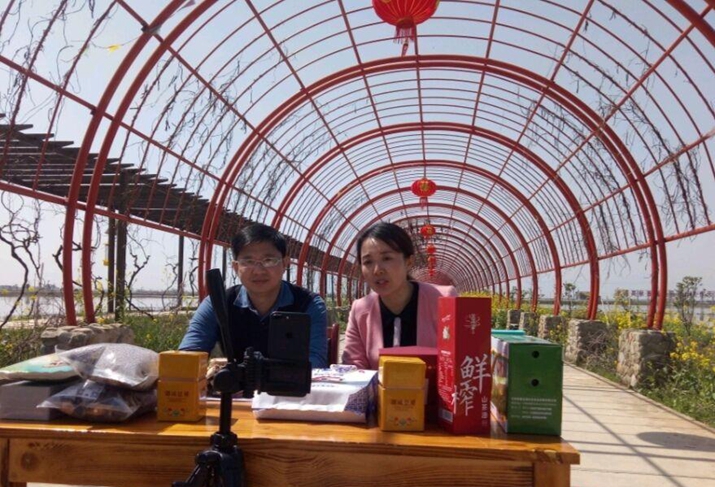 Shen Zhongchun (left), Deputy Mayor of Poyang County, introduces agricultural products during a live broadcast in Poyang, Jiangxi Province, east China (JXNEWS.COM)
In Poyang, people raise crayfish in paddy fields to increase income. To help promote the crayfish, Shen is seen catching crayfish, cooking and eating them on the spot in livestreams on Taobao, Alibaba's online marketplace. Local officials' endorsement is also regarded as a guarantee for product quality. Thanks to his promotion, the crayfish were soon sold out, and Shen won many fans.
Shen makes full preparation before the livestreams. He still remembers his debut. "I was most worried about making mistakes, which could leave a bad impression," he told China Comment, adding it was an experience full of pressure. But he thinks livestreaming is an excellent way to help farmers sell slow-moving goods.
To livestream, officials have to develop a comprehensive understanding of local conditions through field research, Wang Qingfeng, a commentator, said in an article published in Nanfang Daily.
At the same time, they need to have strong communication ability and are required to deal with various situations during the livestreaming. They deserve applause as they are willing to make new efforts for the benefit of the people, Wang said.
According to iResearch, a Chinese consumer insight provider, livestreaming e-commerce in China has maintained a growth rate of over 100 percent in the past two years.
Due to the epidemic, the operations of most merchants have been suspended as people are suggested to minimize outdoor activities. In this case, livestreaming e-commerce is an option to support consumption, connecting businesses with consumers.
In Hubei Province, the worst-hit area of COVID-19 in China, e-commerce through livestreaming has become a significant channel to minimize economic loss. The Ministry of Agriculture and Rural Affairs has also encouraged people to buy more products made in Hubei to help it tide over the difficulties.
Copyedited by Madhusudan Chaubey
Comments to liqing@bjreview.com