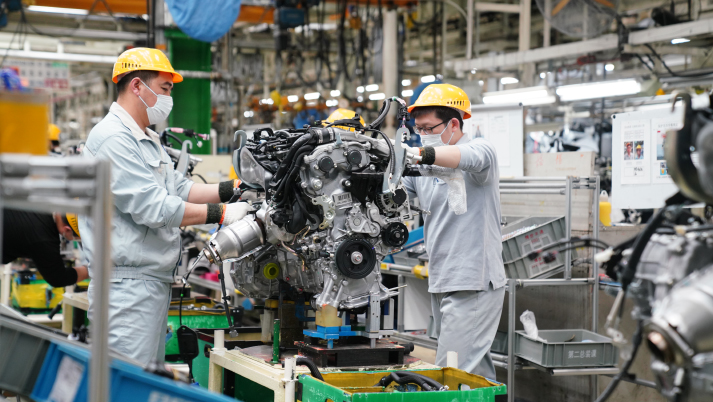 The FAW-Toyota production base in the Tianjin Development Zone on April 4 (XINHUA)
Despite media reports about the Japanese Government's new economic stimulus package to help Japanese companies move back home from China and U.S. President Donald Trump's Chief Economic Advisor Larry Kudlow saying similar things about U.S. companies in China, there has been no large-scale withdrawal of foreign investment, the Chinese authorities said.
"Foreign investors remain optimistic about China and they stay confident and determined to seek long-term operation and development in China," Ministry of Commerce (MOFCOM) spokesperson Gao Feng said at an online regular press conference on April 16.
Still a honey pot
According to Gao, monitoring shows that the number of foreign-funded enterprises resuming production is steadily increasing. A survey covering 8,700-plus key foreign-funded enterprises showed that by April 14, 72.8 percent of them had resumed over 70 percent of their operation, which was 0.9 percentage point higher than that in the previous week.
Investigations show that 98 percent of Japanese-funded enterprises in south China have resumed production, with 41.4 percent of them in full operation and 42.3 percent resuming more than 80 percent of production capacity. Japanese enterprises in other regions have also made progress in work resumption. The fact that Japanese firms' production has recovered in China first effectively underpins their operation and stable development. Many of them have expressed their confidence in the Chinese market and their willingness to expand investment in China, Gao said.
The 2020 China Business Climate Survey Report by the American Chamber of Commerce in China says China remains a top long-term priority for most U.S. companies, despite slowing growth, wider U.S.-China tensions, some longstanding business challenges in the country and the novel coronavirus disease (COVID-19) outbreak. According to the Special Report on Impact of Novel Coronavirus Outbreak prepared by the American Chamber of Commerce in South China, regardless of the impact of the outbreak, 75 percent of the companies show high confidence in the future of China's economy and will not change their reinvestment plans.
"These facts show that China remains a favorite destination for foreign investors," Gao said at the press conference.
As for the reasons, he explained that the current global industrial and supply chain landscape is the result of the joint efforts and shared choices of businesses from all countries. It is shaped by a wide range of elements in different economies, from the cost of factors to industrial systems and infrastructure. It was not built overnight and will not be easily altered at the random will of any individual or any country.
U.S. technology giant Apple remains optimistic about the Chinese market. "It feels to me that China is getting the coronavirus under control. And so I'm very optimistic there," Apple CEO Tim Cook said in an interview with U.S. TV channel Fox Business on February 27, adding that the company has reopened its factories in China.
According to a MOFCOM press release on April 15, in the January-March period, the foreign direct investment (FDI) in the Chinese mainland amounted to 216.19 billion yuan ($30.54 billion), down by 10.8 percent year on year due to the COVID-19 outbreak. But in March, it stood at 81.78 billion yuan ($11.55 billion), signifying lesser decline than in February. In March, the decline was 14.1 percent, which was 11.5 percentage points narrower than in February.
Foreign investment in hi-tech sectors has increased. In the first three months this year, the FDI in the hi-tech service industry grew by 15.5 percent year on year, accounting for 29.9 percent of that in service industry. Of the total, foreign investment in information, e-commerce service as well as professional and technical services increased by 28.5 percent, 62.4 percent and 95 percent, respectively, year on year, the press release said.
Two major changes have taken place in the structure of China's foreign investment. The cost-driven model has changed to a market-driven one; and the service industry, instead of the manufacturing industry, is attracting more than 70 percent of the foreign investment. In particular, the hi-tech service industry has become a hot spot for foreign firms to invest in, Zhang Yansheng, chief researcher at the China Center for International Economic Exchanges, told China News Service.
"These two changes indicate that foreign investors may delay their investment plans in China due to travel and logistics disruption caused by the epidemic, but investment will not be canceled," Zhang said.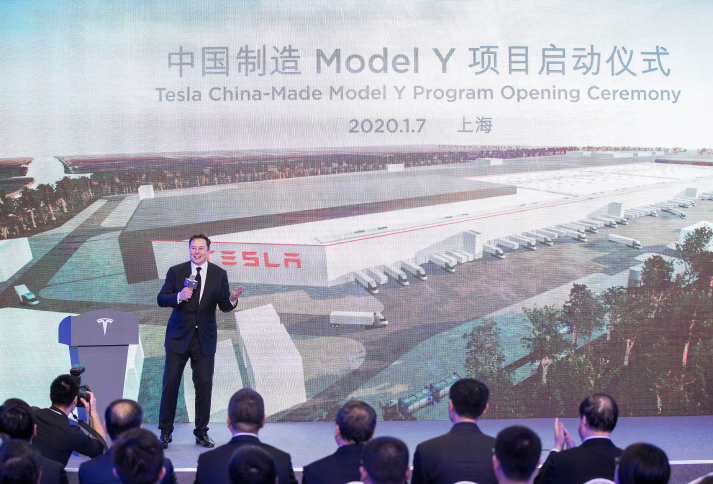 Tesla CEO Elon Musk announces production of the China-made Model Y in the Shanghai factory on January 7 (XINHUA)
More stimulus measures
"As the epidemic is rapidly contained in China and the economy is reopened, foreign investment remains basically steady in China. Foreign-invested enterprises are resuming normal production and operations and completing more orders, foreign investors [are becoming] increasingly confident in the Chinese market, and a number of new projects will soon be approved and implemented. All these fully demonstrate the stability and resilience of the investment environment in China," Yuan Da, spokesperson of the National Development and Reform Commission (NDRC), said at a regular press conference held by the commission on April 20.
According to Yuan, the NDRC will take measures to ensure stable foreign investment and support more foreign enterprises to invest in China.
It will advance implementation of foreign-invested projects and work resumption of foreign-funded enterprises. Assistance will be offered to coordinate production resumption of the entire industrial chain, and various supporting policies will be equally applied to both domestic and foreign-funded enterprises.
The NDRC will work out the 2020 version of the negative list for foreign investment market access. China had revised the negative list for three successive years from 2017 to 2019, reducing the number of restrictive items from 93 to 40. This year's revision will further relax the market access for foreign investment, further open up the service industry, manufacturing industry and agriculture, and continue the trial program in pilot free trade zones.
The 2020 version of the catalog of industries for encouraging foreign investment will also be released, with more industries where foreign investment is encouraged. The new catalog will focus on facilitating high-quality development of manufacturing industries, better unleashing the potentials of the central and western regions and northeast China in receiving industrial transfer, and allowing foreign investors in more industries to enjoy tax and other favorable policies.
The government will better facilitate implementation of key foreign-invested projects. Special taskforces will be set up to coordinate services for key foreign-invested projects in the manufacturing and service industries.
In addition, the government will ensure implementation of the Foreign Investment Law to improve the business environment and investment promotion and protection.
"Accelerating opening up, especially in the service industry such as healthcare and finance, will be conducive to establishing new growth points of foreign investment and offset the negative impact caused by the epidemic," Gao Lingyun, a research fellow with the Institute of World Economics and Politics of the Chinese Academy of Social Sciences, told China News Service. "For the foreign-invested enterprises seriously hit by the epidemic, the government may consider more targeted measures such as tax cuts, so as to boost investors' confidence."
(Original Title: Unshaken Confidence)
Copyedited by Sudeshna Sarkar
Comments to wangjun@bjreview.com