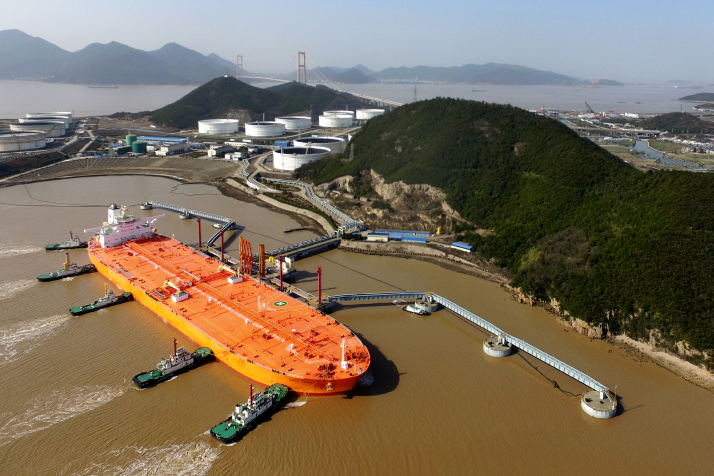 A Singaporean oil tanker anchors at a crude oil terminal in Zhoushan, Zhejiang Province in east China, on February 11, 2018 (CNSPHOTO)
In April 2017, seven pilot free trade zones (FTZs) in Liaoning, Zhejiang, Henan, Hubei, Chongqing, Sichuan, and Shaanxi were put into operation.
"In the past three years, these seven FTZs have carried out in-depth institutional innovation around strategic position and development goals. One thousand and fifty-five pilot tasks determined by seven master plans have been implemented, effectively integrating into and serving national strategies," said Tang Wenhong, Director of the Department of Pilot Free Trade Zones and Free Trade Ports of the Ministry of Commerce (MOFCOM), at a press conference held by the ministry on April 17, 2020.
"Comparative and complementary tests have made progress, and preliminary pilot patterns with different characteristics and emphasis have been formed. One hundred and thirty-seven achievements in institutional innovation have been replicated and applied nationwide, achieving the expected goals," Tang said.
"Over the past three years, institutional innovation in the seven pilot zones has balanced the layout of national reform pilots, systematized institutional innovation, and expanded lines of exploration," said Gao Feng, spokesperson for MOFCOM, at the press conference.
Oil and gas center
Since its establishment on April 1, 2017, the China (Zhejiang) Pilot Free Trade Zone has built an oil and gas industrial cluster with a complete industrial chain, focusing on setting up an international oil trading center, maritime service base and petrochemical center, said Sheng Qiuping, Director of the Zhejiang Provincial Department of Commerce, at a press conference held on April 3 to mark the achievements of the Zhejiang FTZ.
According to Sheng, the Zhejiang FTZ has gathered more than 6,000 oil and gas enterprises of various types of ownership in the past three years, the highest in the country. The trading volume of oil and gas products totaled 652.5 billion yuan ($92.29 billion), with an average annual growth rate of 111 percent. The country's largest oil and gas storage and transportation base has also been completed, with a storage capacity of 100 million tons. The first phase of a 40-million-ton refinery integration project of the Zhejiang Petroleum and Chemical Corp. has been put into production, with an annual refining capacity of 20 million tons. The country's largest—the world's eighth largest—bunkering port has also been built in the Zhejiang FTZ, with an annual oil supplying capacity of 4.1 million tons.
"Focusing on oil and gas production, storage, trading and settlement, the Zhejiang FTZ has carried out pilot reforms such as the introduction of crude oil importing qualifications for non-state-owned enterprises and the warehouse-free wholesale of refined oil," Sheng said. "With its 36 institutional innovations, the Zhejiang FTZ has helped advance reform of the oil market nationwide."
According to figures from the Zhejiang Provincial Department of Commerce, foreign trade and paid-in foreign investment in the FTZ saw average annual growth rates of 93 and 99 percent, respectively, over the past three years, attracting the business of 43 of the world's top 500 companies such as Honeywell International and BP Plc.
On March 31, the State Council issued a guideline supporting the further opening up of the industrial chain of oil and gas in the Zhejiang FTZ, proposing 26 reforms across 11 fields, such as introducing international strategic investors in the oil trade and accelerating the transformation of the petrochemical and refinery industries.
The guideline enables the Zhejiang FTZ to adopt various pioneering policies for differentiated development for the first time in the domestic oil and gas industry, Sheng said.
"Focusing on innovative reforms such as making oil logistics more market-based and improving services for the cross-border trading of bulk commodities, this guideline is of great significance for China's oil and gas industry. It can make us more competitive in the international market and advance the internationalization of the renminbi," said Sheng.
Interconnectivity hub
The Chongqing Pilot Free Trade Zone has completed 148 of 151 planned pilot reforms since its establishment, said Song Gang, Deputy Director of the Chongqing Municipal Commission of Commerce, at a press conference held on March 31 to mark the third anniversary of the establishment of the Chongqing FTZ. The pilot reforms include 144-hour visa-free transit, tax refunds at the port of departure and the simplification of foreign exchange settlement for income in the capital account.
"Reforms in the Chongqing FTZ have achieved remarkable results, especially in the establishment of an international inland logistics hub," said Song.
Chongqing was the first Chinese city to launch China-Europe freight train services. Freight trains between Chongqing and Europe have since made more than 4,500 trips, while freight trains linking Chongqing and Russia via Manzhouli have made more than 1,000 trips. Construction of the new western international land-sea trade corridor, a national strategy, has been extended to cover 213 ports in 88 countries around the world.
In addition, the Chongqing FTZ has been improving its business environment. According to Song, it takes no more than three business days to establish a company in the FTZ. The time for export procedures is only 5.3 business days, well below the national average of 10 business days.
The improving business environment has attracted a large number of investors. Since the establishment of the Chongqing FTZ, 36,385 new enterprises have been registered in the zone, with a total registered capital of 465.89 billion yuan ($65.9 billion), said Song.
A warehouse of a cross-border e-commerce company in the China (Chongqing) Pilot Free Trade Zone (WEI YAO)
Bolstering the economy
In a recent projection, the International Monetary Fund (IMF) predicted that the global economy will fall into a major recession in 2020. At this unusual juncture, China's pilot FTZs will spearhead further opening-up, a step certain to counteract global economic uncertainties, Tang said.
The global spread of the novel coronavirus will affect China's foreign trade and investment in the short term, and in the long term the epidemic will undoubtedly influence China's policy of ensuring the stability of trade and investment.
Pilot FTZs, at the vanguard of China's economic liberalization, must continue to improve their business environments so that they meet the world's highest standards, thereby providing a replicable model for deepening reform and opening up while epidemic prevention and control measures are implemented, said Xiao Benhua, deputy head of the Free Trade Zone Research Institute at the Shanghai Lixin University of Accounting and Finance, in an interview with Securities Daily.
"The seven pilot FTZs should aim high, consider local conditions and reflect distinctive features as they deepen and differentiate their strategic exploration," said Tang.
According to Tang, the Liaoning FTZ will target measures for emerging industries in Northeast Asia and open up key areas in modern manufacturing and service sectors. The Zhejiang FTZ will build a world-class international maritime service center, while its counterpart in Henan will explore an internationalized network combining trade, production and services, to become a logistical hub between China and the world, as well as across east, central and west China.
Hubei's FTZ will highlight high-end manufacturing, services and new industrial models, while the Chongqing and Sichuan FTZs are to lead the development of the Chengdu-Chongqing Economic Circle. Lastly, the Shaanxi FTZ will deepen reform and opening up by advancing its hub-, gateway-and flow-based economic pattern.
(Print Edition Title: Winds of Trade)
Copyedited by Laurence Coulton
Comments to wangjun@bjreview.com