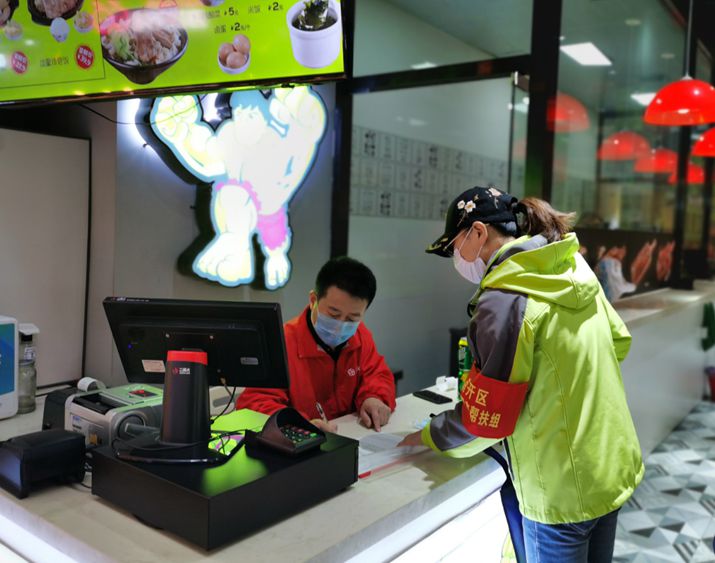 A staff from Tianjin Municipal Bureau of Financial Affairs checks the situation in a shopping mall on April 9 after it reopened (XINHUA)
China's central bank introduced two new monetary policy instruments in June to directly channel funds into the real economy, another sign that the country will not resort to quantitative easing.
The People's Bank of China (PBC) said it would use 400 billion yuan ($56.37 billion) of a special re-lending quota to purchase 40 percent of inclusive loans to small and micro businesses issued by local banks from March 1 to December 31.
Another policy instrument that the PBC introduced allows small and micro businesses to apply for deferring their inclusive loan repayments, due between the end of 2020 and March 31, 2021, with penalty payment exempted.
Both policy instruments are aimed at helping small and micro enterprises maintain cash flow, gain easier access to loans, and lower the financing cost, the central bank said. It added that these tools are more market-oriented, inclusive and direct, compared to previous policies.
The PBC's move came just days after Premier Li Keqiang emphasized that the measures are designed to provide relief to businesses and to revitalize the market.
The previous measures to speed up economic recovery in the face of challenges brought on by the novel coronavirus pandemic were seen by some as below expectations.
In response to such viewpoints, Li told a press conference after the conclusion of the annual national legislative session that the government will not flush the economy with liquidity.
It will ensure that the measures taken are well-focused and effective, and the prescription is precise, he said.
The central bank's innovative monetary tools are an example of how China is striving to ensure small and micro businesses—an important part of the real economy—truly benefit from government policies, according to market analysts.
Direct purchase of inclusive loans will lower the debt costs of banks and help with replenishing liquidity, said Li Qilin, chief economist of Yuekai Securities, adding that small firms can then get more credit support.
According to the PBC, funds worth 400 billion yuan ($56.37 billion) will be offered to local banks via an intermediary special-purpose vehicle, which won't charge interest, making it effectively interest-free.
Local banks will be encouraged to issue new, inclusive small and micro credit loans of nearly 1 trillion yuan ($141.2 billion), compared to over 300 billion yuan ($42.4 billion) issued last year.
By offering local banks incentives equal to 1 percent of the principal to be extended, the central bank said it expected to provide 40 billion yuan ($5.6 billion), at most, to support about 3.7 trillion yuan ($522.6 billion) in extended loans.
Other enterprises with special difficulties, such as foreign trade companies, could discuss possible loan extension timelines with their banks, the PBC said.
Pan Gongsheng, Vice Governor of the PBC, said the two new instruments are short-term policies created at a special time, and are different from quantitative easing in nature and scale.
Compared with some developed economies, China still has space for normal monetary policy to support the economy, Pan said.
This is an edited version of an article published by Xinhua News Agency
Copyedited by Madhusudan Chaubey
Comments to dengyaqing@bjreview.com