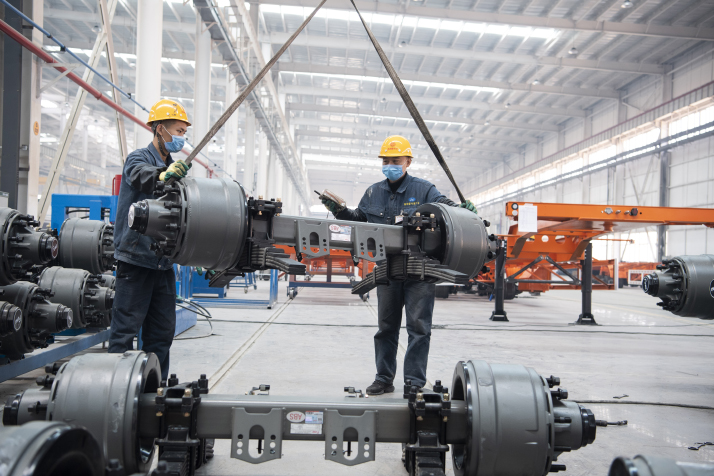 A new-energy vehicle (NEV) industrial park in Jinzhong, Shanxi Province in north China, on April 28. Production of NEVs has gone up to cope with the increasing market demand (XINHUA)
During the May Day holiday, Feng Wei, who works for an advertising agency in Chengdu, Sichuan Province in southwest China, bought a new car. He regarded it not as a luxury but as a health necessity.
The Geely Icon model he bought comes with an intelligent air purification system, said to be N95 certified, meaning it can filter at least 95 percent of air-borne particles. Feng told People's Daily with the new car he now feels more at ease when his child needs to go out since the car offers greater protection from pollution and infections.
Feng is among the nearly 1.7 million buyers of passenger vehicles in China during May. According to figures from the China Association of Automobile Manufacturers (CAAM), 1.67 million passenger vehicles were sold in May, a year-on-year increase of 7 percent, ending the negative growth the market had endured for 10 consecutive months.
In the same month, the automobile output and sales volume reached 2.19 million and 2.19 million, up by 4 percent and 5.9 percent over the previous month respectively. It was also the first month this year that China's auto market realized double-digit year-on-year growth in sales.
"The auto market has basically got over the decline and started a good momentum of recovery growth," Fu Bingfeng, Executive Vice Chair and Secretary General of CAAM, told People's Daily. "The 14.5-percent sales growth fully proves that the long-term favorable trend of China's auto market has not changed, consumer confidence has not changed, the trend of consumption upgrading has not changed, and the transformation trend of the automobile industry has not changed."
Industry recovery
"The auto market recovered in May as the epidemic situation in China improved, production resumption accelerated, employment stabilized and a number of supporting policies issued by the central and local governments helped increase consumer confidence and unleash depressed demand," Chen Shihua, Deputy Secretary General of CAAM, said at a press conference in Beijing on June 11.
For passenger vehicles, in particular, 1.66 million units were produced while 1.67 million units were sold during May, registering growth rates of 4.5 percent and 8.9 percent on a monthly basis, up by 11.2 percent and 7 percent, respectively, year on year, according to CAAM figures.
Ye Shengji, chief engineer and another Deputy Secretary General of CAAM, attributed the recovery mainly to the coronavirus being brought under control in China, and the entire automobile industry resuming production. Encouraged by the government policies stimulating domestic demand and consumption, consumers have become more confident and pent-up demand has begun to be unleashed, he told Guangming Daily.
According to Ye, last year, due to downward pressures on the economy and China-U.S. trade frictions, individual consumers were prudent in spending, which dampened the auto market. The coronavirus outbreak further affected consumer confidence. Therefore it is necessary for the government to ensure stable employment, boost consumer confidence and accelerate recovery of the auto market to promote sound and stable economic development.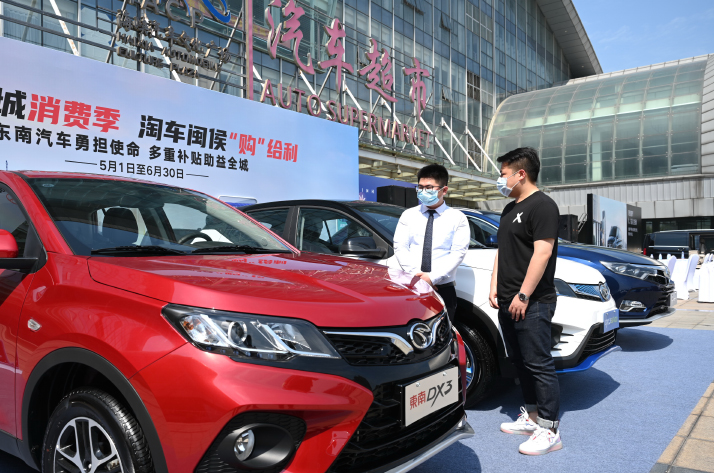 A car shop in Minhou, Fujian Province in southeast China. The county announced subsidies to stimulate auto demand on May 1 (XINHUA)
Creative sales
Li Yuan, a lawyer in Beijing, decided to buy a Volvo XC90, a hybrid sports utility vehicle, after watching a live-streaming sale. According to People's Daily, Volvo has been live-streaming shows in cooperation with various e-commerce platforms to better interact with potential consumers. It attracted 1.5 million viewers and obtained over 1,000 orders.
Great Wall Motors, a Chinese automobile manufacturer headquartered in Baoding, Hebei Province in north China, also tried live-streaming sale for its new-energy vehicle brand Ora. In March, the brand got 2,000 orders from the live-streaming; in April, its flagship store on online marketplace Tmall.com received 2,212 orders within 16 days; in May, live-streaming sales brought in 2,333 orders, a monthly increase of 32 percent.
German carmaker Audi, when it launched its new A4L model on April 3, held a cloud workshop that virtually connected its product, design and marketing experts from Changchun and Beijing in China and its headquarters in Ingolstadt in Germany. According to a news release by Audi, millions viewed the digital launch that included augmented and virtual reality formats in cooperation with a television station. Its Chinese partners made use of live-streaming, virtual reality showrooms and 24-hour online consulting to stay in touch with customers.
"The Chinese market has shown significantly increased interest in e-commerce. In the first three months of the year, the company almost tripled the total number of its online transactions from 2019. This means that about one in six Chinese customers initiated their Audi purchase online," said the news release.
"Creative marketing such as live-streaming sale and cloud consumption will help automakers overcome impacts of the epidemic and activate market enthusiasm," Fu said.
According to a report by research agency iiMedia Research early this year, in 2019, the market size of the live-streaming-based e-commerce industry in China was 433.8 billion yuan ($61.18 billion). In 2020, it is expected to double. Therefore how to attract young consumers via creative online formats and boost sales through a combination of online and offline methods will be a new challenge for automakers.
Support for NEVs
CAAM figures show that in May, China produced 84,000 new-energy vehicles (NEVs) and sold 82,000 units, registering a monthly increase of 3.5 percent and 12.2 percent, but still decreasing by 25.8 percent and 23.5 percent, respectively, year on year.
In the January-May period, the NEV output and sales volumes stood at 295,000 units and 289,000 units, dropping by 39.7 percent and 38.7 percent over a year ago respectively.
"In May the NEV output and sales realized monthly increase but still dropped over the same period last year, indicating that the current NEV market is still facing insufficient demand," Fu said.
In addition, the environment for NEV users is not yet friendly enough. "Sometimes it is difficult to find public charging piles, charging fees are still high, and it is also troublesome having to download many different charging pile operators' application forms," Li told People's Daily.
However, according to Fu, large cities such as Beijing and Shanghai have issued some policies to encourage NEV consumption and the decrease in NEV output and sales is expected to narrow in the second half of the year.
But though the auto market resumed recovery in May, industrial insiders think high growth maybe difficult to maintain and the auto market is likely to enter a period of steady growth after June.
Cui Dongshu, Secretary General of the China Passenger Car Association, said as the impact of the epidemic subsides, China's auto market will maintain normal growth in the second half of the year. "Due to ample stockpiles in previous months, competition over car prices will intensify in the second half as more models are launched," he told Securities Daily.
(Printed Edition Title: In Top Gear)
Copyedited by Sudeshna Sarkar
Comments to wangjun@bjreview.com