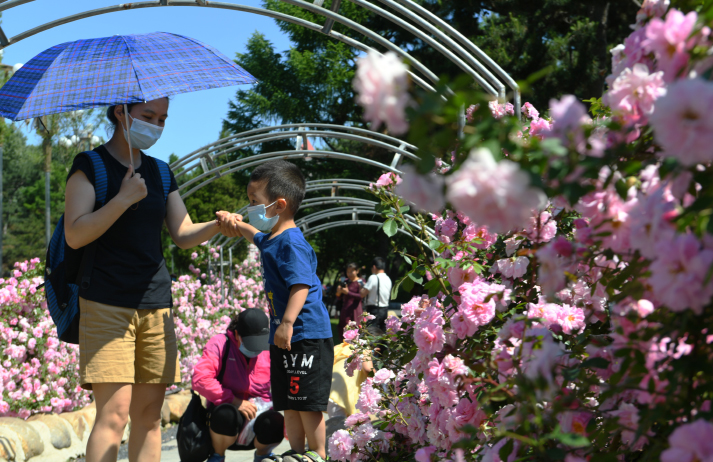 Visitors enjoy beautiful flowers in a children's park in Changchun, Jilin Province in northeast China, on July 16 (XINHUA)
The Old Town of Lijiang, a UNESCO World Heritage Site and a popular destination in Yunnan Province, southwest China, is a prime example of how the tourism industry, one of the worst affected by the novel coronavirus disease (COVID-19) epidemic, is bouncing back.
In the first quarter of the year, the ancient town, one of the best preserved in China, saw its tourism industry suffer an over 80-percent plunge in its revenue but since May, it is ringing with cheers and laughter again. Night life has resumed its vibrancy with couples strolling across the picturesque stone bridges over streams lit up by water lanterns, while music and the aroma of food waft up from the alleys.
The five-day May Day holiday saw the scenic spot's tourist arrivals recover by 70 percent compared with the same period last year as the epidemic was brought under control in China.
Wang Zhongguo runs a bar in Lijiang. It was closed for three months due to the epidemic and has reopened. Wang told People's Daily the local government has announced a raft of policies to help businesses. His bar, for example, has had taxes amounting to 170,000 yuan ($24,252) exempted and its rent waived for a certain period, which saved him 3 million yuan ($427,972).
Like Wang, nearly 80 percent of culture and tourism operators in Lijiang have resumed work, as well as over 50 percent of travel agencies. By mid-June, 16 out of the 18 A-class scenic areas in the town had reopened to the public. China follows a five-grade scenic rating system starting with A.
Nationwide, the three-day Dragon Boat Festival holiday in June saw over 48.81 million trips taken domestically, a recovery of 50.9 percent compared to last year. It resulted in a travel income of 12.28 billion yuan ($1.75 billion), a 31.2-percent recovery compared to last year. Though a slight decline compared with the May Day holiday, the figures still increased by 12.3 and 11.9 percentage points respectively compared with Qingming Festival in April, according to the Ministry of Culture and Tourism (MCT).
Zhang Rungang, Deputy Director of the China Tourism Association (CTA), said at a press conference in Beijing on May 15 that the domestic tourism recovery will continue to be wider and greater. "In the future, local, peripheral and short-distance urban leisure tours and rural vacation tours will become the main components of tourism consumption," he predicted.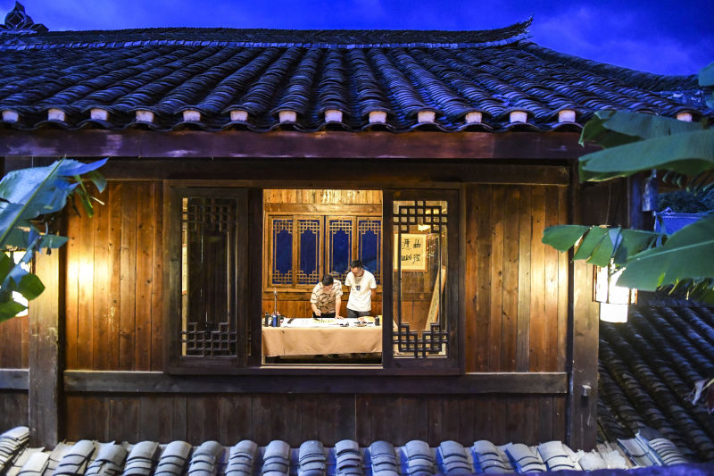 A tourist tries his hand at calligraphy in a guest house in Jinxiu, Guangxi Zhuang Autonomous Region in south China, on July 10 (XINHUA)
Signs of recovery
After having stayed at home since January, people are raring to travel in the second half (H2) of the year. According to the CTA, 80.22 percent of Chinese want to travel in the third quarter, 90 percent of last year's standard in the same period.
However, this time more of them prefer domestic travel given the pandemic situation overseas, though some international flights have resumed. According to a report by Chinese tourism service provider Ctrip.com released on July 3, over 57 percent of the interviewees said they would like to increase their domestic travel frequency if cross-border journeys fail to recover this year.
While the United Nations World Tourism Organization estimates the number of global cross-border tourists will drop by 60-80 percent throughout 2020 if the pandemic goes on, and the overall situation of China's domestic tourism is optimistic.
"China's whole-year tourism performance will recover by 60 percent from last year," Han Yuanjun, an associate researcher with the CTA, told Beijing Review, basing the estimation on a yet-to-be released CTA report.
In early June, a fresh emergence of coronavirus cases in Beijing saw some relaxed restrictions reinforced but with the situation quickly brought under control, since July 4, people from low-risk areas in Beijing have greater freedom to travel outside the capital. They are no longer required to take a nucleic acid test. Only half an hour after this news was announced, the volume of online searches for flights departing from Beijing surged 500 percent compared with the day before, according to Ctrip.com.
"Beijing's policy change has boosted people's willingness to travel," Cheng Chaogong, a researcher from a research institute under Suzhou Tongcheng Tourism Network Science & Technology Co. Ltd. in east China, told People's Daily. "The surge in searches is associated with the coming primary and middle school summer holiday."
Dai Bin, head of the CTA, said the school summer vacation and the Mid-Autumn Festival and week long National Day holiday in October will further unleash travel potential in H2.
On July 14, the MCT announced trans-provincial group tours can resume. It also raised the maximum tourist capacity in scenic areas from 30 percent to 50 percent. Dai said these measures will increase tourism consumption and people's willingness to travel.
However, despite the relaxed measures, the industry will continue to face challenges. Han said for large border cities, which have reported imported cases of the virus, domestic tourism will decline. Also, apprehension of new localized outbreak of the virus will add to the uncertainty. So the summer vacation is a critical barometer for the industry.
However, he emphasized some backup factors as well. Ice-snow tourism in the northeast in winter and tours to the tropical island of Hainan, which is gearing up as a free trade port, would be highlights of H2. With its duty-free policy, Hainan will be a new growth driver for H2 tourism.
New travel habits
Although some restrictions have been eased to boost H2 tourism, some measures have been maintained to prevent new outbreaks. Reservations therefore have become a new normal while traveling.
According to the CTA, 81.7 percent of tourists made reservations during the Dragon Boat Festival, up 4.3 percentage points from the May Day holiday. Over 71 percent of them called reservation tourism a good experience.
"Inter-city and outskirts city tours have become our main choices at weekends and holidays," Wang Yu, a Shanghai resident, told Beijing Review. "In the past we often made decisions to visit a place without making reservations. But now, because of epidemic control measures, it's essential to know the real-time tourist volume and vacancies at scenic spots beforehand."
He is now a dab hand at booking tickets and making reservations online or through social media, from which he also picks up tips about the destinations in advance.
In March, when Chinese President Xi Jinping visited the Xixi National Wetland Park in Zhejiang Province in east China, he praised the reservation system for the prime tourist destination, saying it is a manifestation of a country's governance capacity.
"Cultivating planning and reservation habits is a crucial content of supply-side structural reform of the tourism industry, especially during the ongoing epidemic containment," He Jianmin, a professor of Shanghai University of Finance and Economics, told People' Daily. He said it is necessary for maintaining health and safety targets while improving quality and efficiency of tourism services.
According to Dai, the reservation system is not only an effective measure to combat the epidemic while resuming production, but should become a regular measure at scenic spots. The authorities and market entities should explore a more refined way to use the system for rational planning during different seasons to optimize the allocation of culture and tourism resources.
With the epidemic changing people's way of life and travel habits, Han said the reservation system is one of the enduring changes that will continue as people give more importance to their health, safety and experience while traveling.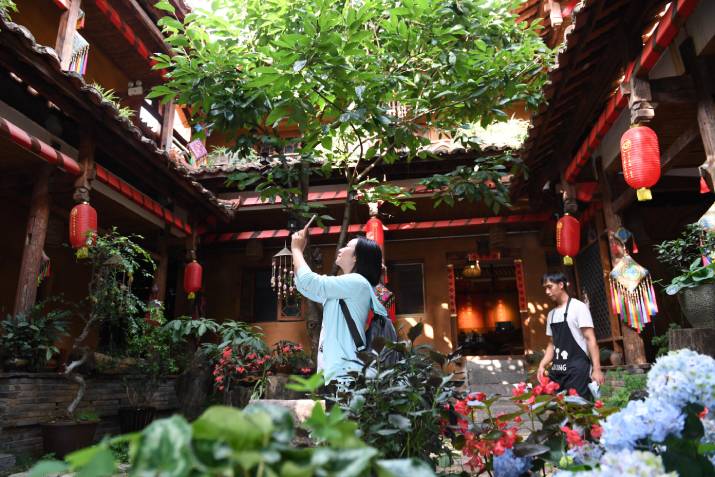 A tourist takes photos in an inn in Wenshan Zhuang and Miao Autonomous Prefecture in Yunnan Province, southwest China,
on June 2 (XINHUA)
New business models
In addition to new habits, new business models are also emerging. Live-streaming plus tourism has become one of the new trends.
During the epidemic, while many tourism entrepreneurs found business difficult, Liang Jianzhang, co-founder of Ctrip.com, was busy as a bee thanks to his new role as an anchor. Liang embraced the most popular way of marketing in China today—live-streaming services such as catering services for global star hotels and selling tickets of local scenic spots.
He engaged in cosplay, dressing up in the traditional garments of different ethnic groups and nine historical dynasties, to add drama to his presentations. He also performed rap and Peking Opera to keep his audience engaged. In three months, he notched up 17 live-streaming promotions, which garnered more than 40 million views and sold 630 million yuan ($89.9 million) in goods and services.
"Through live-streaming platforms we sold hotel and tourist products from our partners. The sales will turn into growth drivers for the industrial chain, whose survival would affect the tourism industry at large," Liang told 21st Century Business Herald.
Besides live-streaming sales, cloud traveling has also become a vogue. Sitting at home, people have been watching videos to imagine they are traveling to where the vloggers went. Another new way of traveling is "stockpiling." It means consumers can buy products in advance at a lower price to enjoy them in the future.
Short-distant routes, camping, self-driving traveling and recreational vehicle tours have also gained popularity. Trips with health, educational or cultural themes have thrived as well.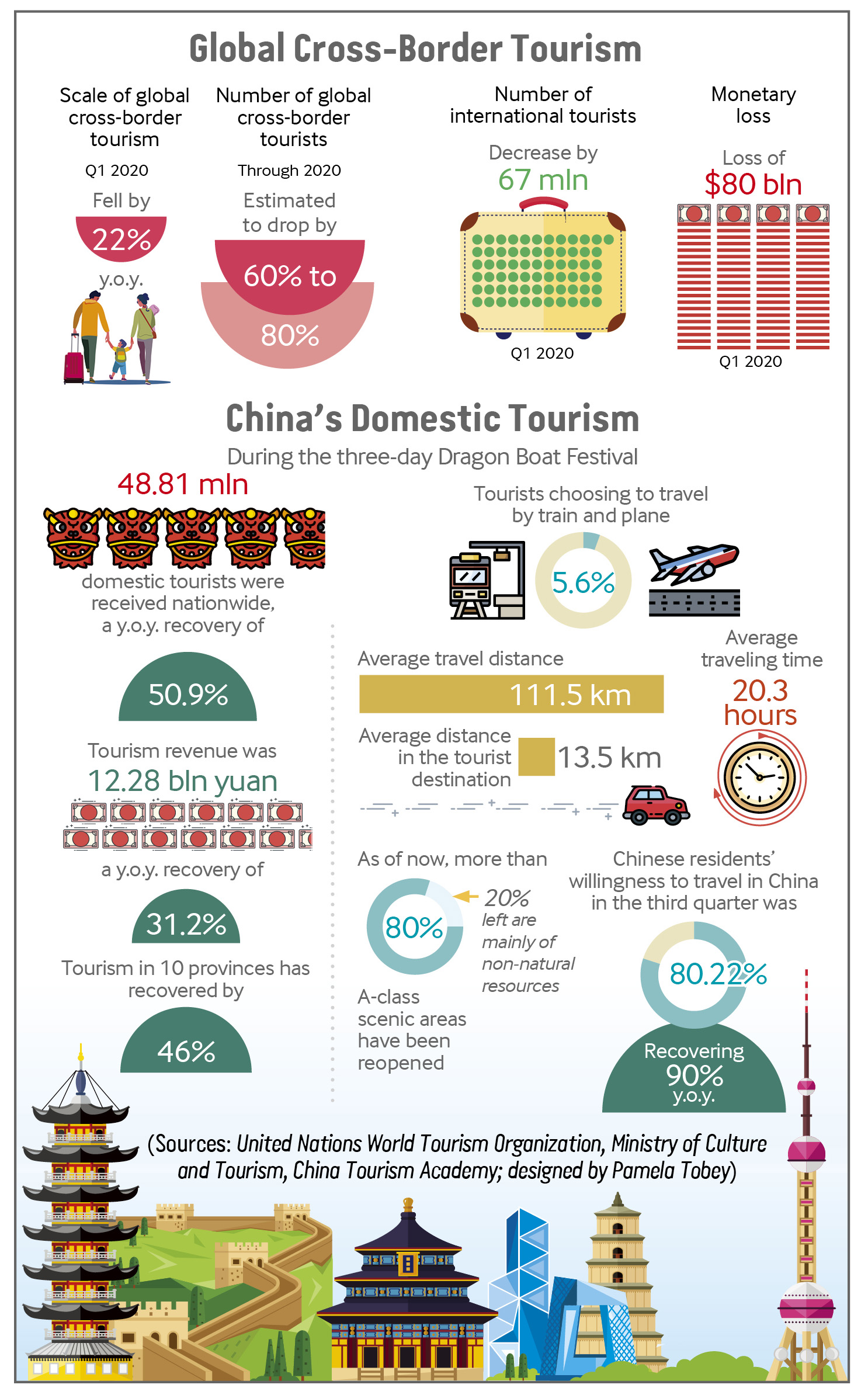 Reshuffling the cards
The emergence of new travel habits and new business models has posed challenges to traditional market players as the cards have been reshuffled. Only those who go with the flow can survive. Nevertheless, it indicates opportunities for new players.
On July 10, Xiaohongshu.com, a lifestyle community platform, announced its collaboration with homestay booking platform Xiaozhu.com. Xiaohongshu surfers can now directly book rooms managed by Xiaozhu.
Xiaohongshu, once a beauty and makeup information-sharing platform, has done a makeover with a focus on tourism in recent months. In June, the gross merchandise volume of its home-sharing rentals saw a 300-percent growth month on month. The sudden rise amid headwinds astonished the industry. Xiaohongshu said it has accumulated users with its high-quality user-generated content (UGC).
"Traditional travel decision-making platforms also build up a network of loyal users via UGC with the content becoming cash after connecting to travel suppliers. Xiaohongshu, while doing the same thing, has also seized the momentum of Internet plus and 5G when short videos and fragmented information sharing seem easier to influence people's travel decisions," the platform's representative told China City News.
Xu Xiaolei, Chief Brand Officer of China Youth Travel Service, said that tourism is an everchanging industry. It's important to think out of the box during a low ebb and seek breakthroughs with a market-oriented mind. After the epidemic, when users readjust their requirements, travel companies should innovate products harnessing science and technology.
Han's suggestion to the industry is for companies to make full use of the policy support provided by the authorities and respond quickly to consumers' new habits and new needs with new products. He also emphasizes the need for industrial integration in the future, like Xiaohongshu's case.
(Print Edition Title: Journey to Recovery)
Copyedited by Sudeshna Sarkar
Comments to zhangshsh@bjreview.com