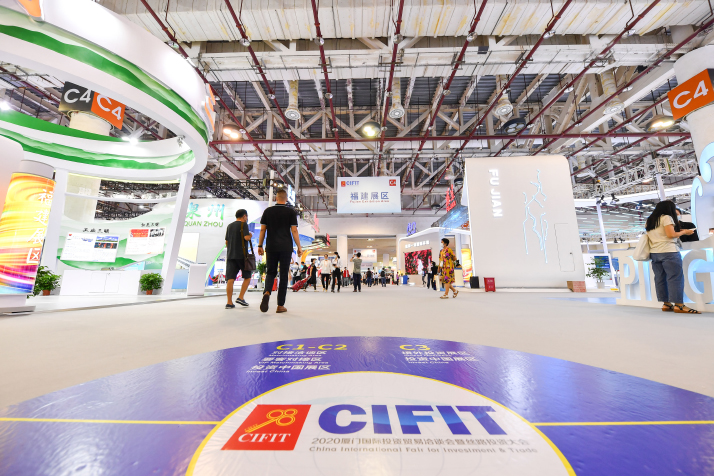 The China International Fair for Investment and Trade (CIFIT) opens at the Xiamen International Conference and Exhibition Center in Xiamen, Fujian Province in southeast China, on September 8 (WEI YAO)
Being the managing director of HERM Studio, a unisex British watch brand, Simon Ryley knows the value of timing. So despite the restrictions on international travel due to the novel coronavirus disease (COVID-19), he was present at the China International Fair for Trade and Investment (CIFIT) when it kicked off in Xiamen, Fujian Province in southeast China, on September 8, talking incessantly with curious visitors in his company's booth to introduce the delicate models.
"Our primary goal in attending the fair is to showcase our products, make connections and develop our retail network in China," Ryley told Beijing Review. It was HERM Studio's debut at CIFIT and Ryley said he didn't imagine he would make so many contacts in such a short time and was planning to turn up next year.
The watchmaker came to know of CIFIT thanks to the British Chamber of Commerce Guangdong (BritCham). At a promotional symposium of CIFIT in Guangzhou, Guangdong Province in south China, in July, BritCham was invited to take part in this year's fair and HERM Studio, a member of the trade association, seized the chance to attend the four-day event.
"We really appreciate CIFIT's support in giving us the opportunity since our members are acquiring concrete benefits to increase their brand exposure and conduct business talks," Vicky Luo, BritCham's Office Manager in Shenzhen, said.
Post-epidemic CIFIT
The fair was first held in 1997 to promote trade and investment between China and foreign countries. The annual event saw business as usual at the bustling Xiamen International Conference and Exhibition Center this year too. Only the sight of people wearing masks and following epidemic control measures at the entrance was a reminder of COVID-19. For the fair industry, despite the losses in all walks of life due to the pandemic, chances coexisted with difficulties."The unprecedented challenges posed by the pandemic to traditional fairs have created new opportunities for the acceleration of digitalization," Wang Shouwen, Vice Minister of Commerce, said at the International Investment Forum held on September 8. The CIFIT Committee upgraded its online system and initiated a brand new version with the technical support of Chinese tech giant Alibaba Group.
According to a report released by the Qianzhan Industry Research Institute, a market research consultancy in Guangdong, in August, the digital economy accounted for 36.2 percent of China's GDP in 2019, increasing from 14.2 percent in 2015. It contributed more than 50 percent of the economic growth on average during 2014-19.
Given the huge potential in the digital economy, the cooperation provided a great opportunity for Alibaba. "The online CIFIT marks a milestone event for Alibaba to explore with the committee and pioneer a sustainable digital CIFIT model," Song Jie, partner and Vice President of Alibaba, said at the forum. "We hope to contribute our solution to the exhibition industry in Xiamen, China and the whole world on digitalization and intelligence, and ultimately lead the global trends of digital investment."While online fairs become trendy in the post-epidemic period, transnational investment flows will also undergo profound changes. The UN Conference on Trade and Development had assessed that if the pandemic was controlled by the first half of 2020, global foreign direct investment (FDI) would decline by 5 percent. If it lasts the whole year, it would drop by 15 percent.
"COVID-19 has accelerated digitalization," Li Yong, Director General of the UN Industrial Development Organization, said at the forum. Large multinationals and small and medium-sized enterprises (SMEs) alike now recognize that investment in new technologies, innovation and digitalization will not only deliver efficiency gains, but has become pivotal for survival and expansion.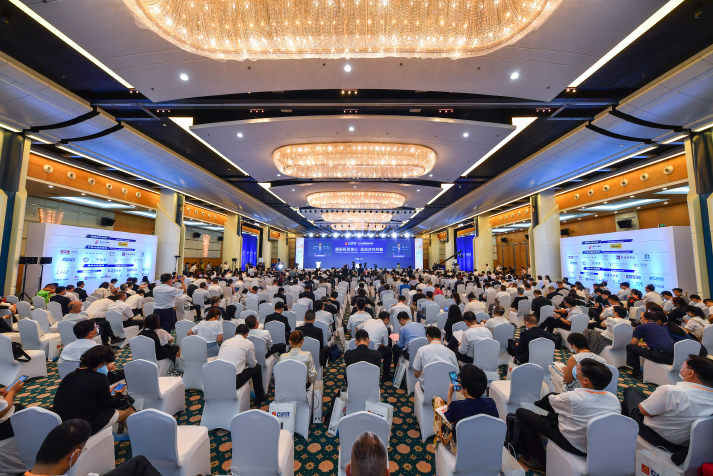 The International Investment Forum is held on the sidelines of CIFIT on September 8 (WEI YAO)
Better environment
China's business environment has been improving continuously and it has become an ideal destination for foreign capital. According to an investment report issued during CIFIT, the country's annual paid-in foreign investment increased 150 times from $920 million in 1983 to $138.31 billion in 2018. The average annual growth rate hit 15.4 percent, 5.7 percentage points higher than the global increase in the same period.
Although grappling with COVID-19, foreign investment activities revived gradually, as indicated by statistics from the Ministry of Commerce (MOFCOM). In August, the paid-in FDI in China expanded 18.7 percent year on year to 84.13 billion yuan ($12.3 billion); from January to August, it rose 2.6 percent year on year, amounting to 619.78 billion yuan ($91.1 billion).
The results are attributable to the country's all-out efforts to revive economic vitality during COVID-19. Wang said a raft of measures have been rolled out to tide enterprises over difficulties, help them seek new opportunities amid challenges and open up new fronts.
In June, the State Council issued a master plan for building the Hainan Free Trade Port in the south to facilitate a higher-standard opening up. The National Development and Reform Commission and MOFCOM slashed the negative list that tables the areas out of bounds for foreign investors to 33 items from 40, ramping up efforts to open up sectors such as finance, education and agriculture.
MOFCOM also released rules on handling complaints from foreign-invested enterprises in August. These will come into force on October 1 to improve the foreign investment complaint system.The local authorities too have been taking targeted measures to optimize the business environment and attract investment. CIFIT serves as a microcosm of investment policies and environments where both Chinese and foreign participants set up exhibition booths to promote projects and raise investor recognition.
Shanxi Province in north China has been CIFIT's guest province of honor since 2019. This year, its exhibition area had 12 zones displaying the province's specialty industries and achievements in industrial transformation, marking its largest scale ever.
"Today's Shanxi is breaking new ground for reform and opening up," Vice Governor Lu Dongliang said at the investment forum, adding
that the province is committed to accelerating industrial transformation from a resource-oriented economy.
Coal is one of the primary resources of the province and Lu said Shanxi will no longer be "the king of coal" but usher in an energy revolution.
Xiangming Intelligent Control was one of the 139 enterprises from Shanxi that participated in CIFIT. Engaged in intelligent and unmanned coal mining, the company was introduced in CIFIT as an energy transformation company.
Zhang Ping, sales manager of the private company, said SMEs that focus on energy transformation are gaining substantial support from the local government and at the national level at large. They were at CIFIT to promote their brands and showcase Shanxi's achievements in industrial transformation to attract more capital.
A "plant factory" at CIFIT demonstrated vegetable seedlings being grown under an LED lighting system instead of in a greenhouse. It was the brainchild of Sananbio, a company established jointly by the Institute of Botany at the Chinese Academy of Sciences (CAS) and Sanan Group in Quanzhou, Fujian, in 2015. The system combines indoor vertical farming with horticultural lighting, demonstrating how research institutions are collaborating with companies for industrial use of research."CIFIT is an international platform for us to understand the local and global market demand for essential agricultural products," Li Jing, a professor at the institute, said. A resident of Quanzhou for several years, Li said she appreciates the city' talent management policy, which plays an essential role in the development of scientific and technological enterprises.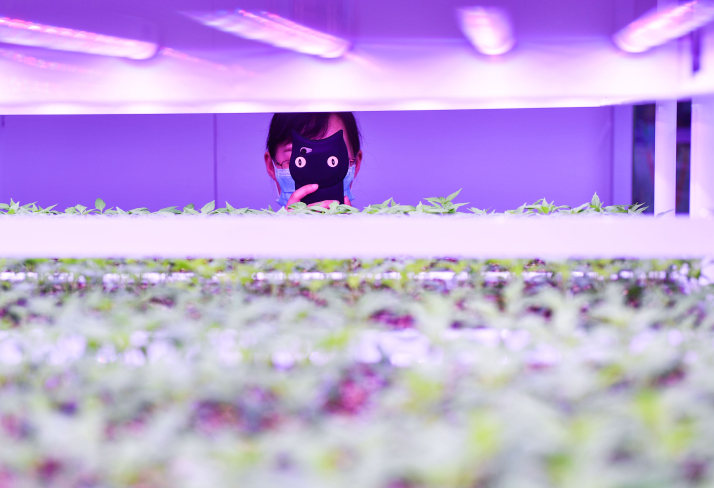 A visitor takes a photo of the vertical farming system developed by Sananbio, an agricultural tech firm in Fujian, at CIFIT on September 8 (WEI YAO)
Two-way investment
A two-way investment platform, CIFIT also offers opportunities for Chinese investors to understand other countries.
"We are very confident in the Chinese business environment," John Paul Inigo, special trade representative of the Philippine Trade and Investment Center, told Beijing Review. His hope was that CIFIT would convince Chinese investors that the Philippines, CIFIT's guest country of honor this year, is a good investment destination.
Inigo said relations between China and the Philippines have become closer since President Rodrigo Duterte's first visit to China in 2016. In 2019, China became the Philippines' top tradingpartner, top import source and third biggest export market, with the bilateral trade valued at $35.3 billion. In the year, Philippine exports to China grew 11.32 percent to $9.8 billion while imports from China increased to $25.5 billion, a 15.81-percent growth.
Ramon M. Lopez, Secretary of the Department of Trade and Industry of the Philippines, said in a video message during CIFIT that with the Philippines and China sharing a long and rich history steeped in culture and trade, he was confident that the participation in CIFIT will see "the Philippines and China … develop an even stronger partnership amidst a better normal and healthier global environment in the coming years."
Former President of Serbia Tomislav Nikolic also said in a video message that international economic cooperation can be greater, more extensive and more intensive after a pandemic if adequate political decisions and initiatives are taken.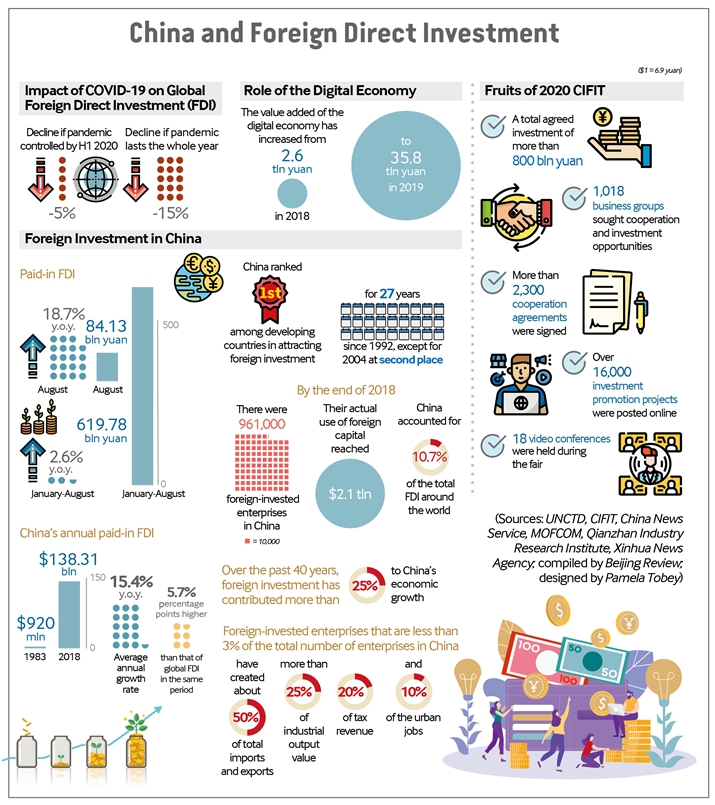 (Reporting from Xiamen, Fujian Province)
(Print Edition Title: Restoring Confidence)
Copyedited by Sudeshna Sarkar
Comments to zhangshsh@bjreview.com