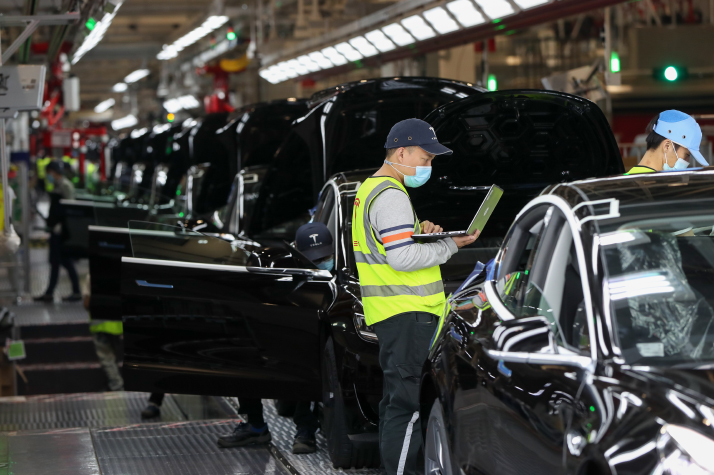 An assembly line in the Gigafactory of U.S. electric carmaker Tesla in Shanghai on November 20, 2020 (XINHUA)
Despite the havoc and global investment contraction caused by the novel coronavirus disease (COVID-19) pandemic, China was a honeypot for global investors in 2020 and even created a record.
Its paid-in foreign direct investment (FDI) reached a record high of 999.98 billion yuan ($154.4 billion) in 2020, up 6.2 percent year on year, the Ministry of Commerce (MOFCOM) said on January 20.
Though global FDI plunged by 42 percent and in developed countries by 69 percent, hitting the lowest level in 25 years, China saw the world's largest FDI inflows, followed by the United States, a report released by the UN Conference on Trade and Development (UNCTAD) on January 24 said.
According to MOFCOM, 38,570 new overseas-funded enterprises were established last year, indicating over 100 firms were set up every day on average. While China's FDI declined in February and March 2020 due to COVID-19, it resumed positive year-on-year growth of 11.8 percent last April and continued sound growth in the following months.
Zong Changqing, Director of the Department of Foreign Investment Administration at MOFCOM, told a press conference that the FDI growth can be attributed to quick resumption of production after wide containment of the epidemic and upgraded opening-up measures that eased market access for foreign enterprises.
According to Zong, foreign-invested companies account for 2 percent of the total number of enterprises in China, providing 10 percent of the jobs in urban areas and contributing to one sixth of tax revenues and two fifths of imports and exports.
A MOFCOM survey shows that the profits of nearly 60 percent of foreign-invested firms in China grew or remained stable in 2020 compared with the previous year, with nearly 95 percent upbeat about future performance.
"Although external challenges will remain this year, China will continue to open up its market, further attract foreign investment, integrate domestic and global industrial chains, and improve the business environment and services for foreign investors," Zong said.
Still a magnet
As FDI inflows continued to rise, the investment structure improved and the gap between regions in receiving FDI narrowed. MOFCOM data shows that the paid-in FDI in the service sector reached 776.8 billion yuan ($120 billion) in 2020, up 13.9 percent year on year and accounting for 77.7 percent of the total. Foreign investment in the hi-tech service industry saw a 28.5-percent year-on-year increase, with FDI in research, development and design surging 78.8 percent and in e-commerce services rising 15.1 percent.
The major FDI sources remained stable. The top 15 countries and regions investing in China expanded their funding 6.4 percent year on year, accounting for 98 percent of capital inflows. Notably, investment from the Netherlands and Britain improved 47.6 percent and 30.7 percent, respectively.
While eastern provinces accounted for 88.4 percent of the national total, FDI in other parts of China also grew remarkably as many foreign enterprises found their business environment increasingly favorable.
Hwang Deuk-kyu, President of Samsung China, told the media that the firm invested $5.4 billion in China in 2020, of which 83 percent went to central and western regions, with most of it earmarked for developing hi-tech industries.
Like Samsung, many foreign-funded enterprises continued to improve their presence in the Chinese market after recovering from the virus-induced impacts. Japanese clothing brand Uniqlo opened 19 stores in China on a single day last August, and U.S. coffee chain Starbucks started building a roasting plant in east China in late November 2020, its largest manufacturing investment outside the U.S.
U.S. electric carmaker Tesla announced in 2020 that it planned to invest 42 million yuan ($6.4 million) to build a supercharger manufacturing plant in Shanghai with an annual production of 10,000 units. It delivered 7,000 China-made Model 3 sedans to European customers last October.
Some firms also increased investment in research and development centers in China to further involve it in their supply chains.
Besides improving investment in manufacturing and commercial projects, foreign investors also showed increasing interest in the financial service segment. Data from Wind, a Shanghai-based financial data service provider, shows that foreign capital inflows through the Shanghai-Hong Kong and Shenzhen-Hong Kong stock connect programs totaled around 208 billion yuan ($32.1 billion) in 2020.
By the end of last year, the value of yuan-denominated A-shares held by foreign investors reached 2.52 trillion yuan ($390 billion), taking up 4 percent of the total.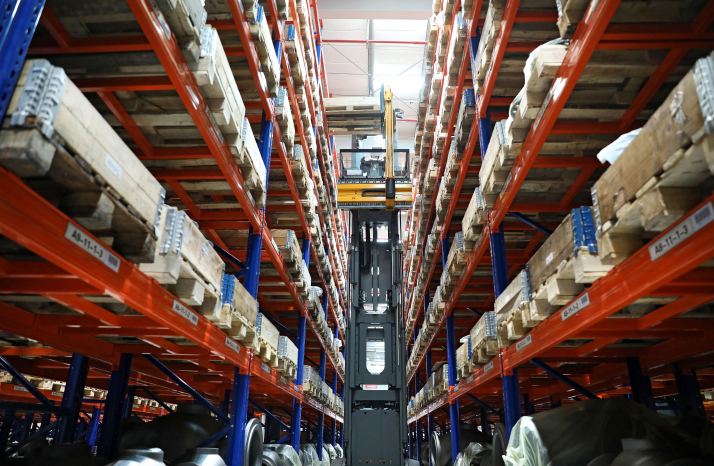 A workshop of foreign-funded Danfoss (Anshan) Co. Ltd. in Anshan, Liaoning Province in northeast China, on April 23, 2020 (XINHUA)
Effective efforts
According to Zong, the government made notable efforts to ensure stable growth of FDI during the epidemic by addressing shortage of anti-epidemic supplies and introducing supporting policies for foreign-funded enterprises. By mid-March 2020, around 60 percent of the major foreign-funded enterprises in the manufacturing industry and 40 percent in the service industry had resumed over 70 percent of their production capacity.
"Despite the global FDI contraction, China continued to widen its opening up last year by implementing the new Foreign Investment Law, cutting the negative list of off-limit sectors for foreign investors, publishing the master plan for developing the Hainan Free Trade Port in the south, and expanding pilot free trade zones (FTZs)," Nie Pingxiang, a researcher with the Chinese Academy of International Trade and Economic Cooperation under MOFCOM, told Beijing Review.
Last September, the government announced that three new FTZs would be established in Beijing, Anhui Province in the east, and Hunan Province, central China, taking the total number of FTZs to 21. The expansion of the FTZ in Zhejiang Province in the east also started.
To further cooperation with trading partners, China signed the Regional Comprehensive Economic Partnership agreement that includes 14 other Asia-Pacific economies in November 2020 and the following month, concluded in principle negotiations for the Comprehensive Agreement on Investment with the EU.
In the latest efforts, the government introduced the foreign investment security review at the end of last year, which took effect on January 18. Although aimed at fending off national security risks, the review encourages foreign investment in advanced manufacturing, modern services and environmental protection. "The new system can protect the legitimate rights and interests of foreign investors through a more targeted and transparent review and drive a high-level opening up," Nie said.
A revised industry catalog with 127 new items also came into effect on January 27, encouraging foreign investment in more regions and sectors including delivery services in communities and online education.
Chen Zhiheng, an assistant research fellow at the Chongyang Institute for Financial Studies at Renmin University of China, wrote in an article on
China.org.cn that the new list will help expand domestic demand and bring the distinctive advantages of central, western and northeastern regions in attracting FDI into fuller play.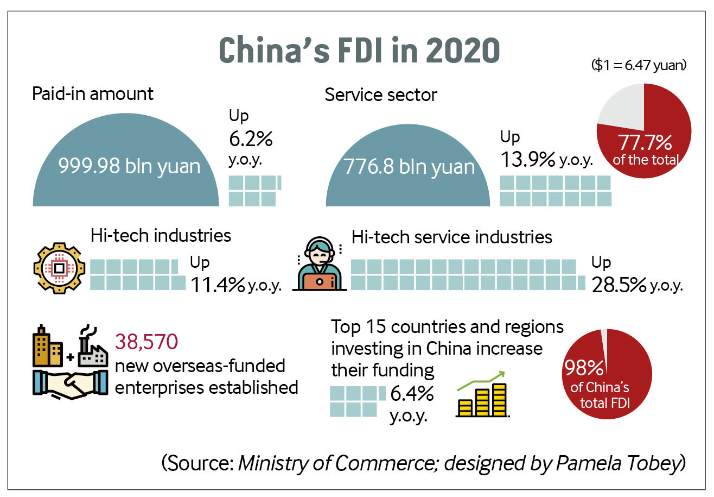 Future outlook
Looking into this year, the UNCTAD warned that the global FDI growth is expected to remain sluggish. However, Nie thinks China's FDI will continue to be backed up by its economic resilience, great market demands, complete industrial systems and large talent pool, which can sustain foreign investors' confidence in its market.
"To attract more FDI, the government needs to boost the FTZs, widen market access for service industries and improve services for foreign enterprises," she said.
Chen has more specifications: The financial platforms for cross-border payments should be improved as well as protection of intellectual property rights. Also, better exit mechanisms should be developed for foreign investors. BR
(Print Edition Title: Record Inflow)
Copyedited by Sudeshna Sarkar
Comments to lixiaoyang@bjreview.com