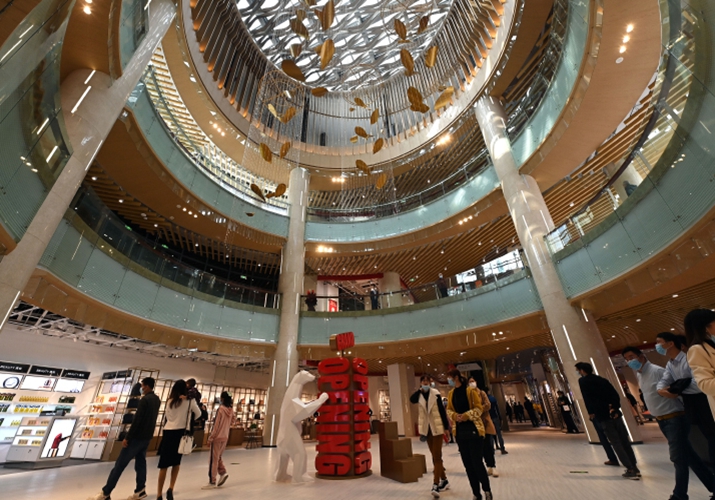 Shoppers at a duty-free store in Haikou, Hainan Province in south China, on January 31 (XINHUA)
As a whole, the Chinese economy grew 2.3 percent year on year in 2020, becoming the world's only major economy to achieve positive growth amid disruptions caused by the novel coronavirus disease. More encouragingly, 20 provincial-level regions reported GDP increase faster than the national level, according to statistics unveiled by provincial governments at the annual meetings of local lawmakers.
Altogether, 30 of the 31 provincial economies on the Chinese mainland expanded, except for Hubei in central China which was the hardest hit by the epidemic in the first months of the year. The improvement of 19 was more than 3 percent.
Thanks to measures including boosting work and production resumption, enhancing cross-border trade, improving fiscal and financial support, and expanding consumption through issuing coupons, all regions saw a steady resumption of growth after the epidemic situation improved.
A report released by the Bank of China (BOC) Research Institute in January said investment and export growth contributed greatly to stabilizing local economies, although the resumption of domestic consumption was slow.
Sound performances
Guangdong, a manufacturing hub in the south, saw its GDP exceed 11 trillion yuan ($1.7 trillion) last year for the first time, remaining the largest provincial economy in the country for 32 consecutive years. The economy of Jiangsu in the east, the second largest, also crossed 10 trillion yuan ($1.5 trillion) for the first time.
The resumption of emerging and hi-tech industries, foreign trade and investment inflow served as key pillars for economic recovery and expansion of the regions.
Data from the statistics bureau of Guangdong showed that the value-added output of the province's digital economy and information technology sectors grew 3 percent year on year in 2020, contributing to around 25 percent of local GDP growth. Its import and export volume reached more than 7 trillion yuan ($1.08 trillion), taking up nearly 22 percent of the national total despite a 0.9-percent year-on-year decline.
Jiangsu took the lead in attracting foreign direct investment (FDI) across China. Its capital inflow grew 3.2 percent to $23.52 billion. The manufacturing industry received $9.18 billion. The modern service industry also played a key role in attracting investment, with paid-in FDI in technology promotion and application services growing 51.1 percent year on year.
With many of its cities and counties under lockdown for over two months, Hubei's GDP shrank 5 percent to 4.34 trillion yuan ($672 billion) last year. However, the provincial government said its indicators have already recovered to over 95 percent of the 2019 levels. Particularly, its foreign trade registered an 8.8-percent growth over the previous year.
Many less developed regions in the central and western regions accomplished notable economic growth last year. Tibet Autonomous Region led the country with an annual GDP improvement of 7.8 percent. Guizhou's 4.5 percent held second spot in the ranking, followed by Yunnan's 4 percent. All the three are in the southwestern part of the country.
According to the BOC report, foreign trade remained sound in coastal eastern regions while also witnessing a robust uptrend in central and western regions. The double-digit growth of the latter can be largely attributed to the transfer of textile and electric product manufacturing industries from eastern regions in recent years.
Guizhou's foreign trade in goods surged 20.6 percent year on year to 54.65 billion yuan ($8.43 billion) in 2020, boosted largely by exports of local specialties including tea and industrial products. Guitars produced in Zheng'an County in the province were exported to more than 30 countries and regions, the local government said.
"While most regions saw steady economic resumption last year, regional gaps remain to be addressed, for which local governments need to develop more new economic drivers," Liu Xiangdong, a researcher with China Center for International Economic Exchanges, told Economic Information Daily.
New targets
In addition to reviewing the achievements of the past year, the legislative meetings also made plans for 2021. Many regions set the annual growth target within the range of 6 to 7 percent.
"Since the challenges brought by the epidemic remain, local governments are supposed to maintain policies to expand consumption, boost technological innovation and accelerate industrial upgrading for high-quality development," Gao Ruidong, chief economist at Everbright Securities, said.
Many regions will roll out new measures to unleash consumption potential in sectors with pent-up demands, including entertainment, healthcare and tourism.
Guangdong plans to develop its cities, including Guangzhou and Shenzhen, into international shopping centers and will set up duty-free shops there.
Shanghai's goals include boosting experience consumption like tourism and healthcare services and shoring up the nighttime economy. Beijing will upgrade traditional commercial districts and attract more famous brands from home and abroad to open their retail outlets in China in the city.
Duty-free shopping and tourism are key economic drivers in Hainan in the south. The island province plans to raise sales of its duty-free shops to more than 60 billion yuan ($9.3 billion) this year.
The development programs of many regions have pledged greater support to emerging business modes including online retail, education, healthcare services and entertainment.
They have also attached importance to boosting public consumption and tapping the purchasing power in small cities and rural areas through improving services in education and elderly care and promoting auto sales. According to Gao, these efforts are significant to improving people's wellbeing.
Another key goal is boosting foreign trade. In line with a masterplan released by the central authorities on developing Hainan into a free trade port by 2025, it will improve its business environment by simplifying administrative procedures and building big data platforms this year.
In Jilin in the northeast, more pilot zones will be set up to facilitate cross-border e-commerce, according to the province's economic blueprint.
Encouraging private investment and attracting FDI are on top of the agenda for many. Their priorities also consist of expanding digital infrastructure, including 5G base stations, industrial Internet facilities and charging points for electric cars, and promoting technological innovation and industrial upgrading.
Major innovation hubs like Beijing, Shanghai and Guangdong aim to boost technological innovation and the digital economy, with special focus laid on artificial intelligence, biomedicine, seed breeding and digital currencies.
Regions such as Chongqing in the southwest and Shanxi in the north will increase investment in the high-end car manufacturing industry and development of renewable energy technologies, respectively.
Building modern logistics facilities is essential to the stability of supply chains. Guangdong said it will modernize delivery systems, expand distribution outlets and encourage more enterprises to build overseas warehouses. Similar programs have also been launched by other regions.
All provincial economies set their growth targets for 2021 in a prudent way, planning for high-quality development instead of rapid expansion, and underlining the importance of technological innovation, CITIC Securities said in a recent report. It added that the measures by these regions to develop key technologies, improve industrial chains and foster powerful leading enterprises are conducive to their sound and sustainable economic progress.
According to Liu, innovation will drive the upgrade of traditional industries and foster emerging industries to develop modern industrial systems.
"While seeking industrial upgrading, local governments need to develop industries in line with regional conditions to achieve sustainable growth," he said.
(Print Edition Title: Gaining Momentum)
Copyedited by Sean Connolly
Comments to lixiaoyang@bjreview.com