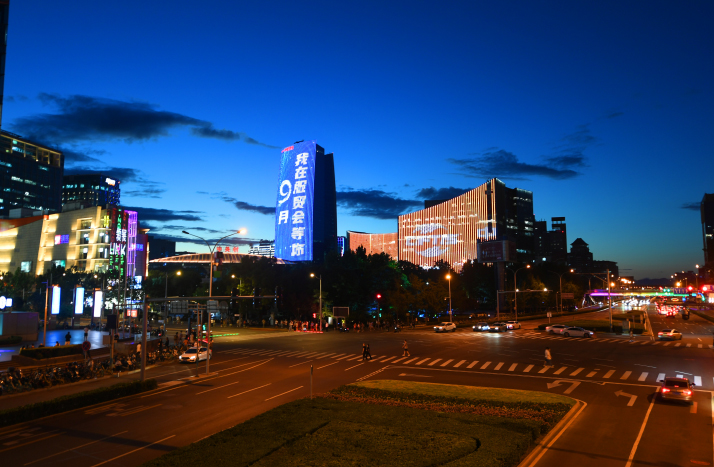 A light show for the China International Fair for Trade in Services in Beijing on August 1 (XINHUA)
Amazon Web Services (AWS) will participate in the China International Fair for Trade in Services (CIFTIS) for the first time this year. The global provider of cloud computing services, which is a subsidiary of U.S. online retailer Amazon, made the decision after the organizers established the event's inaugural exhibition zone for digital services. The fair is scheduled to be held in Beijing from September 2 to 7.
According to Li Xiaomang, General Manager of AWS China Commercial, China is a major market in the company's global business network. The AWS has been operating in China since 2016, focusing on technological support to foreign-funded companies and on helping Chinese companies go global in industries such as finance and manufacturing.
"By attending the CIFTIS, we hope to promote our digital services, such as cloud computing, the Internet of Things and virtual reality (VR), and to boost global cooperation on the digital economy," Li told the media. In addition to the AWS, another 47 tech firms, including Chinese firm Alibaba and Japan-based camera maker, Canon, will participate in the fair.
Trade in services involves the sale and delivery of intangible products such as transportation, tourism, telecommunications and computing.
Sun Yao, Deputy Director of the Beijing Municipal Commerce Bureau, told a press conference on August 1 that the CIFTIS 2021, with an exhibition area of about 130,000 square meters, will take place at the China National Convention Center and the Shougang Industrial Park, a former industrial site.
With the theme Toward Digital Future and Services-Driven Development, it will cover eight sectors, including digital services, healthcare and sport. Over 100 forums, conferences and business negotiations on trending and emerging issues, such as the digital economy and carbon neutrality, will also be convened. Enterprises such as Alibaba and U.S. biopharmaceutical company Pfizer are expected to release new technologies and services.
As of July 28, 165 organizations from 108 countries and regions had confirmed their participation through both offline and online channels. Of these, 81 countries are cooperating with China on the Belt and Road Initiative. The number of participating enterprises will exceed 700, Sun said.
Through the promotion of domestic products to overseas markets and the introduction of foreign brands to Chinese consumers, the CIFTIS plays a significant role in the development of cross-border e-commerce in China. It also provides a platform for exchanges on digital technologies that will assist China to transform from a global manufacturer to a global power in the trade in services, Pan Helin, Executive Director of the Digital Economy Academy at the Wuhan-based Zhongnan University of Economics and Law, told Beijing Review.
"The CIFTIS evolves along with China's steady opening up of the service industry. While the COVID-19 pandemic is still spreading, the event can help enterprises overcome the impacts and contribute to industry-wide recovery," Sun said.
Right on track
Venues and infrastructure for the fair are already in place. According to Liang Jie, Deputy General Manager of the Shougang Group, operator of the Shougang Industrial Park, 15 exhibition halls have been set up in the park, with a total floor area of around 94,000 square meters.
"Conserving resources has been a priority in their design. The halls are built with recyclable materials and all other supporting facilities use renovated old workshops. The roofs of the halls are specially designed to allow more natural light in and help minimize energy consumption," Liang said.
The China National Convention Center will provide digital services for online marketplaces with VR, according to the organizers.
Those participating in the CIFTIS are already rolling up their sleeves. This year's fair will highlight the sports sector, especially as the Olympic Winter Games Beijing 2022 is approaching. According to Beijing Municipal Bureau of Sport, it will include the World Winter Sports (Beijing) Expo for the first time. Visitors will be able to experience products related to ice and snow sports such as VR-based skiing.
Over 200 sports companies from home and abroad are estimated to attend the fair. Keep, a China-based fitness app, said on August 3 that it would unveil self-developed smart bicycles and sports bracelets at the fair. System Klarer, a water slide manufacturer from Switzerland, which has previously cooperated with many Chinese theme parks, will also showcase its products.
Financial services firms will also have a strong presence. Accounting service provider Deloitte will present its newly developed financial robots. Through data analyses, the machines can help monitor the risks of financial products in order to help users improve the portfolios of their investment. In addition, the company will launch its solutions for building smart communities and cities. According to Wu Weijun, Vice Chairman of Deloitte China, the CIFTIS provides a platform for technological exchanges and promotion.
"The services industry is expected to become a major arena for the digital economy, and more and more enterprises in the industry are expected to seek digital transformation. This will bring opportunities for digital solution providers such as Deloitte," Wu said.
Further growth
Despite the pandemic, China has seen expanding trade in services this year. Data from the Ministry of Commerce (MOFCOM) showed that its overall volume rose 6.7 percent year on year to around 2.38 trillion yuan ($367.97 billion) in the first half (H1) of this year. The deficit between service imports and exports stood at 120.46 billion yuan ($18.6 billion) in H1, 281.25 billion yuan ($43.5 billion) less than the same period last year.
"Since the global pandemic situation is still serious, China's trade in services did not recover to pre-epidemic levels in H1. A major reason is that the tourism industry remained sluggish," Nie Pingxiang, a researcher with the Chinese Academy of International Trade and Economic Cooperation under MOFCOM, told Beijing Review.
"However, the increase of online activity has helped drive up information technology-related imports and exports," she said. According to MOFCOM, China's trade of knowledge-intensive services increased by 13.5 percent year on year to nearly 1.11 trillion yuan ($172 billion) in H1.
Efforts to shore up trade in services have continued. MOFCOM released a negative list for cross-border trade in services in Hainan Province at the end of July, the first of its kind in the country. The document outlined 70 special management measures in 11 categories for overseas services providers.
According to Nie, the government needs to introduce a nationwide negative list to ease market access for industries such as education, culture and healthcare, and develop additional demonstration zones for trade in services.
(Print Edition Title: Forthcoming Fair)
Copyedited by G.P. Wilson
Comments to lixiaoyang@bjreview.com