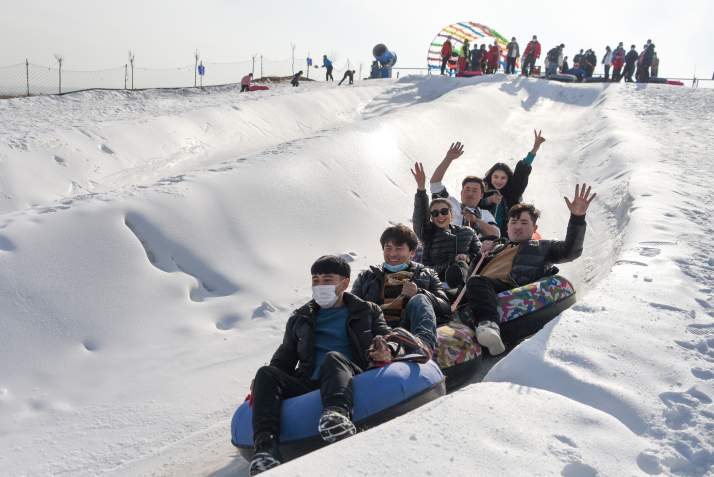 Tourists sled down the slopes on snow tubes at Oynak Ski Resort in Moyu County, Xinjiang Uygur Autonomous Region, on January 9 (XINHUA)
At least once a week, Xiao Lei takes his 7-year-old twins to ice hockey training in Haidian District in Beijing, host of the 2022 Olympic Winter Games. "My boys have a lot of energy so this sport suits them," the father told Beijing Review, adding the kids have been playing for half a year.
The twins, together with millions of others, have helped China achieve its drive to engage 300 million people in winter sports, an initiative launched in 2015 in the bidding stages for the grandest of all athletic events. According to the National Bureau of Statistics, some 346 million people, almost a quarter of the Chinese population, had participated in ice and snow sports by October 2021.
The 300-something million now familiar with skiing and/or skating will prove the greatest legacy of this Olympic edition, President of the International Olympic Committee Thomas Bach said.
China focuses on the impetus the Games will lend to the country's future, rather than the number of medals it won during the event. This drive not only boosts the number of participants, but also results in a growing winter sports market benefiting companies and workers alike.
A snow engine
New ice hockey gear usually costs around 10,000 yuan ($1,575), Xiao said. In addition to the ice rink, his family on occasion also takes to the slopes.
Per-capita disposable income in Beijing stood at 75,002 yuan ($11,830) in 2021, data from the Beijing Municipal Bureau of Statistics showed. Taking into account that number, the training fee makes for a considerable expense, yet this still doesn't seem to sway consumer enthusiasm.
The value of China's ice and snow sector increased from 270 billion yuan ($43 billion) in 2015 to 600 billion yuan ($95 billion) in 2020, according to a report released by the China Tourism Academy (CTA) last year.
This year's Spring Festival holiday, January 31 to February 6, also witnessed a significant upsurge in the market.
During the break, nationwide sales revenue of sporting equipment and winter sports-related services climbed by 32.4 percent and 140 percent year on year, respectively, according to the value-added tax invoice data released by the State Administration of Taxation on February 7.
Especially in Beijing and neighboring Hebei Province, where the Olympic and Paralympic Winter Games Beijing 2022 take place, people are lavishly indulging in the joys of skiing, skating and other related activities. Sales revenue of athletic gear and related services in both places increased by 340 percent and 440 percent year on year, respectively, the data showed.
According to Dianping, China's version of Yelp, website traffic for tourist destinations featuring ice and snow parks and ski resorts in January was nearly double that of one month earlier. Since November 2021, online orders related to skiing have grown almost 10-fold year on year.
On Fliggy, Alibaba's online travel platform best known for its lucrative hotel booking discounts, this year's Spring Festival holiday witnessed a 30-percent increase in purchases of products related to winter tourism compared with last year.
Related infrastructure and services, too, are continuously improving, Xinhua News Agency reported.
In southern cities like Shanghai and Chongqing, indoor ice venues and snow stadia are sprouting like mushrooms. In early 2021, China featured 654 standard skating rinks plus 803 in- and outdoor ski resorts, up 317 percent and 41 percent, respectively, from 2015, according to official data.
Moreover, China's winter sports sector has attracted an increasing number of enterprises due to its vast untapped potential. According to Xinhua, more than one third of the country's 21,500 ice and snow sports firms as of January had been registered in the last two years.
The value of the sector is expected to top 1 trillion yuan ($158 billion) by 2025, accounting for roughly 20 percent of the overall sports industry, the CTA report read.
The socioeconomic gradient
The budding consumer market is poised to wield significant influence on social development.
According to Economic Daily, the winter economy is sweeping the country, including Tibet Autonomous Region, an area boasting abundant resources. Its numerous mountains and glaciers are what attract visitors to the place.
And locals, too, stand to benefit from this rapidly evolving trend. Many areas in the region are developing ice and snow tourism to lift their economy.
At Thaiwoo Ski Resort in Chongli, Zhangjiakou, co-host of the Beijing 2022 Games, 80 percent of employees are local, Li Yongtai, Executive Vice President of the resort, told Beijing Review. "The resort helps tackle the issue of local unemployment and improves income," he said. The thriving ice and snow economy has contributed significantly to the economic prosperity of Chongli, which was lifted out of poverty in 2019. That same year, the New York Times named Chongli one of the 52 ski destinations worth visiting.
In 2021, despite the COVID-19 pandemic, winter tourism generated more than 390 billion yuan ($61.4 billion) in travel expenditure across China, according to official statistics.
Thirty-eight-year-old Liu Yongliang, a former employee of steel giant Shougang Group, has a rather different story. In 2010, the company relocated its operations from Beijing to Tangshan in Hebei, as part of efforts to reduce air pollution in the capital.
After the move, Liu and many of his colleagues chose to remain in Beijing to work on transforming the old steelworks into a creative and industrial-inspired tourist attraction, now known as Shougang Park. Yet Liu still worried about his career path.
In 2016, he spotted a notice for ice technician training and seized the opportunity. Today, Liu has become a certified ice maker and is venue director of the National Winter Sports Training Center at Shougang Park, home base for China's figure skating, short track speed skating, curling and ice hockey teams.
Most of Liu's ice-making team members previously worked for the industrial titan. Their transition from steel workers to ice technicians lights up the power of ice and snow in the creation of a new economic format.
(Print Edition Title: Of Skis and Skates)
Copyedited by Elsbeth van Paridon
Comments to taoxing@cicgamericas.com