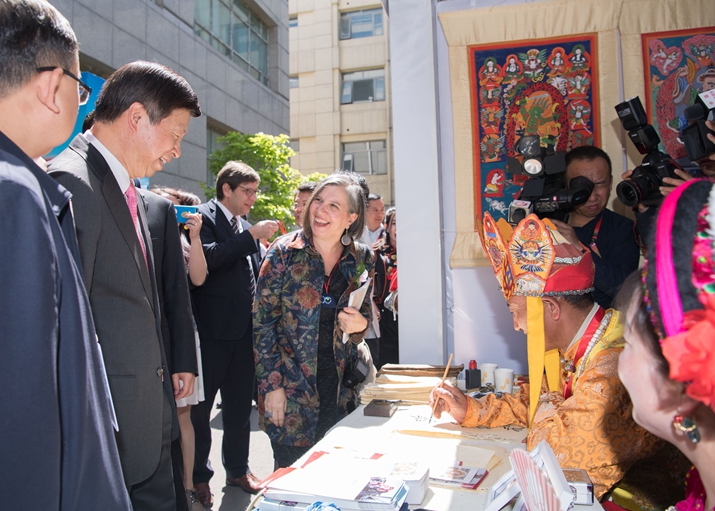 Song Tao with foreign guests at an exhibition on poverty relief
At heart, Li Naluo feels she is a farmer. But her current role belies such a humble background. Now, she is the vice chairwoman of a performing arts company that promotes the distinctive traditional culture of the Lahu nationality, an ethnic group that exists mainly in mountainous areas in the south of China's Yunnan Province. So, how did she make the transformation from poor minority villager to leader of an enterprise?
"Thanks to the policy made by the Communist Party of China (CPC), people like me can shake off poverty by singing and dancing," Li said, as she shared her story at a seminar held by the International Department of the CPC Central Committee in Beijing on April 27 as part of a series of events entitled Stories of CPC Targeted Poverty Alleviation.
Nearly 400 foreign politicians, senior diplomats in China and international organization representatives attended the seminar with a theme of Leaving No One in Poverty. Taking Yunnan as an example, the event presented what China has achieved in poverty alleviation and development in order to enable the international community to better understand China's targeted poverty alleviation policy.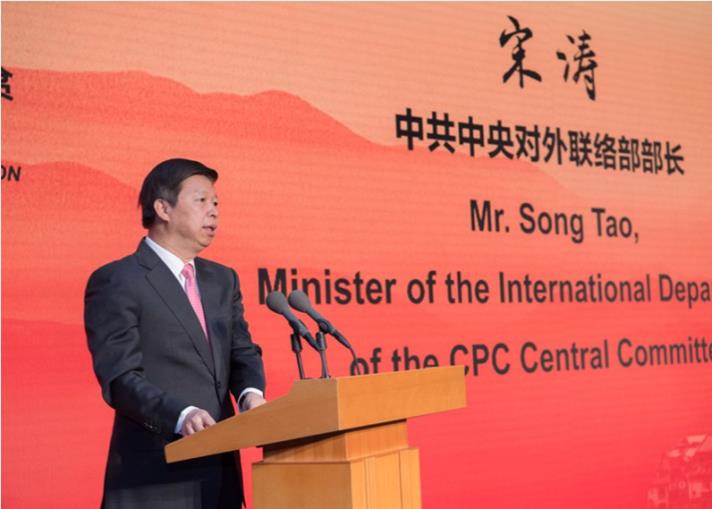 Song Tao, Minister of the International Department of the Communist Party of China (CPC) Central Committee, addresses the event on April 27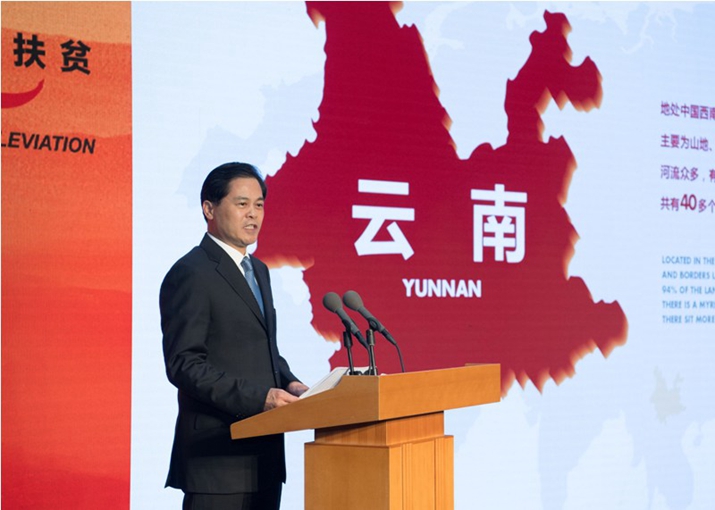 Chen Hao, Secretary of the CPC Yunnan Provincial Party Committee, delivers a speech at the event on April 27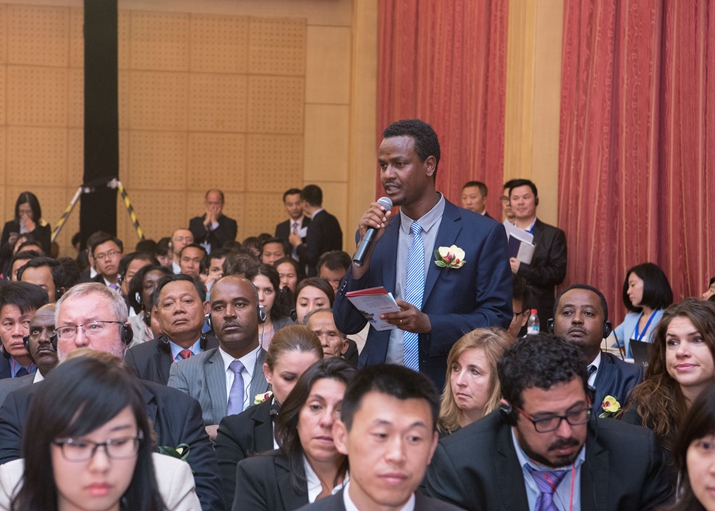 A foreign diplomat asks a question at the seminar
While sharing her story with the foreign guests, Li was a bit nervous. She said she received just a primary school education and does not know much, but she can feel the progress in recent years in her hometown, Lao Da Bao Village, a base of the Lahu people and culture.
A decade ago, local per capita annual net income was only 1,715 yuan ($249), while the national average of rural people was 4,140 yuan ($601). With the implementation of national poverty relief policies and plans, the local government, under the guidance of the Central Government, began to acquire capital and human resources to turn the underdeveloped Lao Da Bao village into a cultural tourist attraction with Lahu ethnic characteristics, especially performing arts. Li, a pioneering local figure, motivated fellow villagers to learn Lahu traditional songs and dances. Local people with outstanding artistic skills were organized for commercial performances.
"In the daytime, we do farm work, and when night falls, we put on makeup and costumes, pick up our musical instruments and play," Li said.
Since its establishment in September 2013, the performing arts company has put on over 300 performances, generating total income of over 2.5 million yuan ($363,000). More than 480 people have escaped poverty and are earning a decent living through the endeavor, which, besides creating pecuniary benefit, also disseminates awareness and knowledge about Lahu culture.
Li Naluo's tale was just one of the stories shared by people from Yunnan at the seminar on April 27. It is also just a drop in the ocean of China's fight against poverty.
"Eliminating poverty is a common cause for parties and governments worldwide," said Song Tao, Minister of the International Department of the CPC Central Committee, during his introduction at the seminar.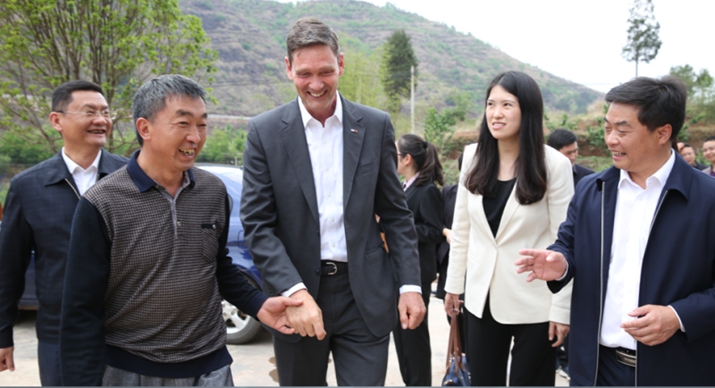 A UN delegation visits Yunnan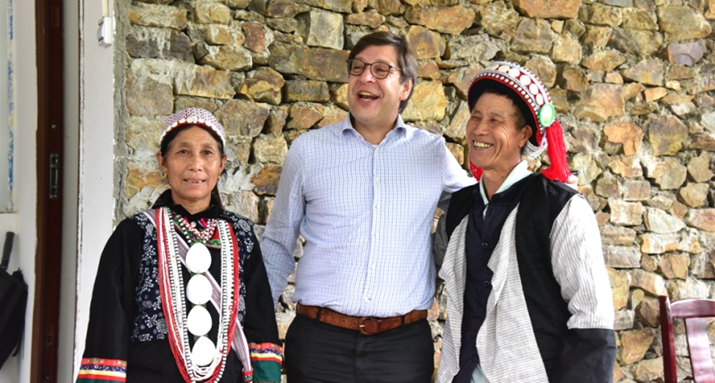 A delegation of Uruguay's Broad Front coalition visits Yunnan
Since the 18th CPC National Congress, the CPC Central Committee, with Xi Jinping as its core, has brought into full play its powerful organization and mobilization mechanism, accumulated a rich working experience, and found a feasible way to alleviate poverty with Chinese characteristics, Song said.
"Yunnan is a good example of the achievement," he said.
According to him, China's national effort had reduced its impoverished population by over 55.64 million between 2013 and 2016. Each year over 10 million rural citizens were able to escape poverty.
"This practice has proved that a targeted approach to alleviating poverty is key to China's achieving its target," Song said. "The CPC would like to share its experience with the international community and help its neighboring countries and developing countries worldwide find their own way to alleviate poverty."
Located in southwest China, Yunnan is home to 26 ethnic groups. It is one of China's most poverty-stricken provinces, having the largest number of people living in poverty and the highest degree of poverty persistence in rural areas.
By the end of 2016, the province still had 88 poverty-stricken counties and 3.65 million impoverished people. Eliminating poverty is a strong desire shared by all ethnic groups in Yunnan as well as the most challenging aspect of pushing forward leapfrog development of the province.
The Central Committee of the CPC, with Xi Jinping as its core, is continually concerned about the economic growth and social development, in addition to the well-being, of ethnic groups in Yunnan. "No ethnic group will be left behind in the drive to complete the building of a moderately prosperous society by 2020," General Secretary Xi Jinping said when meeting officials and residents of Gongshan Drung-Nu Autonomous County in Kunming, capital city of Yunnan, in January 2015.
Chen Hao, Secretary of CPC Yunnan Provincial Committee, said the committee, as a facilitator of the CPC Central Committee's strategic deployment in "doing a good job in poverty alleviation," regarded this as a matter of primary importance in its development and livelihood project.
Yunnan gave top priority to helping the minorities among all poverty alleviation works and established a series of favoring policies to ensure "no ethnic group was left behind, said Chen.
Actions have been taken and the numbers are convincing. From 2012 to 2016, the impoverished rural population in Yunnan has dropped from 8.04 million to 3.63 million. "Despite all the difficulties, we have faith that poverty can be eradicated," Chen noted.
After the main seminar, two sub-seminars on poverty alleviation were held. During the two sub-seminars, local CPC members in Yunnan, together with representatives from ethnic groups and related companies, conducted communication with foreign guests.
"From the pictures, I can see a very big shift [in Yunnan]," said Michael Milli Hussein, Ambassador of the Republic of South Sudan, commenting on a related photo exhibition.
With the aim of sharing China's poverty reduction practices and experiences in various provinces with members of the international community, a number of seminars and photo exhibitions, collectively forming the Stories of CPC Targeted Poverty Alleviation series of events, will take place in Beijing.