The Huangpu River divides Shanghai into Pudong and Puxi (XINHUA)
The Huangpu River, winding through Shanghai, separates the city into an east and west section called Pudong and Puxi, respectively. Although both are part of the same city, they grew at totally different speeds in the past.
"Before the development of the Pudong area, when we went to Puxi, we all would say we went to Shanghai because we didn't think Pudong belonged to Shanghai at all," Wang Pengcheng, a local from Pudong, said. "People in Puxi called Pudong the countryside. The gap between the two sides was huge. At night, Puxi was always brightly lit, while Pudong was covered in darkness except for several dilapidated street lights."
Looking across from The Bund in Puxi, Pudong was a vast land with low-rise houses and tracts of farmland. The only transportation linking the two sides was a ferry system.
This all began to change on April 18, 1990, when, as part of the continued reform and opening-up process, the Communist Party of China (CPC) Central Committee and the State Council decided to develop the Pudong area and named it Pudong New Area. By then, China's reform and opening up had been carried out for more than 10 years. Pudong was somewhat of a late passenger boarding the reform and opening-up express train. But its development has been extraordinary.

Shanghai Waigaoqiao Bonded Logistics Zone (COURTESY PHOTO)
Paving the way
On May 3, 1990, the Pudong Development Office of the Shanghai Municipal Government and the Shanghai Pudong Development Planning Research and Design Institute were set up in a two-story building at No.141 Pudong Avenue. The first floor, which used to be a warehouse, was renovated into a meeting lobby, while an office was set up on the second floor with four desks, four chairs and four stools. Conditions at the time did not allow the staff to have their own separate desks; they had to share and each person could only have one private desk drawer.
Today, the office is on display at the Exhibition of the Opening Up of Pudong, along with No.1 Lannidu Road. With constant tides from the Huangpu River, this road was always covered with water and pedestrian traffic kept it muddy. In fact, lannidu in Chinese means muddy ferry place. In the 1970s, this area was packed with shacks and illegal structures; the houses were low and damp with clothes hanging randomly outside.
It was this area that was targeted to be the central area of the Lujiazui Financial and Trade Zone, the first of its kind in China. The transformation happened almost overnight. All the shacks and illegal structures were pulled down to make room for the rise of a vast array of skyscrapers. The muddy road was renamed Silver City Middle Road, leaving no hint of its messy past.
Weng Zuliang, Party Secretary of Pudong New Area, divides the development of Pudong into three phases. The first, between 1990 and 2001, was the fast development phase, with a lot of infrastructure construction and a series of preferential policies from the Central Government introduced.
The second, from 2001 to 2012, was the comprehensive development phase, with pilot comprehensive reforms carried out and taking the lead in establishing and improving a socialist market economic system in line with international practices.
The third, which began in 2012 and continues today, is the innovative and transformative development phase with the setting up of China's first pilot free trade zone (FTZ), enhancing hi-tech innovation and steering development in a more environmentally friendly direction.
Throughout the 1990s, Pudong was like a huge construction site. The Oriental Pearl Radio and Television Tower, now an iconic building in Shanghai, broke ground in July 1991 and was finished in 1995. The 468-meter building was the tallest building in China at that time and was the first skyscraper in Shanghai. Later, this record was broken by the 492-meter Shanghai World Financial Center and currently, the 632-meter Shanghai Tower, all located in Pudong.
In September 1990, the Waigaoqiao Free Trade Zone Development Co., the Jinqiao Export Processing Zone Development Co. and the Lujiazui Financial and Trade Zone Development Co. were simultaneously established, marking a substantive phase in Pudong's development and opening up.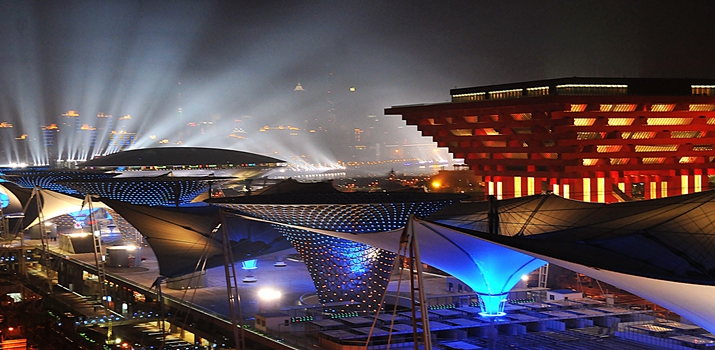 The night view of the Pudong Expo Park on March 8, 2015 (COURTESY PHOTO)
Trendsetter is born
On December 19, 1990, the Shanghai Stock Exchange went into operation, bringing a large number of financial institutions related to the securities industry to Pudong.
"People waited in long lines for the opening of the stock exchange," said Xie Rongxing, a Shanghai local who worked as a trader then and was deeply impressed by it.
At the same time, major Chinese and foreign banks, including the People's Bank of China (Shanghai Branch), the Industrial and Commercial Bank of China, China Construction Bank, Citibank and HSBC Bank, rushed to lay their roots in this promising financial center.
On September 25, 1992, the insurance company American AIA Shanghai Co. was registered and opened in Pudong as the first foreign-invested insurance company in China, marking a sharp acceleration in the pace of deepening reform.
In December 1999, the Shanghai Futures Exchange officially opened and gradually built up its core competitiveness in the world's non-ferrous metals and other markets.
China's first Sino-foreign joint venture commercial retail company, No.1 Yaohan Co. Ltd., was opened in Pudong in December 1995. In October 2000, the Shanghai Diamond Exchange, the first such center in China, was established.
Transportation, which was a bottleneck in the development of Pudong, was also largely improved in this phase of growth. In 1993, the Yangpu Bridge linking Pudong and Puxi went into operation, relieving commuters of congested ferries.
In 2001, Pudong's development entered a new phase. After China joined the World Trade Organization that year and won the bid for the 2010 World Expo to be held in Pudong, more subway lines, tunnels and bridges were constructed along the two riverbanks.
On September 29, 2013, the Shanghai Pilot FTZ was established, covering 28.78 square km, which was further expanded to 120.72 square km in late 2014. During an inspection tour in Pudong in 2014, Chinese President Xi Jinping said the zone was a large experimental field expected to have a satisfying harvest.
In the following years, the zone, along with the Pudong model, has been promoted in other areas. Now China has a total of 13 FTZs.
Meanwhile, the Shanghai Municipal People's Congress and the Shanghai Municipal Government issued some 20 laws and regulations to attract foreign investment. For local enterprises, since December 2015, the State Council released a series of policies largely streamlining administrative procedures.
"In the past 28 years, Pudong's GDP has snowballed from 6 billion yuan ($874 million) in 1990 to 965.1 billion yuan ($140.8 billion) in 2017 and is expected to surpass 1 trillion yuan ($146 billion) in 2018. Its weight of Shanghai's GDP has increased from about one 12th to one third," said Weng. "Pudong is now the city's growth engine."
At the same time, Pudong's government revenue grew from 1.1 billion yuan ($160.5 million) in 1993 to 393.8 billion yuan ($57.47 billion) last year, and the per-capita disposable income of urban and rural residents rose to 60,715 yuan ($8,860) in 2017, higher than Shanghai's average of 58,988 yuan ($8,609), Weng added.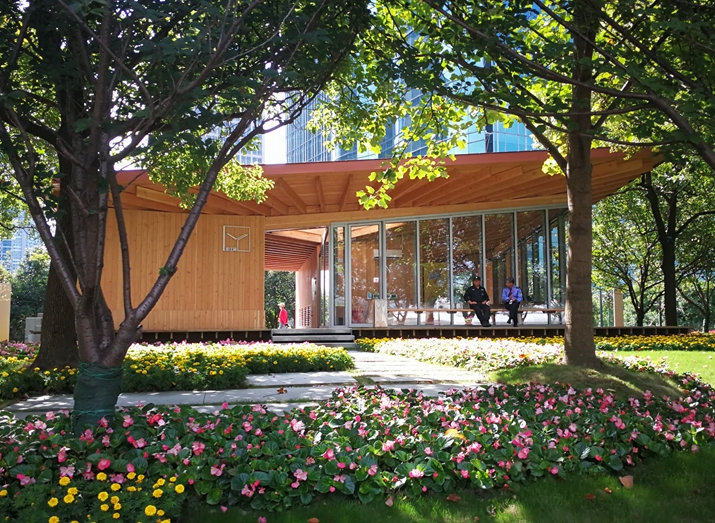 A station for passengers at the 22-km coastline of the east bank of the Huangpu River (COURTESY PHOTO)
Rich in every aspect
Pudong is not satisfied with its role as the financial center of the city and is now paying special attention to upgrading its public services and cultural status.
In late 2017, the 22-km coastline on the east bank of the Huangpu River was opened to the public. Along the green promenade, there are 22 stations offering reading areas, WIFI service, sanitation, storage and emergency services for the public.
The industrial heritage along the coast has also been upgraded and renovated. For example, an original coal warehouse has been transformed into an art gallery, where there have already been 13 exhibitions held free for the public.
"Shanghai is rich in culture and art, but all the cultural and art activities were held in Puxi in the past. Pudong was regarded as a cultural desert," said Sun Yu, Deputy Director of the Publicity Department of Pudong New Area. "But we have attempted to change this image in the past few years."
MIFA 1862 Art Center, converted from a 156-year-old shipyard located on Binjiang Avenue of Pudong, now is an avant-garde destination for theater fans. The shipyard was originally built in 1862 and was once owned by British interests. In 1951, it was taken over by Shanghai but sat unused and obsolete since 2005, that is, until MIFA gave it new life.
Its first public event was a modern adaption of Chekhov's The Seagull, performed by the Lithuania-based Oskaro Koršunovo Teatras. The five-story theater kept the original shipyard pillars and pipelines. The old signs and slogans, though weathered, are still visible.
"Currently, theater performances for the 2018 season are sold out and almost sold out for 2019," said the theater's general manager Li Yan.
"In 2017, there were a total of 27 large open-air concerts with over 10,000 audience members held in China, and nine of them were in Pudong," Sun said. "The Shanghai Opera House is supposed to be established in Pudong by 2020, which will be another iconic venue."
Among the startups incubated in Zhanghai Innopark, established in 1992 in Pudong New Area, there are some cultural and creative companies. The unique atmosphere in Pudong puts fewer restrictions on them, resulting in some becoming giants in their fields.
China Literature Limited is a pioneer in the online literature market and operates a leading online literature platform in the country. Figures from the company show that as of June 30, it had 7.3 million writers, with some 10.7 million online literary works covering over 200 genres. They have created quite a few works that have been adapted into TV series, films and even computer games.
On November 8, 2017, the company was listed on the Main Board of the Hong Kong Stock Exchange. During the first half of 2018, it had an average of 213.5 million monthly active users on its platform and self-operated channels on partner distribution platforms.
"Pudong is a paradise for startups in cultural and creative industries," Wu Wenhui, CEO of China Literature Limited, said. "It has witnessed not only the growing up of our company, but the development of China's online literature and digital publishing industry. Now a good cultural ecosystem has been formed here."
Sun added, "We have a 200-million-yuan ($29.2 million) fund each year to support cultural and creative industries in Pudong. We also organize camps for young talent in these fields every year, enhancing their communication and cooperation."
On August 10, a blue paper on culture and art in the Shanghai FTZ was released, revealing that the total volume of cultural trade in 2017 surpassed 35 billion yuan ($5.14 billion) and is expected to exceed 40 billion yuan ($5.8 billion) this year.
"Over the five years since the FTZ was established, the scale of the cultural industry has been continuously enlarged," the blue paper stated. "By the end of 2017, the bonded area of the Shanghai FTZ had become the most efficient and convenient entry and exit channel for artwork in China and accumulated top cultural and art resources."
An artwork exchange center was set up in the FTZ in 2013, where artwork from other countries can be displayed and sold before any import tariffs are paid. "We will make full use of the advantages of the FTZ in Shanghai to promote cultural communication and trade between China and abroad," said Hu Huanzhong, President of Shanghai FTZ International Culture Investment Development Co. Ltd.
At an annual reading festival in Pudong in September, pianists Lang Lang and Liu Shikun and composer Chen Gang all expressed their plans to hold more cultural activities in the area.
"Pudong's status is unique and it must have many stories to tell from its past 28 years of development, which can be the inspiration for art and literature," said Yi Zhongtian, a professor from Xiamen University in Fujian Province. Yi and some other renowned writers such as Ye Xin and He Jianming plan to open workshops in Pudong.
"We are endeavoring to build a film production base in the following years," Sun said. "Pudong is no longer a cultural desert, but an emerging cultural power."
Zhang Yiming, a 22-year-old college student at Shanghai Polytechnic University and a Pudong local, is a fan of music and he is happy to see that the Strawberry Music Festival has been brought to Pudong. "It was hard to imagine that such a cool festival could be held in Pudong 10 years ago," Zhang said. "Now there are many cool places dotted here."
"Every generation living in Shanghai has their unique memories of the city," Zhang said. "For my grandfather, it may be the war. For my father, it may be the pioneering work. For youth like me, it's the prosperity."