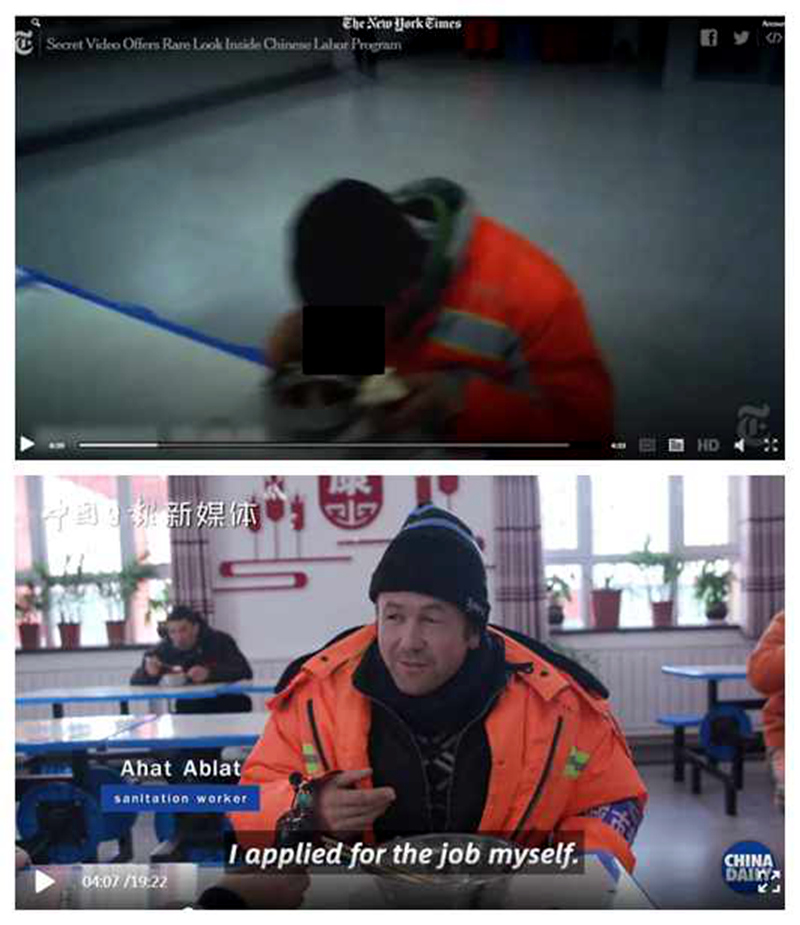 Screenshot of video by the New York Times (upper) and China Daily (lower). The two videos both were shot at the cafeteria of the same sanitation station in Kuitun City (CHINA DAILY)
Trick No.1: Using dark and gloomy filters to build a horrible and oppressive atmosphere
Example: Secret Video Offers Rare Look Inside Chinese Labor Program posted by The New York Times
Facts: The video painted a bleak picture of how Uygurs live and work at a sanitation station in Kuitun City, in northern Xinjiang. Even though the station is open to the media, The New York Times still decided to do its filming "secretly." Hushed dubbing, grave background music, and a dark and yellow filter were all used to make audiences feel as though some huge conspiracy is being revealed.
The views of some audiences may be temporarily distorted but facts cannot be buried forever. The New York Times claimed the sanitation station is part of a forced labor resettlement program, run by the Chinese Government to enhance control of Muslim minorities, mostly Uygurs, by moving them from southern Xinjiang to work there. The fact is that these workers chose to work in Kuitun because of the better work conditions and more stable salary. The workers live in dormitories with television, 24-hour hot water, and freedom to return home. Reporters with China Daily visited factories across Xinjiang and interviewed more than 50 workers and employers to find out whether there was a problem of forced labor. The reporters discovered that the workers had chosen their jobs independently and freely, and that many bought apartments and cars with money earned from their hard work
Trick No.2: Distortion of facts and confusion of concepts: all buildings with wire and walls are "detention camps"
Example: Mapping Xinjiang's "Re-education" Camps, a report full of lies made by the Australian Strategic Policy Institute (ASPI)
Facts: Xinjiang has never had any "re-education camps." This report claimed that there were 380 "detention camps" in Xinjiang to imprison Uygurs, but its data, analysis and conclusion are all wrong, and it seemed to include all buildings with walls and wire as "detention camps."
When tracing some coordinates of the ASPI research, what people see are not detention camps, but other buildings and facilities. One of them is Hotan Detention Center. Like all institutions imprisoning criminals around the world, Hotan Detention Center has nothing to do with the ethnic groups but rather functions to put people violating the law behind bars. Using the term "detention camp" makes people think about places full of screaming children who were abused and beaten there. Another facility on this report's "blacklist of detention camps" is Maralbeshi No. 3 Primary School.
Trick No. 3: Demonizing Mandarin teaching in kindergartens:
Example: Xinjiang: China, Where Are My Children? published on BBC
Facts: Yucheng Kindergarten in Hotan was described by the BBC as "this kindergarten for the children of the detainees." Reporters discovered their parents not only living and working nearby, but also picking them up and dropping them off to the kindergarten every day.
Moreover, the BBC says "only Chinese should be spoken." But Children there are never forced to speak Mandarin. China Daily reporters saw kids speak both Mandarin and Uygur. The children switch between Mandarin and Uygur freely, the same way children do all over China in regions where Mandarin is seldom spoken at home. Learning more than one language provides children with more development opportunities for the future.
Trick No.4: Hyping up claims of Uygurs being "persecuted" without checking the facts.
Example: BBC Newsnight once reported that Zumrat Dawut (Zamira Dawut) was "forced to go through sterilization" in a vocational education and training center. Articles were published including She survived a Chinese internment camp and made it Virginia. Will the US let her stay? andWomen in Xinjiang shine a light on a campaign of abuse and control by Beijing.
Facts: Zamira Dawut has never studied in any vocational education and training center. Her elder brother Abduhelil Dawut has previously clarified that.
She claimed that after "her release" from a center, she was forced undergo sterilization and her uterus was removed because she had already had three children. In fact, in March 2013, when Zamira Dawut gave birth to her third child in Urumqi Maternal and Child Care Service Center, she signed a childbirth consent form voluntarily to have a cesarean section and tubal ligation, and then the center conducted the operation. She was never subjected to sterilization, let alone uterus removal.
She claimed that her aging father was repeatedly detained and investigated by Xinjiang authorities, and died not long after from an unknown cause. In fact, her father had been living with his children until he died from heart disease on October 12, 2019. He had never been investigated or placed in detention. Her brothers Abduhelil Dawut and Elkin Dawut have both substantiated these facts.
The Western media has never fact-checked these alleged claims, nor even ever tried to check them. Impartiality, objectivity and all other values the media should uphold can never be achieved if reporters only want to report what they have concluded before, rather than what they see on the ground.