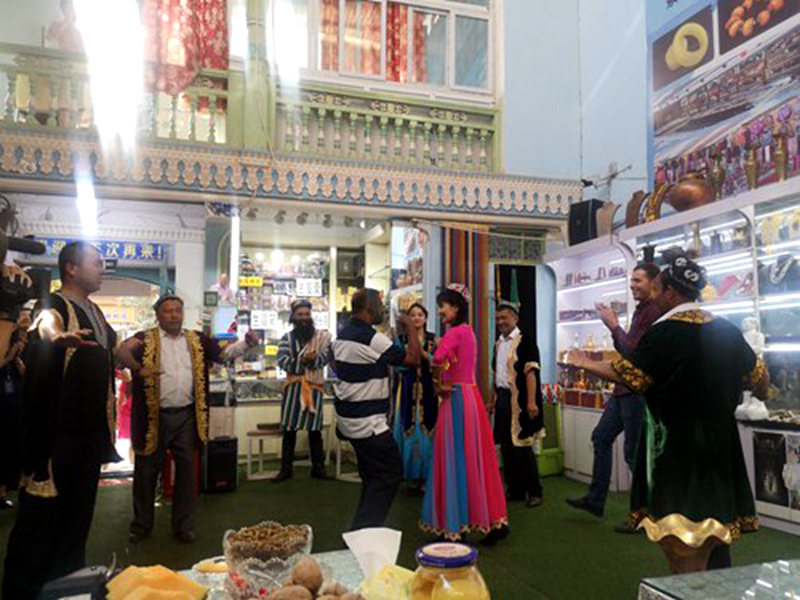 Foreigners dance with local Uygur people at a restaurant in Kashi, Northwest China's Xinjiang Uygur Autonomous Region (GLOBAL TIMES)
Sonia Bressler, a French writer and expert on China, said that the Chinese delegation frankly addressed many groundless suspicions in Western public opinion. She believes that scholars from the two countries should strengthen exchanges and more French scholars should go to Xinjiang to find out the truth.
Bressler attended a symposium in Paris held by a Chinese cultural exchange delegation from Northwest China's Xinjiang Uygur Autonomous Region and French scholars in 2019. They exchanged views with the French Council of the Muslim Faith (FCMF) and French scholars, and held a discussion with local overseas Chinese to explain the development status of Xinjiang.
The delegation also visited the Grand Mosque of Paris and briefed the FCMF members and scholars on China's policy on freedom of religious belief and the development of vocational education and training centers in Xinjiang. The delegation suggested that the purpose of the centers is to make the students understand the nature and serious harm done by terrorism and religious extremism.
Dalil Boubakeur, honorary president of FCMF, said that coercing people to participate in violent and terrorist activities in the name of religion is heinous, and that separatist and extremist forces are not tolerated in any country.
Xing Guangcheng, head of the delegation and director of the Institute of Chinese Borderland Studies at the Chinese Academy of Social Sciences, said that they came to France to tell the truth about Xinjiang and make their voice heard to all walks of life in France.
Xinjiang has been an important gateway for China's civilization to open to the West, and has played a significant role in cultural communication and mutual learning between East and West, said a white paper, titled "Cultural Protection and Development in Xinjiang," released by the State Council Information Office in 2018.

Supported by the Central Government, Xinjiang has created a framework of cultural exchanges with other countries in all sectors and at all levels.
Richard Ludwick, president of University of St. Thomas, said he believed openness is the signal sent out by the delegation. The university is willing to build a bridge so that students from Xinjiang and America will have more chances to visit each other, he said when a delegation from Xinjiang paid a visit to Houston, Texas of the United States in October 2017.
Attending a forum held by University of St. Thomas, then Chinese Consul General in Houston Li Qiangmin said China will continue following the path of peaceful development, pursuing a mutually beneficial and open strategy, and further enhancing cooperation and collaboration with major countries.
Charles Foster, former chairman and a board member of the Asia Society Texas Center, recalled his visit to Xinjiang during the discussion. He said that the participants learned more about China's ethnic policies as well as the development of Xinjiang.
Xinjiang has participated in international cultural exchanges and cooperation in various forms. Xinjiang International Ethnic Dance Festival, Chinese and Foreign Culture Week of China-Eurasia Expo, and Publishing Expo have become branded cultural exchange projects of considerable international influence.
Xinjiang presents different ethnic cultures to foreign countries, the white paper said, adding that since the late 20th century, quality exhibitions of Xinjiang cultural relics, such as the "Exhibition of Ancient Silk Road Cultural Relics of Xinjiang" and "Secrets of the Silk Road—Exhibition of Xinjiang Cultural Relics," have been held in Japan, the United States, Germany, the Republic of Korea, and some other countries.
(Xinhua News Agency and Global Times)