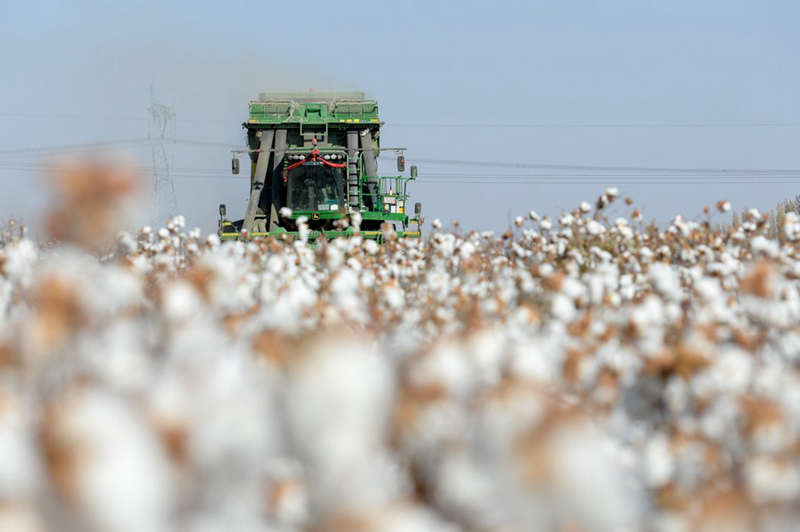 A reaper harvests cotton in a field in Manas County of northwest China's Xinjiang Uygur Autonomous Region, on October 17, 2020 (XINHUA)
As the weather turns cold in October, swathes in northwest China's Xinjiang Uygur Autonomous Region gradually turn white, but not because of snow. It's the harvesting season for cotton, a crop that matters a lot in Xinjiang and beyond.
Ample sunshine, arid weather and large temperature differences between day and night make Xinjiang an ideal place to grow the natural fiber.
Xinjiang is the largest cotton growing region in China, ranking first nationally in total output, per unit production and planting area for 26 consecutive years. In 2020, the total cotton planting area in Xinjiang reached 2.51 million hectares, nearly the same as in 2019.
Growing cotton means a lot for the far west region of China. It's the main source of income for many farmers, especially in the poorer regions of south Xinjiang.
Data by the China Cotton Association (CCA) shows that more than half of Xinjiang's farmers grow cotton, with the majority being ethnic minorities. Cotton farming is the major source of local agricultural income in south Xinjiang.
Xinjiang's cotton fields not only bring income to growers, but also to many migrant workers, who would travel across places to help pick cotton in patches hard to be harvested with machinery.
Nearly 4,000 people in the Aral township in Aksu Prefecture joined the migrant cotton-picking army last year, earning an average of nearly 6,000 yuan ($895) per capita in two months, with the champion cotton picker pocketing some 23,000 yuan.
Over 90 percent of north Xinjiang's cotton fields are now harvested using machinery. The practice is also becoming popular in south Xinjiang.
The increasingly modernized cotton industry also creates jobs. Zulyar Nijat, a 27-year-old college graduate in south Xinjiang's cotton hub Yuli, made a foray into the cotton fields in early September by working with his elder brother to spray defoliants using drones for easier harvesting.
"We could spray defoliants on some 13.3 hectares for an entire morning, making about 1,200 yuan. It's quite a handsome payment," Zulyar said.
The downstream cotton textile sector is another major employment provider, offering some 600,000 local jobs, CCA data showed.
The importance of the raw material used in textiles has gained prominence this year amid the COVID-19 epidemic due to rising cotton demand for the production of protective gear and other medical supplies.
Railways in Xinjiang transported some 2.7 million tons of cotton during the January-July period, an increase of over 83 percent year on year, according to China Railway Urumqi Group Co. Ltd.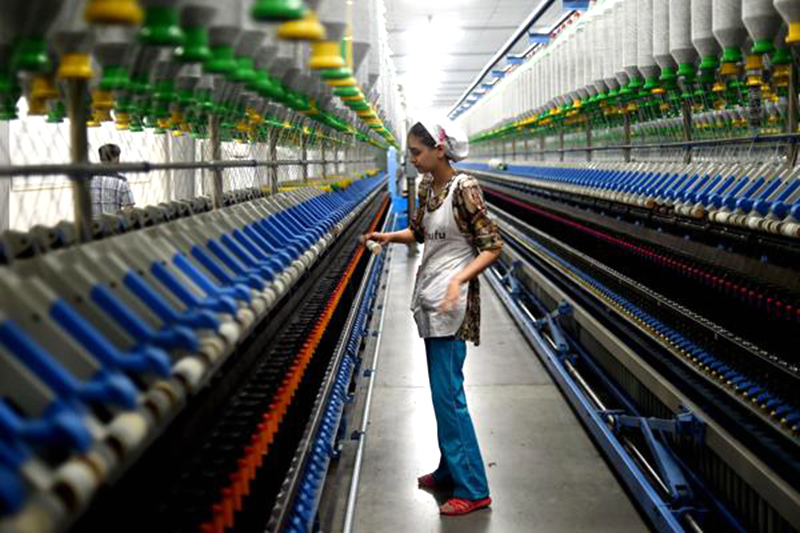 An employee works at a textile plant in Aksu, Xinjiang Uygur Autonomous Region (XINHUA)
China's cotton and textile industries have been committed to protecting employee rights and improving their work and life conditions to produce high-grade products and offer stable and efficient supply chain services for global apparel and retail brands, the CCA said in August in a joint statement with the China Chamber of Commerce for Import and Export of Textiles.
China's cotton farmers and textile workers, among others, have contributed a lot to the growth of the global cotton textile market, and they deserve to be treated fairly, the statement added.
"The industry secures the livelihoods of millions of people in Xinjiang, including cotton growers, cotton textile workers and their family members, improves their lives and promotes the realization of their economic rights," said a report reviewing the history and development of Xinjiang's cotton textile industry released by the Xinjiang Textile Industry Association.
In 2010, Aytlam Mamt started working at a cotton manufacturer—one of the largest cotton processing plants in Awat, a county under southern Xinjiang's Aksu Prefecture. Reputed as the "Town of Cotton," Awat produces one-fifth of the world's long-staple cotton with silkier, lustrous and more durable fibers, filling markets from Europe to North America.
Now responsible for leading one of the mills, she makes 2,800-3,000 yuan after tax each month. "I had worked in a textile plant before I got married, so I chose to come here when my son was 6 years old as I'm already quite familiar with the whole manufacturing process," the 36-year-old woman said.
Established by a textile corporation headquartered in a central China province a decade ago, the company so far has over 200 employees, mostly locals. "When we came from Henan to purchase cotton back then, we found that having a factory here, much closer to the source of supplies, could help us save costs and haulage time," said Liao Yongfeng, head of the factory's commodity department. The move has also increased the income of local villagers who can't find employment in the winter after harvest season.
If working in the mill means staying away from being a housewife and boosting household income, it means a lot more for Atkenm Kuwan, who started working as a knitter at the factory in April 2020. Before that, she was a sanitation worker with a monthly income of 960 yuan, which, on top of her husband's monthly income of roughly the same amount, could hardly make ends meet.
"Now I have 2,300-2,500 yuan per month. That's a big help for my family, especially to the education of my children. I have extra savings for them to take extracurricular classes now," Atkenm said. She noted that her biggest dream is to give a good education to her two kids, and then to buy a car like her colleagues. "I heard some of my colleagues used to come to work by bicycle or moped, but now they drive to work."
Employees work 12-hour shifts and then rest for the following 24 hours. "Though the job requires a lot of energy, I can get enough rest during the next day and attend to many other things," said Aytlam.
Training people to process cotton requires significant time and resources. The tremendous effort that has gone into its employees, however, seems to have paid off. Most of them have worked at the company for years, according to Liao.
Many of them attend to the outsized machines responsible for much of the labor. The entire process is mechanized, with most of the equipment made domestically and the rest imported from Europe. Once ready to leave the factory floor, cotton products, notably threads in the case of this company, are delivered to coastal metropolises including Guangzhou, Shenzhen and Shanghai for subsequent export to clients in Europe and the U.S.
Cotton producers in the region are eyeing further growth, hoping to reduce overheads while continuously improving their technology. "For now, sales and production volume have not dropped, and everything is business as usual," Liao noted.
(CGTN and Xinhua News Agency)