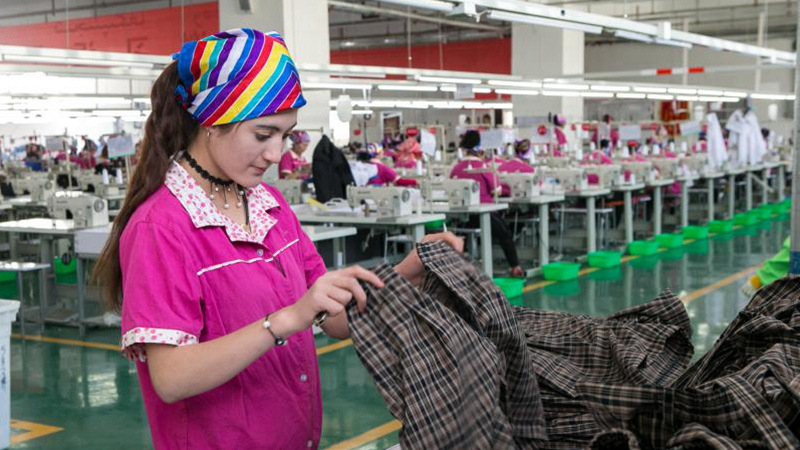 A woman works at a factory in Kashgar, Xinjiang Uygur Autonomous Region (XINHUA)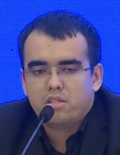 Shirali Amarjan, who is a former trainee at the center, told reporters that after graduating he started an interior design and decoration company. But before that, influenced by religious extremism, he saw the Han ethnic people as "pagans" and barely associated with them.
Shirali was also encouraged to rebel against national laws. Even the worse, he viewed his wife as a heretic and often abused her because she worked in a government position.
"At the training center, I not only studied law, and standard spoken and written Chinese, but also acquired knowledge of computer science, which was my favorite subject," he said.
"Other skills taught included welding and automotive maintenance, and all my classmates chose to focus on areas aligned with their interest. Another positive point was the courses were all free of charge."

Mamatniyaz Iminniyazi was a trainee at one of such centers in Shache County in Kashgar Prefecture. "In the vocational education and training centers, we were able to choose one or two vocational skills to learn based on our own interest. I chose to learn how to cook naan," said Mamatniyaza, referring to a baked flatbread which is a popular food for locals.
"My friends also chose their favorite skills to learn. Some of them chose e-commerce, some cooking, and some chose beauty and hair-dressing," Mamatniyaz said.
He added the skills he learned at the center have helped him to open up his own business. "After graduation, by taking advantage of the naan cooking skills I learned at the center, I opened a naan co-op with 25 employees. Within one year, I earned over 100,000 yuan ($15,430)," said Mamatniyaz.
"Early last year, I established a purified water company. At present, our company covers an area of 1,800 square meters and has 20 workers. We produced over 40,000 buckets of purified water a day and my yearly income has reached 300,000 yuan ($46,290)," he said.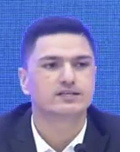 Alimjan Mamatali, 28, was a trainee at a center in Hotan Prefecture. He said the overseas media reports of trainees being exploited for their labor are totally false.
"During my training, no one ever forced us to do anything. From Monday to Friday, we had six hours of class every day, mainly learning vocational skills as well as Mandarin, law and some other courses that help us get rid of extreme ideas," said Alimjan.
"During the weekends and official holidays, we were able to contact our family by phone. We could also ask for leave any time, if necessary," Alimjan said.
Alimjan currently works for a real estate company. He said the computer skills he learned at the center made it easier for him to find a job.
"I learned basic computer knowledge first, then I began to learn how to operate one. Through the training, I learned how to use Word and Excel, how to edit documents as well as other software to edit pictures, design visiting cards and advertisements, which have enabled me to earn a good living," said Alimjan.
Speaking in fluent Mandarin, Alimjan said he's more than satisfied with his current life and work.
(CGTN)
Highlights of the White Paper on Vocational Education and Training in Xinjiang
Urgent Need
To curb frequent terrorist incidents

To eradicate the breeding ground for religious extremism

To help trainees acquire better education and vocational skills, find employment, and increase their incomes

To safeguard social stability and long-term peace in Xinjiang
Trainees
People who were incited, coerced or induced into participating in terrorist or extremist activities, or people who participated in terrorist or extremist activities in circumstances that were not serious enough to constitute a crime;

People who were incited, coerced or induced into participating in terrorist or extremist activities, or people who participated in terrorist or extremist activities that posed a real danger but did not cause actual harm, whose subjective culpability was not deep, who acknowledged their offences and were contrite about their past actions and thus do not need to be sentenced to or can be exempted from punishment, and who have demonstrated the willingness to receive training;

People who were convicted and received prison sentence for terrorist or extremist crimes and after serving their sentences, have been assessed as still posing a potential threat to society, and who have been ordered by people's courts in accordance with the law to receive education at the centers.
Curriculum
Standard spoken and written Chinese
Protection of Trainees' Basic Rights
It is a basic principle, enshrined in the Constitution of China, prescribed by its laws, and demonstrated by the efforts of the Chinese government, to respect and protect human rights.

It is an attempt to help the trainees to emancipate their minds, improve themselves and their future prospects.

The only criterion for education at the centers is whether the trainee has been convicted of unlawful or criminal acts involving terrorism and religious extremism. It has nothing to do with their region, ethnicity or religion.

The personal freedom of trainees at the education and training centers is protected in accordance with the law.

The customs of all ethnic groups and the right to use their spoken and written languages are fully protected at the centers.

The education and training centers respect the trainees' freedom of religious belief.

The education and training centers employ bilingual teachers, instructors, doctors and logistics and managerial staff to ensure that the trainees can study and lead a normal life.

The education and training centers fully respect the spiritual and cultural needs of trainees.

The authorities at all levels of Xinjiang help their families and relatives to address problems in work, daily life, employment, education and medical services, thus allowing them to focus more attention on their education and training.